Ingredients for American Baking in Paris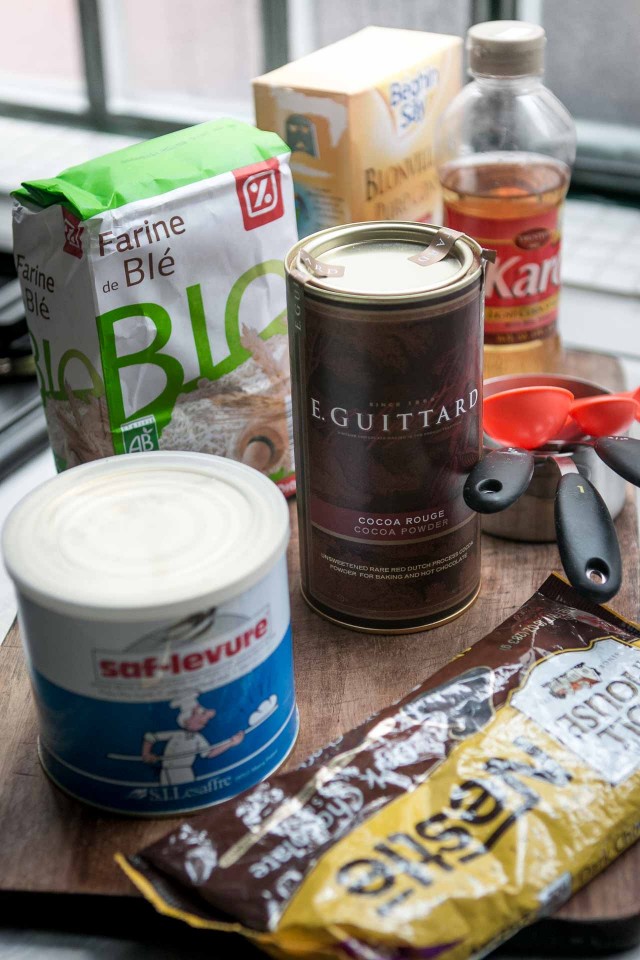 Although we can't expect things to be like 'back home', many of us do miss certain things that we are used to in American recipes. While French has wonderful ingredients, for bakers, it can be a challenge to adapt to new ingredients or ones that behave differently than what we're used to. Here's a list of commonly used baking ingredients and where you can find them, or what you can use in their place. Happy baking!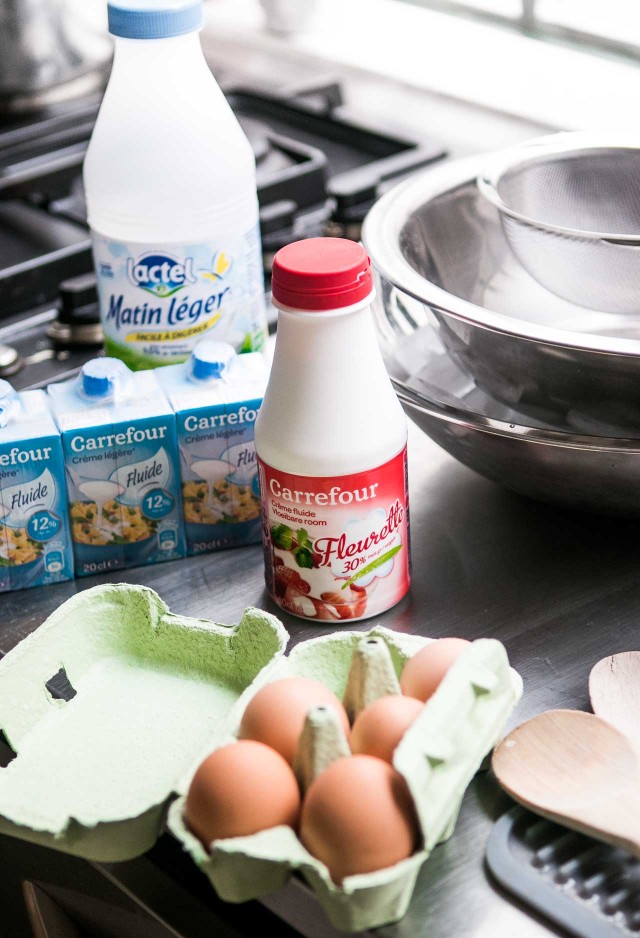 Buttermilk, Heavy Cream, and Sour Cream
Many grocery stores and cheese shops sell lait ribot, fermented milk from Brittany. Arabic markets also sell fermented milk (lait fermenté) as well. In many recipes you can substitute plain whole milk yogurt or you can milk 1 tablespoon of white or cider vinegar, or lemon juice, with 1 cup (250 ml) of whole milk and let it stand ten minutes.
For sour cream, full-fat (20%) fromage blanc is the closest substitute for baking. Crème fraîche, which is usually at least 30% fat, can be used as well, but is richer. I also use Bridélice, a low-fat dairy product (called crème légère, or "light cream"), whose 15% fat content is similar to American-style sour cream.
(A reader mentioned that smetana, a type of sour cream, is available in Eastern European shops.)
Heavy cream is called crème liquide, crème fluide, or crème entière in French. Both are liquid pouring creams. They are available in supermarkets. (Be aware that entière is full-fat and légère is low-fat, which containers thickeners and will not whip.) The fat percentage of crème entière is usually around 30% whereas American cream is about 36%, although it behaves the same in most applications. (For whipping, get the cream with the highest percentage possible.) Fresh cream is available in supermarkets in the dairy case; be aware that sterlized UHT cream is common in France, which can be challenging to whip, and is refrigerated or unrefrigerated. Some fromageries sell heavy cream, although most offer UHT cream. Beillevaire fromageries carry fresh, raw heavy cream.
Monoprix carries their own brand of heavy cream in small plastic bottles, and Elle & Vire is one brand that sells UHT cream in paper cartons, as well as crème entière épaisse, which comes in a pouch and is quite thick, but works well in most applications that call for heavy cream.
Brown Sugar
To replace the sticky brown sugar used in American recipes, there are two options. One is sucre vergeoise, which is beet sugar sprayed with caramel-coating (to resemble brown sugar) and sucre cassonade, which is unrefined cane sugar. Both are available in dark and light variations: light (cuivrée) or dark (ambrée), for cassonade.
Sucre vergeoise is more available, found in supermarkets, although I prefer cassonade, which can be found in supermarkets (most often under the Daddy brand, which they sell online at La Boutique Daddy and you can find other brands at natural food stores, like Naturalia and Biocoop.
Coarse crystal, free-flowing cassonade is available in most grocery stores as the French use it for coffee and baking, and can be substituted in some recipes, although I prefer the sticky varieties when a recipe calls for light or dark brown sugar.
You can read more detailed information in my post: French sugars.
Flour
Flour varies from country-to-country. French 'all-purpose' flour (type 45 and type 55) is closer to American cake flour: it's milled very finely and has less-protein and gluten (strength). In most cases, you can't just substitute French all-purpose flour in American recipes like cookies and cakes. I know too many Americans who opened the oven door and found all their carefully rolled-out chocolate chip cookies, melded into one, giant blob.
If you're interested in the precise composition of both flours, you can read about them American vs French flours and French flours. Chow published a French & American flour equivalent chart.
In spite of the listing, I found that organic type 65 flour is the closest, which you can find in natural food stores like Naturalia. You can also buy type 65 organic flour at Monoprix and other supermarkets. It will say on the side of the package.
Regular whole wheat flour can be found in most groceries stores, as well as in natural food stores. Type 110 is equivalent to regular whole wheat flour, and Type 80 bise is a lighter flour, similar to whole wheat pastry flour.
Molasses
You can buy mélasse at natural food stores, but it's sulphured, unrefined, and very strongly-flavored. When using it in recipes, I cut it with some mild-flavored honey. Otherwise it can overwhelm all other flavors in whatever you're baking. Unless you like that strong, molasses flavor…then go for it. American-brands of mild, unsulphured molasses, as we know it, is available in stores that cater to the expat community.
Treacle, available in British stores and markets that carry British foods, is a close substitute, but is similar to blackstrap molasses and quite strong. In a pinch, cut it 50:50 with mild honey, unless you like the strong molasses taste.
Yeast
You can ask your local boulanger if they'll sell you some yeast, or it's available in supermarkets (not in the refrigerated section, like in America) in packets like the one shown above. You can also buy it in small tins in Arab markets, under the SAF brand.
Since yeast is a living organism, the yeast in Europe behaves a bit different than American yeast, but I've had few problems. You can test yeast by adding a teaspoon to half a cup slightly-warm water; it should start bubbling within a few minutes if it's still good. You can find a yeast substitution guide at the Red Star yeast website for swapping fresh yeast for dry yeast. Fast-acting yeast in France is available in the baking aisle of some supermarkets called levure rapide or "action express."
Chocolate Chips
Finding chocolate chips is regular supermarkets is nearly impossible. In Paris, G. Detou carries them at a reasonable price (although they contain the sugar substitute, maltitol) and expat stores carry them, as well as Le Grand Epicerie. You can simply chop up a bar of chocolate, or buy Callebaut pistoles (as shown in the photo) available at professional baking supply shops, such as G. Detou and Metro.
Butterscotch, and similar-flavored chips, may be available in shops that cater to the expat community.
Corn Syrup
American corn syrup is expensive, and sold at stores that cater to the expat community. But Asian markets often carry corn syrup cheaply, as it's used in Korean cooking. Stores in Paris are Ace Mart and Kmart (both are on the rue St. Anne) and Tang Frères (in the 13th.)
Professional baking supply shops, such as G. Detou in Paris, also sell glucose, which is essentially the same thing. If you need dark corn syrup, add a generous spoonful of molasses to the corn syrup. For more information about corn syrup: When To Use (and Not Use) Corn Syrup, which lists other substitutions.
Cornmeal
Various grades of cornmeal can be found in ethnic markets, mostly catering to the Arabic community. Polenta and cornmeal, such as those that are used for cornbread, can be found in those stores as well as in natural foods stores, labeled farine de maïs which is fine corn flour, or coarser, often called semoule de maïs. In Paris, many of those are clustered around Belleville and near the marche d'Aligre. Natural foods stores sell it as well. The best advice is to go and look because the nomenclature can vary.
Corn starch is available in supermarkets under the name Maizena. It's available in natural food stores under the name fécule de maïs or amidon. Potato starch is commonly used in France and works the same as corn starch in most applications. It's available in Kosher stores.
Peanut Butter
Peanut butter is available in France and now many supermarkets carry it. American brands, like Skippy, can be expensive. But "natural-style" peanut butter can be found in ethnic stores, especially those that cater to the Indian community. (In Paris, many of those are clustered around La Chapelle, behind the gare du Nord.)
The peanut butter you find is generally 98% peanuts, with a small amount of vegetable fat added. You can also make your own by roasting raw peanuts in the oven and whizzing them in a food processor, while warm, until smooth. Natural food stores also carry "American-style" peanut butter, which is similar to our natural peanut butter, but not the same as brands like Jif or Skippy, and won't behave the same way in recipes.
Cocoa Powder
Virtually all the cocoa powder in France is Dutch-processed, which means the cocoa powder has been acid-neutralized and is generally darker. It often will not say so on the front label, but may list the alkalizing agent (often potassium carbonate or bromate) as an ingredient.
Although one should, theoretically, used what the recipe calls for, you can usually do just find swapping out one for the other.
More information can be found at my post; Cocoa Powder FAQs.
Chocolate
When a recipe calls for bittersweet or semisweet chocolate, you can use any of the dark chocolate baking bars found in supermarkets. If you live in Paris, G. Detou sells chocolate in bulk, in bars and pistoles. The membership only Metro stores also carry chocolate (and other supplies) in bulk.
G. Detou also carries unsweetened (sometimes called 'bitter') chocolate in bulk, which in France is called 100% cacao, or 100% pâte de cacao. Some gourmet stores carry it but in general, you won't find it in supermarkets as the French don't bake with it like Americans do.
You can learn more about chocolate varieties and uses at Chocolate FAQs.
Baking Soda
Some supermarkets carry baking soda (bicarbonate de soudre) and Indian markets usually carry it as well. It can also be found in pharmacies; you'll have to ask since they don't normally keep it on the shelf.
Evaporated Milk and Sweetened Condensed Milk
Evaporated milk is lait concentré non sucrée (concentrated, unsweetened milk), and is available in most supermarkets. Sweetened condensed milk is well; it's known as lait concentré sucré, which is sold in cans as well as tubes, like toothpaste.
Cream Cheese
Cream cheese can be found in supermarkets under the St. Môret label, or store-brands, labeled pâte à tartiner, in the familiar rectangle shape. Ed discount markets has the best prices if you need a lot. Also cream cheese is available in Jewish grocers in the Marais, and some French people use Kiri squares as cream cheese for making le cheesecake.
Philadelphia-brand cream cheese has decided to become a bigger presence in France due to its popularity with the French and can now be found at many supermarkets in France at reasonable prices.
---
Shops Specializing in Anglo Products in Paris & France
Here's a listing of the stores mentioned above, or shops that specialize in products for expats. I've noticed that the everyday supermarkets in Paris, such as Franprix and G20 often have sections that sell anglo products at decent prices, and those are worth checking out, too. There are a couple of places that do mail-order and although I haven't ordered anything from them, if you really need something, they might be worth the extra expense.
For cake pans, muffin tins, bakeware, and paper cupcake liners (and more), I prowl around ethnic neighborhoods. A favorite is the rue de Belleville in Paris; there are lots of stores scattered along that street, that carry baking items at very low prices. For those who want more professional-quality equipment, check out The cookware shops of Paris. It's a good idea to measure your oven and baking equipment, especially if you've brought items to France from other countries as items like silicone baking mats are sized differently and may not fit.
Thanksgiving (Paris)
G. Detou (Paris)
Naturalia (France)
My American Market (France & Europe)
Biocoop (France and Europe)
American Market (Switzerland)
English Shop (Germany)
Mr. 10% (France)
British Superstore (England)
The Real McCoy (Paris)
How to Find Foods and Other Items Mentioned on the Site
More Paris links:
Paris Cooking Classes & Wine Tasting Programs
10 Delicious Things Not to Miss in Paris
Where is the best duck confit in Paris?
Some Favorite Paris Restaurants
Vegetarian Dining Tips for Paris and a list of Vegetarian Restaurants
Where to Find a Great Hamburger in Paris (Kid-friendly)