Coconut Chocolate Macaroon Recipe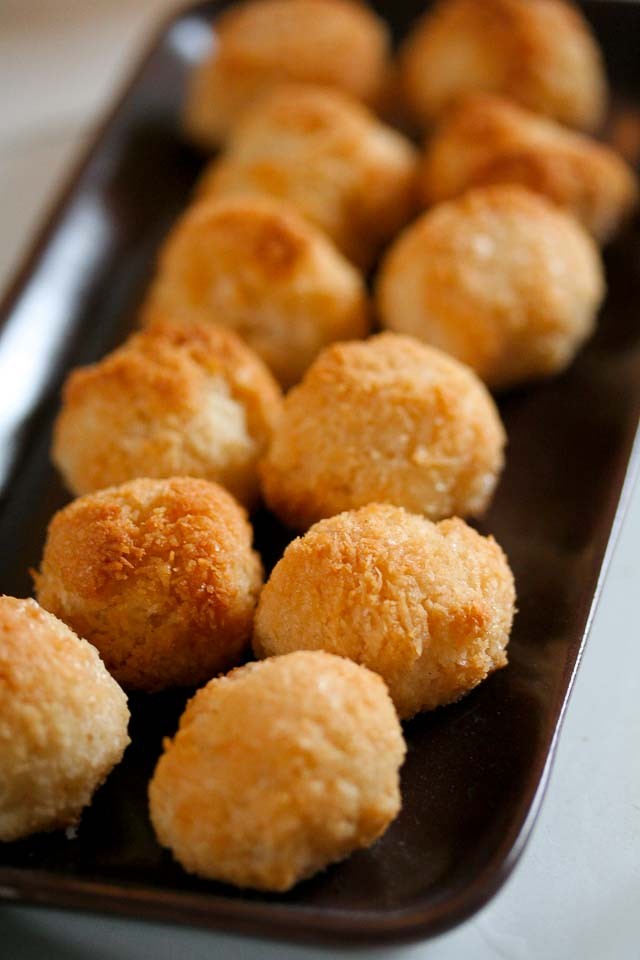 Many people tell me this is one of their favorite recipes from my cookbook, Ready For Dessert. In addition to these fantastic Coconut and Chocolate Macaroons you'll find my much-loved recipe for Fresh Ginger Cake which makes a fantastic summertime dessert served simply with sliced, juicy-sweet peaches or flavorful strawberries and raspberries.
I made a batch of macaroons for a Thai banquet last night here in Paris, where a happy alliance of French and American food lovers got together for dinner. We chopped giant bunches of vivid-green herbs like cilantro, mint, and other greens with names that we learned have no English, or French translations. Jumbo prawns from Chinatown were quickly peeled and sautéed, and tiny branches of fresh green peppercorns were quickly skillet-cooked until tender.
Succulent beef was grilled and marinated in a spicy glaze then tossed with hot chilies, fresh cilantro leaves, and cooling slices of cucumbers. Things heated up as we simmered tea-smoked duck in red coconut curry sauce which was spooned over steamed rice fragrant, with aromatic pandanus leaves. And I loved the shrimp stir-fried with vivid-green garlic shoots, which mellowed considerably once cooked quickly with the plump shrimp and Thai spices. These were the perfect ending.

| | |
| --- | --- |
| Coconut and Chocolate Macaroons | Print Recipe |
2 1/2
cups
unsweetened coconut
(see note)
1/2
teaspoon
vanilla extract
2
ounces
bittersweet or semisweet chocolate,
chopped
In a large skillet, mix together the egg whites, sugar, salt, honey, coconut and flour.
Heat over low-to-moderate heat on the stovetop, stirring constantly, scraping the bottom as you stir.
When the mixture just begins to scorch at the bottom, remove from heat and stir in the vanilla. Transfer to a bowl to cool to room temperature.
(At this point, the mixture can be chilled for up to one week, or frozen for up to two months.)
When ready to bake, line a baking sheet with parchment paper or silicone baking mat and preheat the oven to 350 degrees F.
Form the dough into 1 1/2-inch mounds with your fingers evenly spaced on the baking sheet. Bake for 18-20 minutes, until deep golden brown. Cool completely.
To dip the macaroons in chocolate, melt the chocolate in a clean, dry bowl set over a pan of simmering water (or in a microwave.) Line a baking sheet with plastic wrap. Dip the bottoms of each cookie in the chocolate and set the cookies on the baking sheet. Refrigerate 5-10 minutes, until the chocolate is set.