Bleu de Gex
The last time Peggy Smith, co-owner of Cowgirl Creamery, came to Paris, we did some cheese tasting and shopping. We'd worked together at Chez Panisse for many years and she's one of my favorite people—ever, and I wish she'd come visit more often. As we roamed a salon de dégustation of cheese, looking around at all the astounding cheeses from France (as well as a couple of beauties from Ireland, England, and Italy as well), I said to her; "What is the one cheese you would tell someone from the United States that they absolutely should try while in France, which is not available in America?"
Not missing a beat, she said; "Bleu de Gex." (Pronounced jhex.) I never really thought about it since it's not a cheese that's on many people's radar – even in France. I've bought it a few times, mainly just because it's fun to say the name, but it was an interesting choice for her to make and it never occurred to me to recommend that particular cheese* as the one to try.
Bleu de Gex is made in the mountains of the Jura region of France, whose name became the root of the word Jurassic since rocks from this region were the first to be studied by scientists for clues to life during the Jurassic period. Nowadays the region is best known for Comté cheese, a pretty wonderful chocolate shop, the home of La vâche qui rit (Laughing Cow), and to a lesser extent, the wines, which complement the cheeses from the region very well.
(Although some find them challenging to drink due to the peculiar oxidized taste found in many of them. I've come to like them a lot precisely because they are rather "different" than other white wines.)
I was told that there are only four producers of Bleu de Gex (also called Bleu de Haut-Jura) in France; two are artisanal and two are industrial. All the milk is fresh and raw, from cows that have been milked at nearby farms in the mountains that surround the cheese making facilities. In fact, it's still warm and steaming when the farmers bring the milk to the fruitières early in the morning, where it's to be made into cheese.
The first step is the caillage, when the culture is added to break the warmed milk up into soft, creamy curds. Mold spores are also introduced into the cheese, which give the finished wedges their characteristic blue veins.
The cheese makers wake up very early in the morning and spend their early hours stirring the milk in enormous vats until the curdling starts. They also have amazing forearms, which would come in handy for me next time I have to push myself out of bed at such an early hour.
Once the milk has formed curds, they're separated from the cloudy whey and the curds are heaped into cloth-lined round bins.
As the curds start settling in to the characteristic round shape of a wheel of cheese, they are flipped a few times to get as much of the liquid out as possible, and to compact the curds.
Once lightly pressed, the moist rounds are removed from their swaddling then the surface is salted and the cheeses are left in ripening caves for about three weeks. At the beginning of the ripening, the rounds are pierced with metal needles to facilitate the mold to grow correctly and create the blue veining. Some cheeses, like Roquefort, get split in half, from top to bottom, so they can verify the veins have made it all the way through the cheese; so it's impossible to buy a whole round of Roquefort.
Each wheel of Bleu de Gex is stamped "Gex" because it's a protected name, with an AOP designation, which ensures that the milk used is from the region and the cheese is produced according to standards. There are a good variety of blue cheeses in France and each tastes distinctly different, just like blue cheese elsewhere do, such as Cabrales from Spain, Maytag or Berkshire Blue from the United States, and Stilton from England. Roquefort, which is inoculated with moldy rye bread spores, is the most famous and most popular of the French blue-veined cheeses, but there are plenty of others worth checking out in France.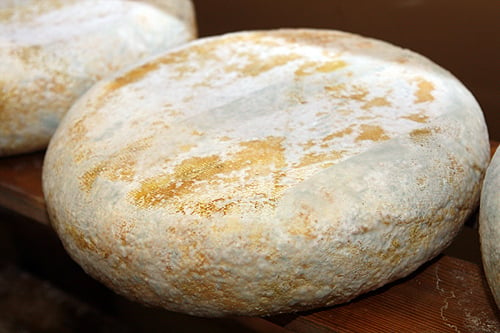 If you've never been in a cheese ripening cave, it's quite an experience to be surrounded by cheeses at various stages of ripening. The smell, however, can be a little overpowering – even for the French, who are no strangers to strong-smelling cheeses. When I was in a Brie de Meaux ripening cave, a group of French women had to excuse themselves, holding their noses and racing toward the sortie.
I don't mind the smell as it clears my sinuses, right up through to the top of my skull. And I love being around all the cheese, even if I had to wake up at 4:30am to watch the fresh milk being curdled.
I find the taste of Blue de Gex a little bitter and a bit acidic, mixed with a touch of buttery richness and a pleasant creaminess. The truth be told, there's a little something about that acid flavor that I'm still on the fence about. Part of me likes the fact that the artisanal versions of this cheese retain the fresh flavor of the milk, since the cheese is sold so young. But the accompanying sharpness is not always all that agreeable.
Interestingly, I've read that some people find it a mild cheese, which I suppose goes to show that people react differently to various cheeses and we all perceive flavors differently. Luckily there are plenty of different cheeses to please everyone.
A popular dish in the Jura is made by melting slices of Bleu de Gex directly in a warm skillet, then sliding them onto bread or over a plate of hot boiled potatoes. When I buy it, I'll make a blue cheese dressing, or crumble bits into a spinach salad and drizzle the leaves with hazelnut oil, then finish it with flakes of sea salt and some toasted hazelnuts. Or I'll drop bits on top of hot noodles and let them melt, making little rich pockets of pasta sauce, providing a bit of tangy blue cheese in every bite.

Related Posts and Links
Comté Cheese Ripening and Tasting

*I've been told that occasionally one can find Bleu de Gex in cheese shops outside of Europe, but it's definitely not one that you'll run across with any regularity. To find it, check with your local cheese shop or use How to Find Foods and Other Items Mentioned on the Site for a few tips.