Candied Grapefruit Peel
I found myself with several grapefruit rinds on my hands last week (or rather, on my kitchen counter) as a result of working on a recipe that called for their juice. I don't like to toss things away, especially precious organic grapefruit peels. So I candied them.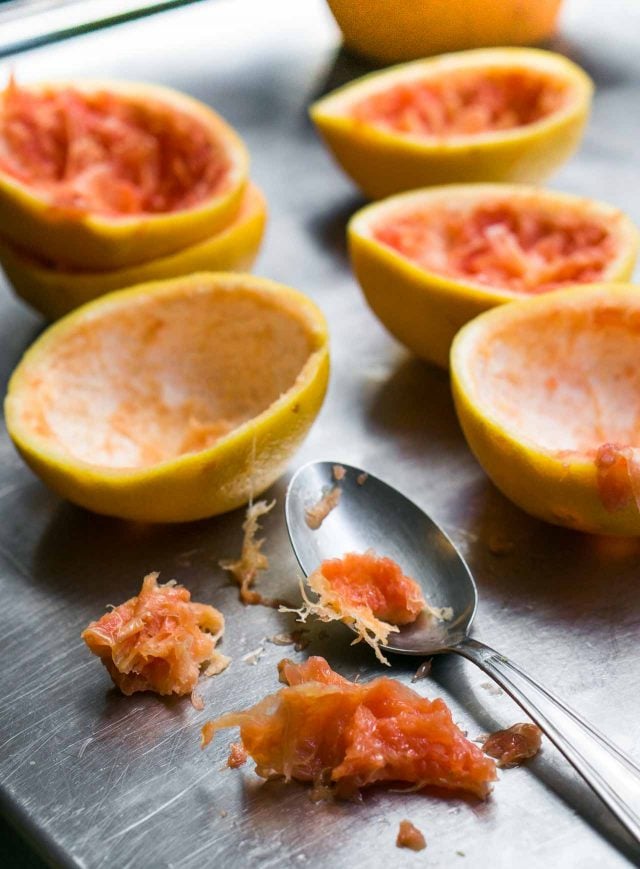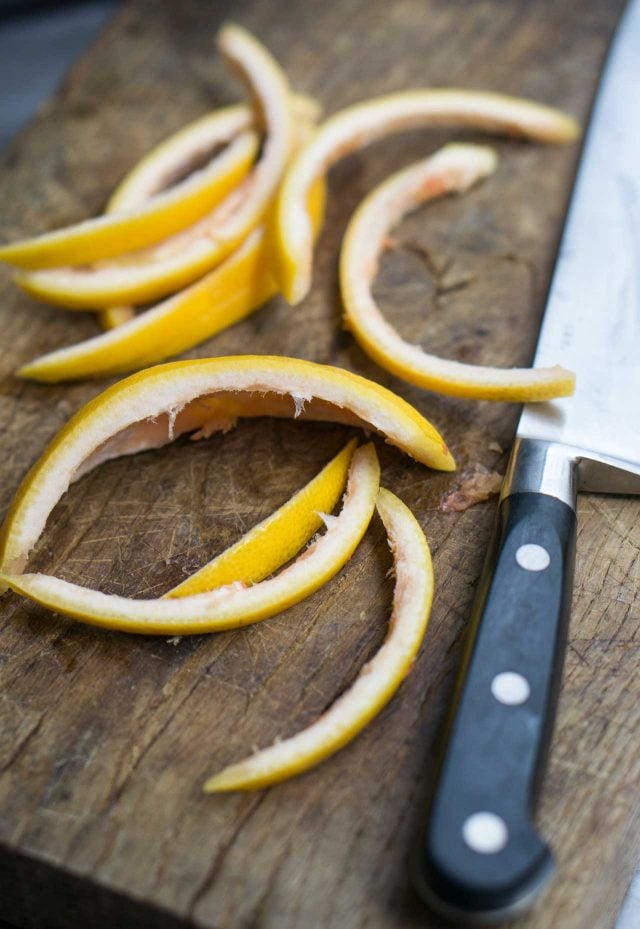 The French refer to candied orange peels as orangettes, although I haven't heard of a term for candied grapefruit peels. (There's a recipe for candied orange peels in my book, Ready for Dessert, which are made differently than candied grapefruit peels.) You don't see candied graperuit in chocolate or candy shops in Paris, although when I made these, everyone that came by was gobbling them up. So there's definitely interest in them, although most walked into my kitchen and said, "Les orangettes, Daveed? J'adore!" …before helping themselves.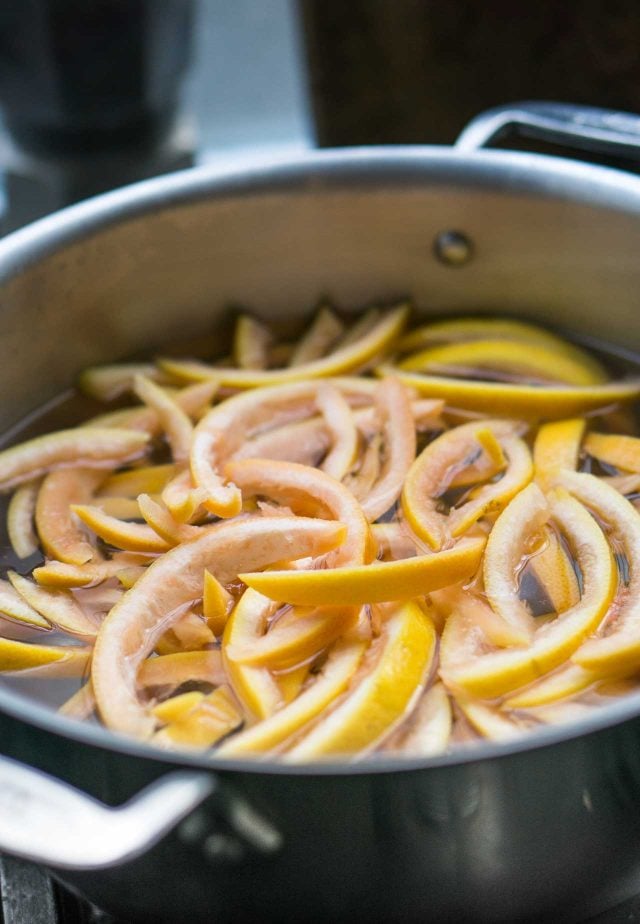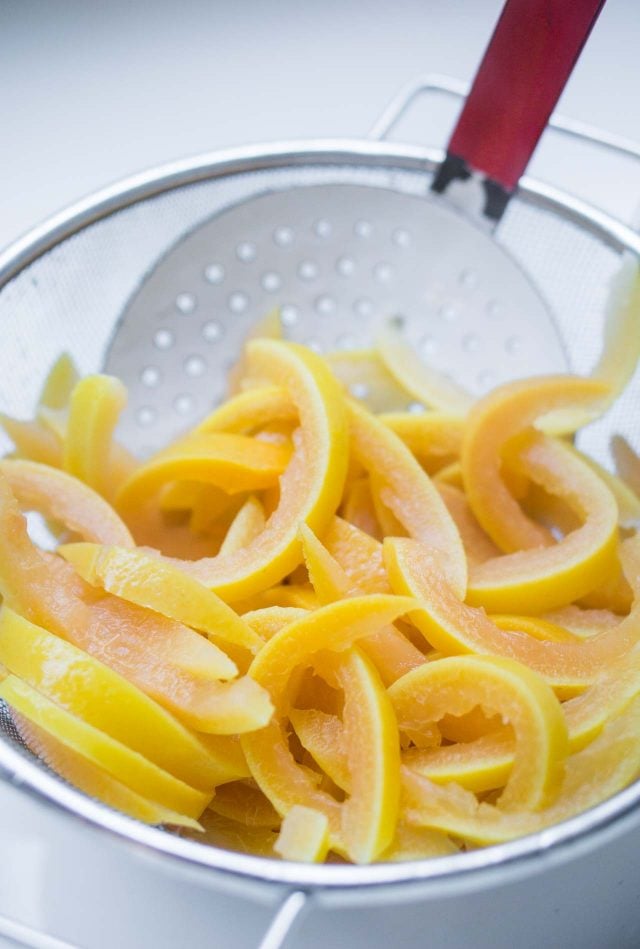 Grapefruits are more bitter than their orange counterparts. I like that bitterness, and these use more of the pith than you'd use with oranges, which means the finished candied peels are plumper and have more of a chew to them.
I use a candy thermometer, the old-fashioned kind, although I'm saving up to buy one of those instant-read, handheld probe thermometers. The good thing about the old-fashioned thermometers, though, is that you can leave them in the syrup and check it frequently, rather than having to stop and dip and probe to get the temperature. I had one of those digital thermometers with a probe on the end of a cable, that you could leave in the syrup, which I thought would change my life. But I blew it out – according to the customer service person I called, who didn't offer a replacement – by leaving it in the syrup, which was odd because I thought that was what it was supposed to be used for.
But you don't need to use a thermometer and can cook the candied grapefruit peel until the syrup is thick and mostly reduced, the peel is translucent, and and they look like this:
In spite of my valiant effort to use whatever leftovers I can, people are often astonished that I don't save everything. "You toss the grapefruit seeds?! I dry them, and once I've collected enough, I make bracelets out of them!" or "You don't save the stem ends? I keep them in a bag, and when I have enough, I use them to stuff pillows for my cat!"
I concede that there are people who are a lot better than I am at reusing and saving things. (Is there a word yet for Internet-shaming people who don't save everything?) In my defense, I'm sometimes working on up to five cooking or baking projects a day, and although I'm loathe to throw things away, if I saved everything, I would be up to my ears in bowls and jars of stuff.
To prove my point, I took people on a little video tour of my refrigerator and kitchen in my Instagram stories, showing all the odds and ends I've got squirreled away. The tour included (but was not limited to) a jar with one not-yet-candied cherry in it, browned butter bourbon that I forgot about, sugar that I'd used for other candying projects (yes, you can save the sugar that you toss the peel in when it's done and use it to sweeten fruit for a crisp or a batch of orange sorbet), a ridiculously small bowl of used flour, a container of powdered sugar and corn starch leftover from making marshmallows, and three jars of vodka influsions that I was testing for my next book project, that weren't quite right, but I'm not sure what to do with them because one of them was so spicy that after one sip my partner still isn't talking to me. (I think I may have burned a hole in his throat.)
Plus using things to start another project, i.e.; baking bread, making pillows, etc. can generate yet another project, and that bowl I showed with four teaspoons of flour in it, was from an episode like that.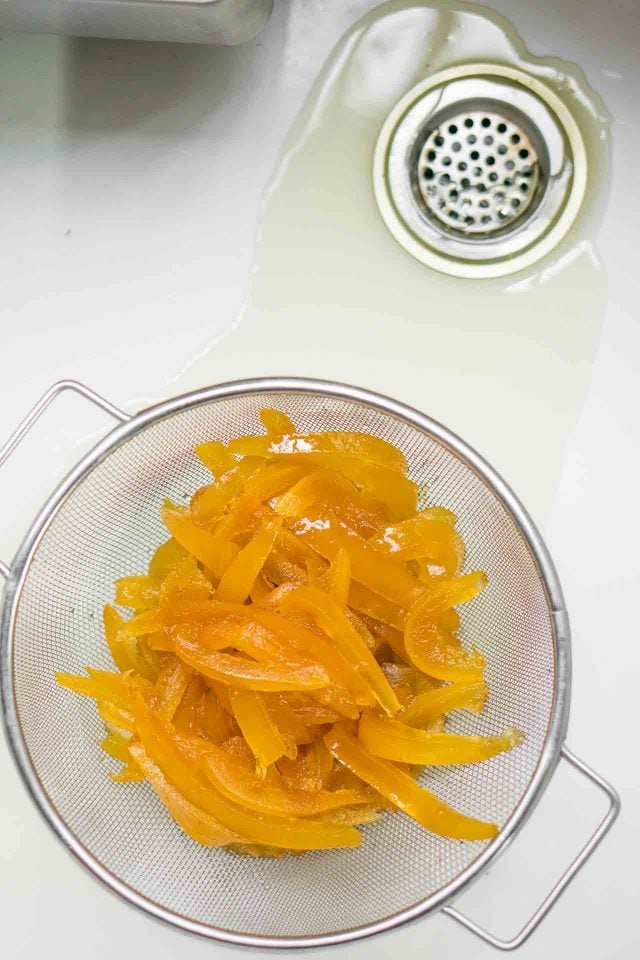 Anyhow, if you want to save the syrup, it's quite sweet but you could use it to sweeten tea, a smoothie, or a cocktail, or a fruit compote, or whatever strikes your fancy. I won't judge you.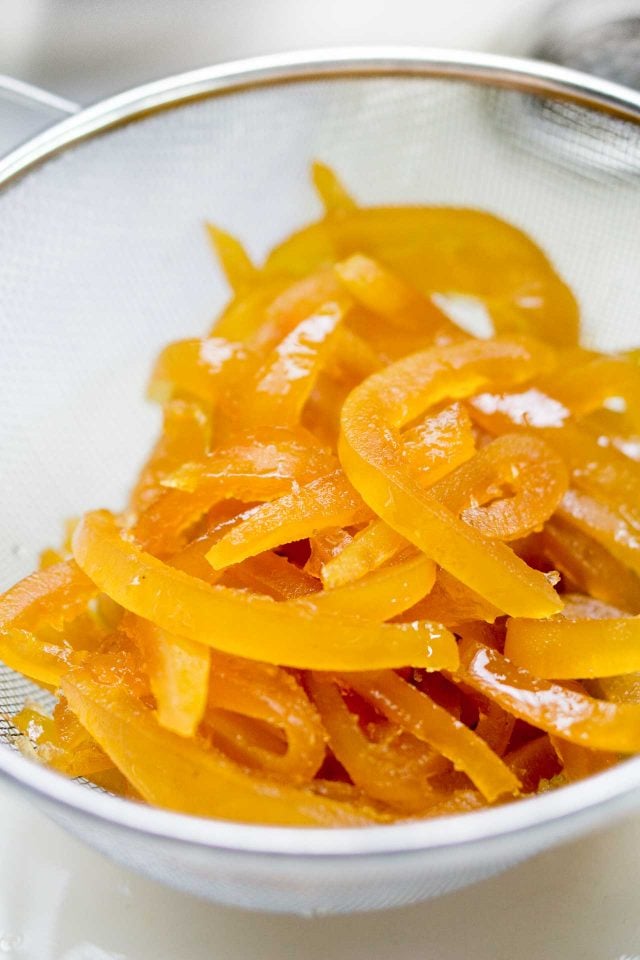 So, back to the candied grapefruit. I can barely resist nibbling on the peel as soon as it's cool enough to handle. When it's fresh, moist, and slightly warm, it's perfection. But you can also store the peel in the syrup and use both at a later date.
I rarely have any leftover chocolate lying around (who does?) but if you want to dip these in dark chocolate, like some do with candied orange peel, you can either do so in tempered chocolate if you want to keep them at room temperature for a while, or keep them in the refrigerator and take them out shortly before serving.
I can't tell you exactly how much sugar to toss the grapefruit peels in, in step #7 of the recipe, but you can definitely save and reuse any left over, as I do.
| | |
| --- | --- |
| Candied Grapefruit Peel | Print Recipe |
For this recipe, make sure to use unsprayed or organic grapefruits, since you'll be eating the skin. The technique and syrup proportions vary from my recipe for Candied Orange Peel in Ready for Dessert; since oranges don't need to be blanched a few times, and they have thinner skin, they are cooked differently. Note that this recipe uses light corn syrup, not high-fructose corn syrup. You can get natural corn syrup at Whole Foods and similar stores. The small amount helps ensure the peels stay supple after candying and resist crystallization, but you can leave it out if you want. For more info, check out my post: When to use (and not use) corn syrup, for substitutions and more info.
3
grapefruits,
organic or unsprayed
2 1/2
cups (500g)
sugar,
plus additional sugar for tossing the finished candied peel
2
tablespoons
light corn syrup
1. Cut each grapefruit and half and juice them. (Reserve the juice for another purpose.) Use a soup spoon to scrape out the pulp and membranes.
2. Use a chef's knife to cut the grapefruit peels into strips just shy of 1/2-inch (1,25cm) wide. Place the peels in a large pot and cover with water. Bring to a boil and simmer 5 minutes.
3. Drain the peels and repeat the simmering and draining process with the grapefruit peels one more time.
4. After you've blanched the peels three times, place them back in the pot fitted with a candy thermometer, if using. Add the sugar, water, and corn syrup and bring the mixture to a boil.
5. Reduce the heat to a low boil and cook the peels until they're translucent and glossy. The temperature should read about 218ºF (103ºC) and should take about 45 minutes. If you're not using a thermometer, it should look like the 7th photo in the post.
6. Drain the peels in a colander then spread them on a wire cooling and let sit 12 hours at room temperature to dry out a bit.
7. Sprinkle some sugar on a baking sheet (about 1/3 cup, 65g) and use your hands to toss the candied peel in the sugar, adding more sugar as needed, and shaking off any excess, until the peels are well-coated and no longer feel sticky.
Storage: Candied peels are best the first week or two after they are made, stored at room temperature in an airtight container. They can be stored three to six months in the refrigerator, although they may get dried out if kept longer. If they do, you can chop the peel and soak it in hot water or orange liqueur, until soft, and use the pieces fruit crisps or whatever baking projects call for chopped candied peel.