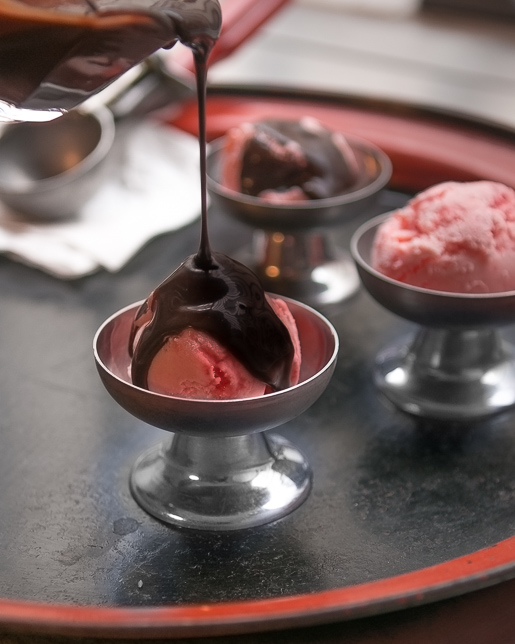 One of my favorite bakeries anywhere is Baked, located way over yonder, in Red Hook, Brooklyn. It's a ways to go, since that part of Brooklyn lacks subway stops. (And it's about 3000 miles from Paris, and no métro goes there either.) So I'm happy to hear they're opening in Tribeca, so when I'm in New York, I can make it over there more frequently. But what's just as good as visiting their bakery in person, is their latest book, Baked Occasions, featuring Matt Lewis and Renato Polifito's favorite cakes, cookies, and candies, for entertaining, including during the holidays, and on other festive occasions.
What endears me to this duo is that we share similar tastes in treats. Leafing through the book, I immediately dialed in on the recipe for Lebkuchen, those wonderful German spice cookies iced with a swirl of dark chocolate, and the Salted Caramel Soufflé, which sounds oh-so-good. But the lure of the Old-School Oatmeal Chocolate Chip Cookies (page 110) was too powerful to resist, and I gave those a go first. After mixing up the dough, while shaping the cookies for baking, I was grabbing clumps of the cookie dough and stuffing it in my face. People who actually got to taste the baked cookies should consider themselves fortunate that I had any dough leftover to bake.
However the pièce de résistance for me was learning that they loved Peppermint Stick Ice Cream with Hot Fudge Sauce as much as I do, which was one of my childhood favorites. And I jumped at the chance to churn up a batch of it, to relive those innocent days of my youth, before life corrupted me and made me the person — for better or worse — than I am today.
Continue Reading Peppermint Stick Ice Cream with Hot Fudge Sauce…