Forget Catherine Deneuve and Carole Bouquet.
The most photographed and revered woman in Paris is Denise Acabo. With her braided pig-tails, necktie, and crisply-pleated kilt, Denise is the sweetest woman in Paris.
Her shop, A l'Etoile d'Or, has an ethereal selection of artisan confections and chocolates from France and whenever I go, I invariably find something new to try, something tasty, something that is so amazing, that I'm compelled to go back for more. What's a guy to do?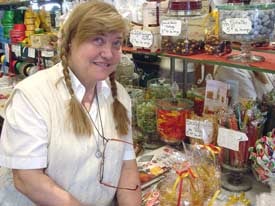 I give myself at least one hour to shop. Minimum. Words fly out of her mouth in rapid-fire French. She'll often use the tu word, instead of the formal vous, which suggests immediately comradery.
Don't understand a word of French?
That's ok, Just nod. She'll keep going.
Continue Reading A l'Etoile d'Or: The Best Candy Shop in Paris…