Polenta Crisp Topping Recipe
I am a bad food blogger.
I mean, who would post a picture like this?
GRRrrrr!…Seeing Red…
The most successful and popular food blogs start with a clever idea or beautiful image, and generally follow it with a witty or an emotionally-involving story behind it all.
Instead I'm posting this picture of the room where was to spend the entire weekend locked inside, which was to be my private retreat. Think Edvard Munch and The Scream, and I think you get the idea of my internal torment.
Last week I had left Paris to work on my next book, since it's impossible to get anything done around here with all the caramels, chocolates, and glasses of red wine interrupting all the time. So off I went to the countryside for the weekend, armed with my laptop, some paperwork, too-little chocolate (which I later discovered, in a panic) and a good book.
So I arrive, start unpacking, and Merde!, I forgot my powercord! No electricity, except for the few hours on my battery, which luckily was new enough to get my through the first day. Since I'm two hours from anywhere civilized, and the hope of finding an Apple retailer is undeniably nil (although there is a nice egg farm & retailer next door) I was stuck doing nothing but reading and baking all weekend. So when you buy my next book, and find the last third of it blank, you'll know why.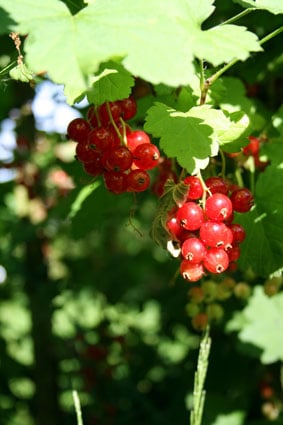 Seeing Red…Currants
But all was not lost, since the house was surrounded by red currant bushes and the branches were loaded with tiny red berries, I spent a good portion of the weekend picking the little red orbs, relieving the branches of the tiny clusters of gorgeous little fruits.
And as I greedily filling my mouth with the puckery berries, I was overcome with a feeling of having to bake something. So all was not lost, and bake something I did!
Rhubarb-Red Currant Crisp
For dessert the first night, I made a terrific Rhubarb and Red Currant Crisp with Polenta Topping. I sliced rhubarb into little pieces (about 8 cups), tossed it with some sugar (about 1/2 cup), some flour (about 3 tablespoons), a vanilla bean, and a few big handfuls of freshly-picked red currants, and voila, we had dessert practically right from the garden. Except for the sugar and vanilla and flour, although the house was surrounded by wheat fields, which was too green to pick and mill into flour. And besides, I'm not thatcrazy. Although I did go picked some wheat and cracked it open, but it was too fresh and I'll sadly have to wait a few more weeks.
Aside from red currants, there were black currants (cassis) too, but they weren't quite ripe. But the white currants were sweet and lovely but too precious to cook with, so I enjoyed them right off the branches. And next time you, or anyone around you, complains about the price of a basket of berries, go outside and pick a few hundred red currants and tell me what you think each basket is worth.
There's a few running debates about the price of locally-produced, hand-picked berries, but you're welcome to post comments here. And if you feel like picking any red and black currants, we're heading back in a few weeks and could use a few extra hands.
(Warning: The pay stinks, but the rewards are delicious.)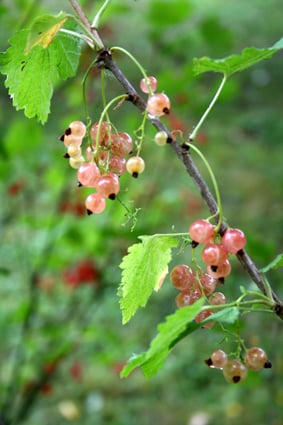 Seeing White…Currants
Oddly enough, last year I saw a few baskets of white currants in my local convenience store. (You know, the kind of place where you can buy milk or butter or wine on dimanche if you urgently run out.) In their tiny, miserable produce section, just next to the shriveled carrots and brown, wilted lettuce (who buys that?), there were three baskets of plump white currants, so I made a mental note that if it's ever a Sunday and I need some white currants in an emergency, I'd know exactly where I could get some. But finding a powercord in an emergency?…c'est pas possible.
No, the grapes weren't quite ripe for picking yet…
No Wine…Yet.
But the egg farm nearby had lots of fresh eggs, so I made a Tortilla Española with bacon, and pomme de ratte potatoes, which everyone tries to tell me are called 'fingerling' potatoes in America, but I don't think they're the same thing, since I've never tasted any potatoes in the states that were as good as these. But if anyone out there can define what exactly is a fingerling potato, please let me know. Is it just any tiny potato?
There Was No Apple Store, But There Was An Egg Store
So since this is summer, I'm becoming obsessed with making a lot of fruit crisps (instead of earning a living). One of my favorite ways to top them, and to ensure they live up to their crispy moniker, is to make a topping with polenta, coarsely-ground cornmeal. It can be difficult to find in Paris, and although instant-polenta is available, I bought it once…and that was one time too many. (C'mon folks, we're friggin' right next door to Italy!) But I was happy a few years back to find a good source for coarse polenta at the Arab markets that I like to prowl through, which they stock in abundance.
Fruit crisps are perhaps the best and easiest of desserts to make during the summer, when all the great fruits and berries are at their peak. They're incredibly easy to put together if you're anything like me and keep a bag of Polenta Crisp Topping in the freezer, so you can make one at a moment's notice. In general, I find that 2 to 4 tablespoons of sugar, and 1 tablespoon of flour, plus a dash of vanilla is just about right for almost any mix of fruits and berries. Mix it all together and put it in a 2-quart baking dish. Cover with crisp topping and bake in a moderate oven until the fruit is bubbling and the top is crispy and nicely-browned.
If using plums or apricots, double the amount of sugar, since they get rather tangy once baked. Although I used rhubarb and red currants in mine, you can use any mixture of peaches, nectarines, apricots, cherries, and plums. Add a few raspberries or blackberries as well. Although I wouldn't necessarily use white currants, you're certainly welcome to. But if it's Sunday and you're fresh out, go check at your corner store to see if they have any in stock.
There's something nice about living in a country where it's impossible to find a powercord in an emergency, but white currants are available whenever you need them. Talk about priorities!
(More pictures from the country are on my Flickr page.)
Polenta Crisp Topping
Enough for about 8 cups of fruit filling
3/4 cup (105 g) flour
2/3 cup (90 g) polenta
1/2 cup (55 g) almonds or walnuts, lightly toasted
1/2 cup (110 g) firmly packed light brown or cassonade sugar
1 teaspoon ground cinnamon
8 tablespoons (115 g) salted butter (chilled), cut into 1/2-inch pieces
Put the flour, polenta, almonds or walnuts, brown sugar, and cinnamon in the bowl of a food processor. Pulse a couple of times to mix everything together.
Add the chilled butter pieces and pulse until the butter is finely broken up. Continue to pulse until the crispy topping no longer looks sandy is just beginning to hold together.
If you don't have a food processor, chop the nuts finely with a chef's knife then work the butter in with your hands or use a pastry blender.
Storage: Topping can be made in advance and stored in the refrigerator for up to 5 days. Can also be frozen in a zip-top bag for up to one month.
Recipe Adapted From: Ripe For Dessert.