Dulce de Leche Cheesecake
Sometimes when I write posts for the blog, I write so fast that my mind can barely keep up with my fingers. (Hence the occasional frequent typo.) Ideas fly into my head and I literally have to jump up from my chair and make them. Such was the case with this Dulce de Leche Cheesecake recipe, which combines two of everybody's favorite things: cream cheese and dulce de leche. The French are fans of le Philadelphia, a catch-all word for cream cheese (just like we say Band-Aids and Kleenex, which are actually specific trademarks) and they are also fans of confiture de lait (milk jam), their own version of dulce de leche.
They don't, however, have graham crackers, an all-American invention made with whole-wheat flour, and designed by Reverend Sylvester Graham, to discourage people (his followers were called "Grahamites") from having impure thoughts.
(Not sure how I'd explain how a whole-grain cracker curbs lascivious urges to French friends. But somehow, I doubt that would increase the chances that we'd be seeing them anytime soon on French supermarket shelves.)
Impure thoughts have their place in baking and cheesecake is probably the base of many of them. My thoughts were close to prurient when I was pulling the ingredients from my cabinets and refrigerator. So I guess I should be glad that we don't have graham crackers in France, not just because I like to make cheesecake from time-to-time, but because it gave me the chance to make my own. (From the recipe in Ready for Dessert.) But store-bought ones are fine to use as well, in case you have more modest goals.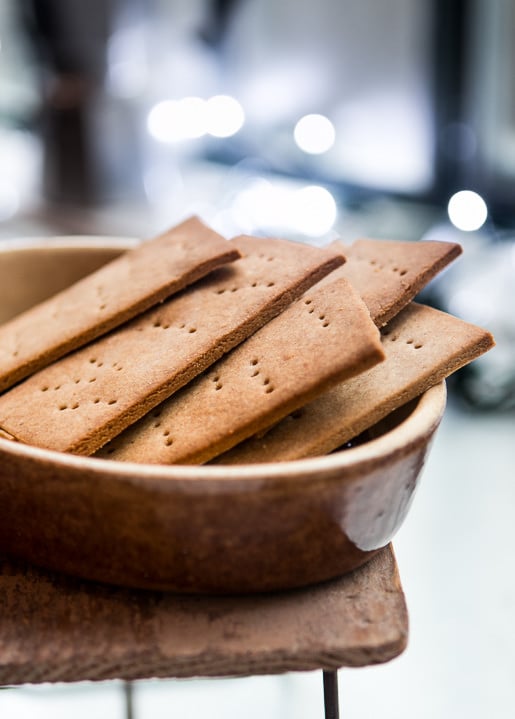 Like graham crackers, you can also buy dulce de leche. But because idle hands are the devil's workshop – and my hands work faster than my head (where ostensibly, I could reason that it's not vital to make every part of the recipe from scratch) – I went ahead and made my own.
Europeans like cheesecake as much as Americans (I did a bit of reading around, and while I thought it was of Eastern European origin, it seems it may have been invented in Greece), and we each share a love of dulce de leche, or confiture du lait, although I've not seen the two combined in any Parisian pastry shops. However they may want to rethink that because my dulce de leche cheesecake was a huge hit here, with some French friends – and even some neighbors, including one who stopped by to drop off some magazines and ended up going home with a large chunk of gâteau au fromage. Gluttony may be a sin, but sharing is divine.
| | |
| --- | --- |
| Dulce de Leche Cheesecake | Print Recipe |
One 9-inch (23) cheesecake,
twelve servings
In Europe, you can use speculos spice cookies for the crust, which are a little heavier than graham crackers, but will work just about the same way. You might want to decrease the melted butter in the crust by 1 or 2 tablespoons and omit the sugar, to compensate. If you use my dulce de leche recipe, be sure to double it as you'll need more than one cup.
For the crust
1 1/2
cups (185g)
graham cracker crumbs
(from about 10 to 12 graham crackers)
6
tablespoons (85g)
butter, salted or unsalted,
melted
1/8
teaspoon
ground cinnamon
For the cheesecake
2
pounds (910g)
cream cheese
4
large eggs,
at room temperature
1
cup (280g)
dulce de leche
2
teaspoons
vanilla extract
For the glaze
2/3
cup (195g)
dulce de leche
2
tablespoons
heavy cream or whole milk
Flaky sea salt,
such as fleur de sel or Maldon
1. Preheat the oven to 350ºF (180ºC). Spray a 9-inch (23cm) springform pan with nonstick spray, or butter it. Set the pan on a foil-lined baking sheet. (That will help you move the pan around easily, and catch any drips if your pan isn't well-sealed.)
2. In a medium bowl, mix the graham cracker crumbs, 1 1/2 tablespoons sugar, melted butter and cinnamon, until the crumbs are evenly moistened. Press the buttered crumbs in the bottom of the springform pan and about one-third of the way up the sides. (Dampening your hands a bit will help the crumbs not stick to them. You can also use the bottom of a sturdy glass to press the crumbs in evenly.)
3. Bake the crust until it's light brown, 10 to 12 minutes. Remove from oven.
4. In the bowl of a stand mixer fitted with the paddle attachment (or by hand, or in a food processor), beat the cream cheese and sugar until smooth. Add the eggs one at a time, stopping the mixer between each addition to scrape down the sides of the bowl. Mix in the 1 cup of dulce de leche, vanilla, and salt. Scrape the batter into the prepared pan and bake for about 55 minutes, until the cheesecake appears to be just set in the center. If you jiggle the pan, the outer part of the cake should not move but a small circle in the middle, about the side of a bracelet, should still quiver.
5. Remove the cheesecake from the oven. Set on a cooling rack. Run a knife around the outside of the cake to loosen it from the pan, then let the cheesecake cool completely.
6. When the cake has cooled to room temperature, warm the dulce de leche and cream or milk is a small saucepan over very low heat, stirring until smooth. Remove the outside of the springform pan from around the cake. Spread the dulce de leche topping over the cheesecake, pushing it right to the edge of the cake. Just before serving, sprinkle the cake with flaky sea salt, just enough so that everyone gets a flake or two in each bite.
Storage: The cheesecake can be made up to four days ahead, glazed, and refrigerated. The unglazed cheesecake can also be frozen, if well wrapped, for up to two months.
Related Recipes and Posts
Ingredients for American Baking in Paris
Baking Ingredients and Substitutions