Persimmon Margaritas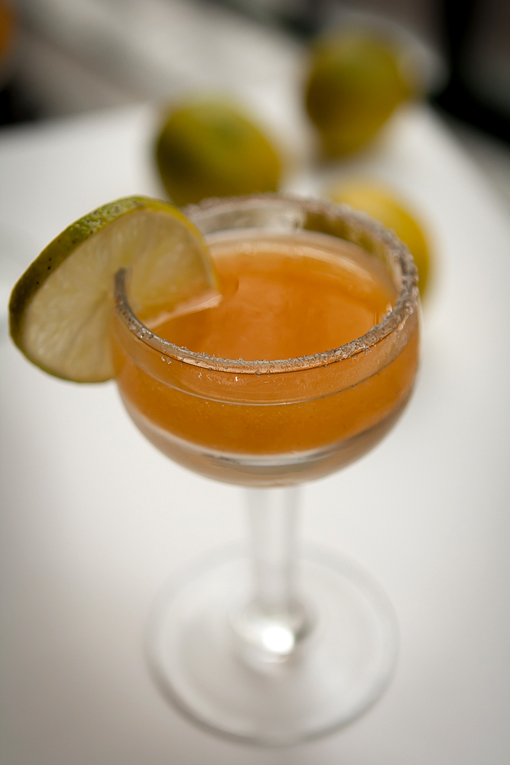 A few years ago, I had a major emergency. To you it might not seem like one, but it was springtime and I was finishing a book and needed to retest the recipe for Persimmon Cake because I wanted to give it one last go before it went to the printer. Persimmons are fall fruits and it's impossible to find them outside of their season. And as much as I searched and searched and searched, there were none to be found.
So I started keeping an emergency bag of persimmon puree in my freezer at all times. I don't know why, because I haven't had a persimmon emergency since them (but heck, ya never know!) But when I pulled open my freezer lately and saw that it had become a frightening mélange of plastic bags whose labels had fallen off, ice cubes that had landed in the back of the shelves (with some misc. crumbs) – and – of course – just out of arms reach, scraps of things like tomato paste and bacon cubes, bits and pieces of cakes (I think) and pâté (I think), and bread ends, (probably) I decided to put an end to the madness once and for all, and do a massive clean-out.
So that's one less disaster around here. On the other end of the scale, the "emergency" I hear from others is that they have too many persimmons, and don't know what to do with them. Astute readers/bakers will find I have a Persimmon Bread recipe on the site, and a Persimmon Cake recipe in Ready for Dessert. So I was thrilled beyond words to find a recipe for a persimmon-based cocktail, ie: persimmon margaritas, in My Bueno, a terrific book of recipes culled from three generations of Mexican cooks. And it's a recipe that combines my two of my favorite things – fresh fruit, and tequila.
After I whittled the freezer down, tossing things covered in several inches of ice crystals, thawing sorbets to rechurn, to give them a second chance, and wondering why I was saving a 5/8ths of a tablespoon of pear juice, I was ready for a cocktail. So took out my shaker and since there are no persimmon recipes in my next book, I killed two birds with one stone and took care of a few bags of persimmon puree (ok, I also made a few batches of persimmon bread), and toasted my clean freezer with an icy-cold drink.
Persimmon Margaritas

Makes 2 cocktails

Adapted from Muy Bueno by Yvette Marquez-Sharpnack, Veronica Gonzalez-Smith, and Evangelina Soza

The authors recommend using Fuyu persimmons, which are short and squat, and can be eaten when firm. To puree them, find fruits that are bright orange. Remove the stems, cut the fruits in half, and peel the halves. Cut the flesh into cubes and puree them in a food processor. If using Hachiya persimmons (or another persimmon that needs to be fully ripe, and squishy-soft before using it), as I did, remove the stem, cut the fruits in half and scoop out the jelly-like pulp. Puree the pulp in a blender or food processor.

The original recipe called for Fuyu persimmon puree and had twice the amount of sugar syrup that I used here. So feel free to use 1/4 cup (60ml) of sugar syrup, depending on the sweetness of the puree. But you can start with the amount indicated and add more, to taste. The authors recommend reposado tequila and, of course, you can multiply it up to serve as many people as you wish.

To make simple syrup, boil together equal amounts of sugar and water – I used 1/2 cup (125ml) water and 1/2 cup (100g) sugar – stirring until the sugar is dissolved. Remove from heat and let cool completely. Leftover syrup can be kept in the refrigerator for several weeks.

4 ounces persimmon puree
4 ounces tequila
1 ounce fresh lime juice
2 tablespoons simple syrup (see headnote)

sugar, sea salt and ground cinnamon

1. Chill two margarita glasses in the freezer. Spread a thin layer of sugar on a plate, and sprinkle it with a bit of flaky sea salt and ground cinnamon.

2. Add the persimmon puree, tequila, lime juice and simple syrup to a cocktail shaker. Fill the shaker with ice, cover, and shake vigorously until well-chilled.

3. Remove the glasses from the freezer and press the rims into the sugar mixture, ensuring that the entire rim gets coated.

4. Divide the cocktail mixture into the glasses and garnish with round of fresh lime. They can also be served over crushed ice.

Related Recipes and Links
Cranberry Margaritas (Leite's Culinaria)
Persimmon Pudding (Simply Recipes)