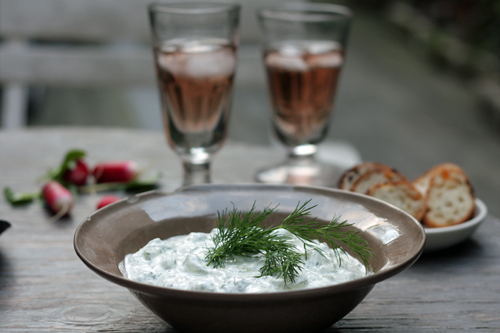 A week or so ago, my French other half was under the weather. And it wasn't until that point that I learned that not everyone understands the healing power of chicken soup. So I made a Poule au pot (chicken cooked in the pot) with carrots and little bits of pastina (pearl-shaped pasta) floating around in the broth, and stopped at the market to pick up a bunch of fresh dill to chop into it.
Fresh herbs are widely used in French cooking and available in Paris markets, although some are hard to find, especially oregano, marjoram, and sage. Others, like thyme, rosemary, and tarragon are sold in generous bunches, as well as fresh dill. Although I've always wondered what people in Paris do with all that fresh dill since you only rarely see it on menus, unless it's paired with salmon.
It was hard to explain the appeal of dill with chicken soup, but not only did the soup work its magic, the dill was a surprise hit. However I had half a bunch left over and since wild salmon isn't so abundant, but cucumbers are, so I decided it was Tzatziki time.