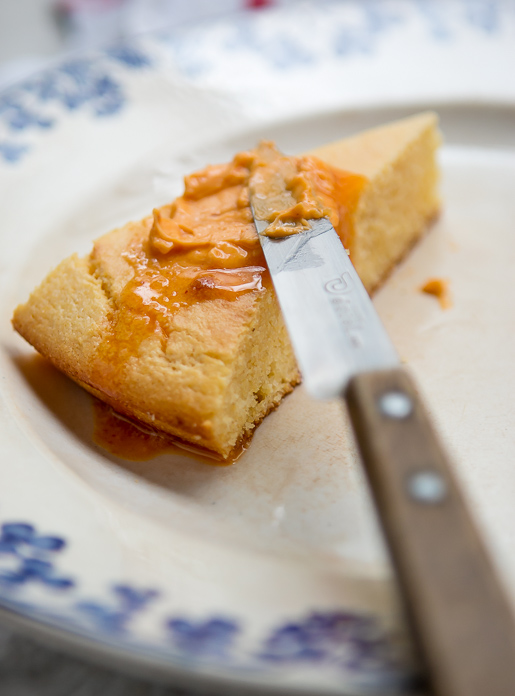 One of my friends who also has a food blog told me that she likes the posts where I cobble together ingredients in Paris to make something American. After spending countless hours roaming the city in search of this and that, it's something that is actually fun for me to do, too. I like nothing better than prowling around and discovering ethnic épiceries (often around Belleville and the Marché d'Aligre), where I always come home with a variety of curiosities, in addition to what I was originally looking for. Some are still in the back of my cabinets, like still-sealed coconut concentrate from Vietnam (which looks similar to molasses, and probably tastes amazing), and the bag of Fritos, which an American friend who was staying in my apartment spied, and threatened to open – and eat. But didn't
Four years later – yup, the coconut concentrate is still in my baking cabinet, and the Fritos are still uneaten, along with a bag mahlab, the fragrant kernels of Mediterranean cherry pits, a dried-out stalk of candied angelica, which I had to buy since I searched far and wide for fresh angelica in France (even in the region where candied angelica is made) and no one knew where – or what – fresh angelica was (thus ending my ability to spin a story, and a recipe, out of that one). I have a tin sack of سبع بهارات, a Lebanese blend of seven spices that has no occidental equivalent that I can think of. There is a small box of handmade chocolate from Oaxaca that has been calling my name ever since the start of hot chocolate season. And just added to my roster are six juicy, plump Meyer lemons that were hand-delivered, and are begging to be made into something that exploits their unique, sweet-citrusy character.
While I love to play around with these things in baking, it's hard to share any recipes because not everything is available everywhere. And while the internet fills a lot of gaps in global availability, there are no substitutes for a number of things. Fortunately cornmeal is something that is readily available not just in America, but is used in the cuisines of India, Sri Lanka, and Italy, as well as Central and South America. And a few months back, I was happy to find a bag of cornmeal in a shop VT Cash & Carry, up in the lively Indian quartier of Paris.
The French have a different relationship to corn than Americans. It's native to us so we use it often, in a variety of guises – mostly fresh, but also dried and ground. But other cultures have cornmeal-based specialties. Lest you think the French don't ever use cornmeal, think again, mes amis.