I can't tell you how many times I've been asked the age-old question: "How did you start cooking?"
My usual wise-guy answer?
"Well, I turned on the stove and put a pan on it."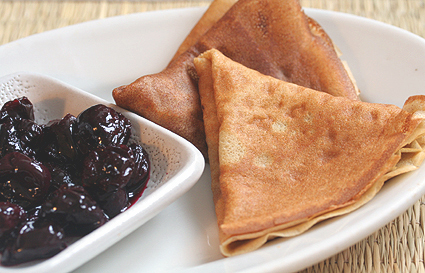 In reality, I probably should acknowledge a debt of gratitude to Anna Maria Albergetti who got me on this whole obsessive measuring-thing, hawking those carefully delineated bottles for mixing up Good Seasons salad dressing. But I also think some of it began at our local mall, at The Magic Pan, one of those crêperies that popped up everywhere in the 70′s. In the dining room, women in puffy-sleeved dresses stood over a open-flamed, circular crepe-cooker, presiding over a bevy of hot skillets that turned slowly over the flames, frying crêpes as fast as they could.
Wanting to be just like the girls at the mall, minus the puffy-sleeved dresses (which would come later in life), I bought one of those worthless numbers; a Taylor and Ng crêpe pan with a rounded bottom where you dipped the underside of the hot pan in a big bowl of batter, praying it didn't stick before you could lift it up and flip it over to continue.
And apologies to my family for all those crêpe-filling experiments, especially the chicken in cream sauce, which, in my impatience, I madly kept adding spoonfuls of flour to until it thickened—which I presumed should take all of about 20 seconds.
The result?