I had planned to write up my post-Thanksgiving report, but I decided to wait until the smoke cleared before I tell 'The Tale' of what really happened that night…which involved a high-speed car chase through Paris, a few hypodermic needles, and a couple of user-unfriendly hors.
In the meantime, I thought I'd write a bit about what's been baking around here, which I assure you will be just as exciting.
I've been cooking my way through Nick Malgieri's Perfect Light Desserts which I featured in a recent interview, and have had a great time making many of the recipes from, including this towering chocolate cake I made for the first Thanksgiving I had. (Yes, we celebrate twice in Paris.)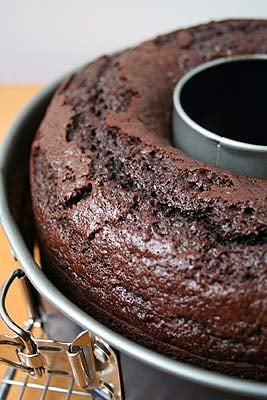 Since I've been on the subject of leftovers around here, I confess much of this baking was due to a surplus of applesauce I'd made from an apple-picking I did when my friends who live in the countryside complained they had too many apples and didn't know what to do with them all.
So I thought I would be a very good person, and help them out.