I have a stack (actually, about four stacks) of cookbooks that arrived this year, many of them riddled with bookmarks for recipes. Some of them I managed to get to, presenting recipes on the blog or baking for friends and neighbors, and a few I didn't get around to yet. In this year's round up, I did sneak in a few recipes from favorite classics cookbooks in my collection, but there's a nice representation from books that came out in 2009. Included are a few guidebooks that I found indispensable, plus I tossed in a couple of cookbooks that I've had my eye on, which are en route, that I'm looking forward to getting dusty with flour, and smudged with butter.
Here's my annual round-up My Favorite Cookbooks from 2009:
Rustic Fruit Desserts by Corey Schreiber and Julia Richardson
I met Corey Schreiber a decade or so ago when he launched a restaurant in San Francisco. Shortly afterward he moved up to Portland to re-connect with the outstanding ingredients of the Pacific Northwest. This best-selling book features everything from a lemon-swathed Blueberry Buckle to Caramel Apple Steamed Pudding with Ginger. But it's the Upside-Down Pear Chocolate Cake that is sitting in my batter's box (or batter box?) to try.
New Flavors of Appetizers: Classic Recipes Redefined by Amy Sherman
I'm the first to admit that when I invite people for dinner, because I live in France, it's easy to stop at the charcuterie for a few slices of country ham or hit the Arab market for a bag of salty olives. But Amy Sherman's book is full of do-able recipes. I'm a bit fixated on her Baked Asparagus, Leek, and Goat Cheese Bites, and as soon as spring rolls back around, I'm going to tackle that one. In the meantime, there's plenty to get me through the winter, like Olives and Feta Marinated in Lemon and Ouzo and Smoky Eggplant Dip with Cumin-Crusted Pita Chips.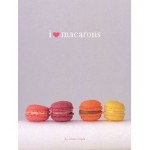 I Love Macarons by Hisako Ogita
I get so many inquiries about macarons that I had to compile a post of the best advice out there. (Making French Macarons.) But this little book, in English, promises a fool-proof method of making the little devils. Because of their popularity, I did a special write-up of I Love Macarons!, which offers more details about the book.