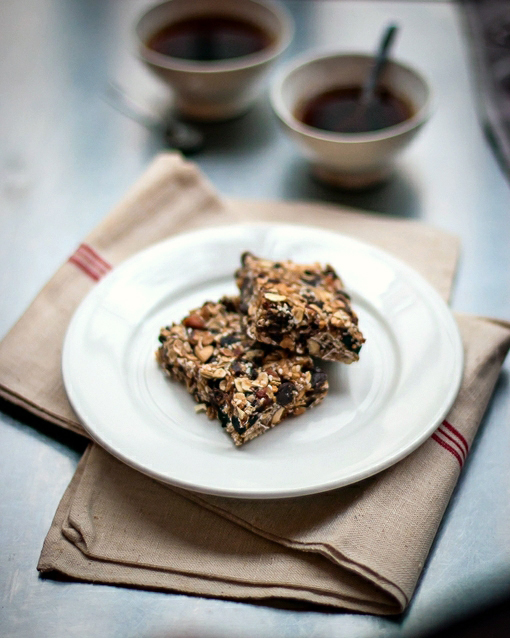 Someone once asked me how I know when to give up on a recipe. Sometimes I realize after a few tries, that I should just forget about it. And others, like the tarte tropézienne in my next book, I made seventeen times until I got it just right. (Because I got a little crazy about getting it just right, including bringing slices around to local bakeries to get their opinions. Plus making a second trip to the bakery in the south of France where I had the one that inspired me to include it.) And the cake has four components, so multiply that times seventeen, but I still didn't give up until I got it just right.
Speaking of my next book, I had a kind of funny idea (well, at least to me…) to end the book with a recipe that has been vexing me for ages: granola bars. And I would accompany my spectacular barre de müesli recipe with a triumphant story about how I was able to succeed in the face of multi-grain adversity, which somehow I could turn into a metaphor for my culinary life. (In that very special way that I do…which has editors scratching their heads as my writing curves from one completely different subject to eventually landing on another – which, if I/they have any luck, is on the recipe at hand.)
But after a whole other round of testing, as my deadline loomed – and I had depleted all the flacons d'avoine (oats) in the natural food stores of my neighborhood – I realized that it was time to give up my idea of including a naturally delicious dream bar, and move on with the rest of my life.
Then, one day, I had little peanut butter frosting leftover from a project, sitting in a bowl on the counter. And since we were taking a trip and I wanted to bake up something to take along to snack on, I mixed it up with some nuts, dried fruits, and whatever I had around – then pressed the whole shebang into a pan and baked it up. And you know what? Bingo! They were the best granola bars I'd ever had, hands down. C'est la verité.