A couple of books have been resting on my nightstand for the past few weeks and I've been enjoying dipping into each, back and forth. They're quite different and I didn't expect to take a shine to them both as much as I did. Both of these authors and books are about teaching people to cook, from different eras and in different styles. And the more I read of each, the more I realized how much the two intersect.
Cooking is something that's always evolving, whether it's figuring out how to make a good French baguette in an American kitchen or presenting a technique for making risotto in just seven minutes. The first book is based on the correspondence of a familiar face, someone who wrote a book five decades ago that few thought anyone would have any interest in. And the second is from two modern-day faces that are pushing to evolve what we eat even further, based on a new cooking style brimming with new ideas, techniques, and flavor combinations.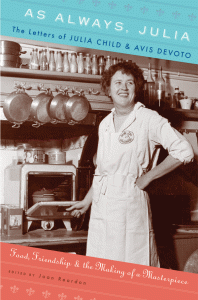 As Always, Julia: The Letters of Julia Child and Avis DeVoto
Although many people enjoyed the film Julie & Julia, I would venture to guess that the actual characters are more interesting, and even richer, than what was possible to present on a film screen. Anyone who has watched even one short episode of The French Chef with Julia Child knows that a few minutes of her roasting a chicken tells you just about all you want to know about her. And on the other side, although I didn't read the original Julie/Julia blog or book, I'm sure she's a more multifaceted than depicted as well. The film enjoyed a lot of success and pulled Julia Child back into our collective memories.
In this age of e-mail, tweets, and text messages, quite a bit of our lives get lost into cyberspace as we type short notes, then hit the delete button once the information has been processed. The art of letter-writing is on the wane, but evidence of how much we've lost can discovered in the pages of As Always, Julia: The Letters of Julia Child and Avis DeVoto. Fortunately Child and DeVoto were avid writers and their fervent letters were preserved, and archived, then sorted through by Joan Reardon for this rare look at not just how a cookbook gets published, but a glimpse into the lives of two dynamic women living in separate cultures and gradually discovering what connects them.