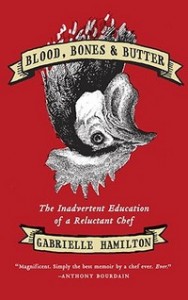 I started reading Blood, Bones & Butter, not quite knowing what to expect. Gabrielle Hamilton is the chef of Prune restaurant in New York City and for those who haven't been, it's a rather modest little place that aspires (and succeeds) in doing nothing more than serving very good food, simply prepared, in a friendly space.
Hamilton is a very good writer, but I wasn't sure if her story would be anything that I could relate to. Was it going to be a nasty retelling of events in her past? Were we going to learn her philosophy of cooking? Was she writing to settle some old scores? Thankfully it was not really any of those, although they're woven into her story as she reveals some things in her life (and hides a few) that made her who she is today.
It's hard to write a memoir and be honest, while at the same time, not alienating readers. For example, people think that living in Paris means sitting around in cafés all day eating croissants and macarons, and someone has to show them otherwise ; ) Life isn't always rosy and showing your flaws, and pointing out a few in others, is just part of reality. One doesn't need to dwell on them – and Hamilton certainly doesn't – but she does include a number of incidents that manage to convey to us "the inadvertent education of a reluctant chef", which is the apt subtitle of this book.