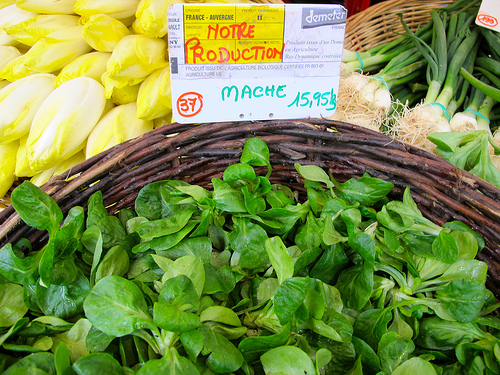 Shopping in Paris, especially for food-lovers, can be an exhilarating experience. There's lovely outdoor markets just about every day of the week, bountiful with fresh produce. For those who like to support local farmers and agriculture, one often needs to look past the displays of fruits and vegetables heaped on the tables to see where they are from (EU regulations require sellers to display that information prominently.) And folks are often surprised to learn that quite a bit of the produce is from elsewhere, whether in France or outside of the country, or continent.
I asked my friend Phyllis Flick, who writes about eating around Paris on her blog My Paris Notebook, where she offers shopping tips and les bonnes adresses, highlighting places in Paris where one can find local produce and restaurants where young chefs are serving the local harvest.
Because she is so good about sleuthing out these places and resources, I am happy to welcome this guest post by Phyllis on Shopping for Local Produce in Paris. –David
---
Why buy local?
I try to buy locally as much as possible. For one I want to support independent farmers and avoid big agriculture, but it's mostly a question of taste. Since it doesn't have to travel far, local produce is fresher and more likely to have been picked when ripe – which means more flavor and more nutrients. By the time industrially grown produce reaches the supermarket it's likely to have traveled many miles and sat in distribution centers, meaning it's no longer very fresh. Vegetables rapidly lose their nutrients once picked—spinach looses 75% of its vitamin C within days of being harvested—so if you're not buying local, you may be better off buying frozen vegetables.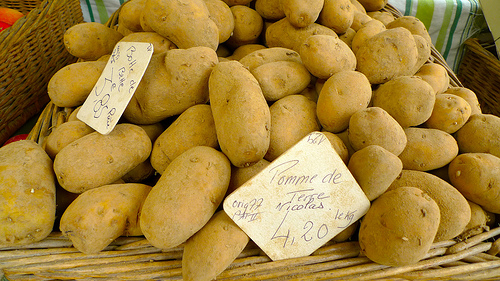 Local produce is also less likely to have been chemically treated in order to withstand long travel times. In addition, a recent study found that fruits and vegetables coming from outside of France had alarming traces of pesticides, some of which are banned in France, so buying fruits and vegetables from countries with lower environmental standards may expose you dangerous pesticides.
So now that you know why it's better to buy local produce, here's are some resources and marketing tips on where to find it in Paris:
At the Market
Outdoor markets in Paris are not farmers markets, which means that shopping at your weekly market doesn't guarantee that your produce even comes from France. You'll have to read the labels to know what's local and what's not. Fortunately, every product sold in France must be labelled according to its origin, so you'll know if the apples you want are from the Loire Valley, Spain, or even China, if you take the time to look.
If you want to buy direct from the source, look for the words "producteur-maraîcher". You'll also want to look for someone who only has a small selection of seasonal produce. If it's winter and you see tomatoes and strawberries, it's not local.
But even if a vegetable seller buys their goods from Rungis, the immense wholesale market outside Paris where most food in Paris is bought and sold, it could have very well come from their "producer pavilion" where the area's producers gather to sell to restaurateurs and retailers who then resell their products in Paris. You'll know if something is local if it's marked "Ile de France" or displays the name or number of one of the departments in Île-de-France (75, 77, 78, 91, 93, 94, 95). For local organic vegetables head to the Marché Biologique on Saturdays at Batignolles (Métro: Rome) or the Marché Biologique on Sundays at Raspail (Métro: Rennes, or Sèvres-Babylon). But again, you need to look at the labels. Buying organic strawberries shipped from Chile seems to be missing the point.