The problem around here is that I buy chocolate in 5 kilo, about 11#, boxes and every afternoon, and sometimes (ok…make that 'often'…) first thing in the morning, I dig my hand deep in the box and pull out a few pistols every time I walk by. People have the impression that I eat chocolate all the time, every day. And although I usually deny it, I would have to admit it's definitely true.
Except last night when I was flossing, part of one of my teeth flew out and plinked onto the floor. So today it's like eating and talking with a thumb tack in my mouth, and I'm having a rare, chocolate-free day.
Who knew it was possible to floss to hard? Does that make me a 'power-flosser'?
(When I called my dentist, I was stumped trying to figure out the verb 'to floss' in French. Ça existe?)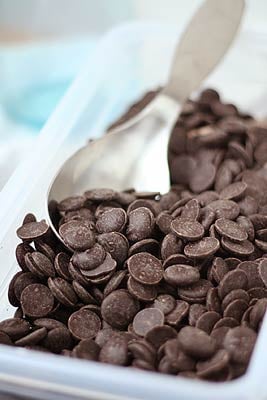 Anyhow, in addition to the little palets of dark chocolate I'm always dipping into, I also have tons of unusual chocolate bars around here I've been amassing over the past few months.
Many I pick up when traveling, and some I get sent by companies wanting me to try them out. I happily sample them all and love to find something new or especially unusual. Often I taste them systematically by sitting down, snapping off a corner and savoring the flavors. As I roll and chew the chocolate around in my mouth, I ponder the different characteristics, noting origin and the various flavors: Sweet, fruity, acidic, roasty, bitter, citrusy, woodsy—all the various tastes we find in chocolate.
And other times, I'm not so good and I rip off the covering and start gnawing away at the chocolate until it's nothing but an empty wrapper with a few crumbs of chocolate left. I never did well in science since I'm lacking in patience.
So during the next few weeks, it's your turn to be patient.