Living in a foreign country, as an outsider, you tend to notice lots of contradictions. If you try to learn the native language, like I am, you'll notice there's all sorts of curiosities specifically designed to trip your up. When people ask me what I do all day, they don't realize that just to do something as basic as write a check, I often have to pull out the dictionary. (Although I've seen French people consult theirs almost as frequently.)
But English ain't no walk in le parc either…we've got where, we're, wear, ware…that all sound exactly the same but mean pretty different things.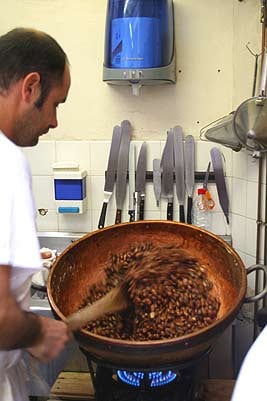 Caramelizing Nuts for Praline at REGIS
One of the things you learn when speaking a new language is that there are lots of rules…and seemingly just as many exceptions. Sometimes they're things not taught in classes but you just need to learn by osmosis.
For example, Paris is generally pronounced Par-EE, without saying the final 'S'.
But if you say the name Régis, you say Rey-GeeSS you certainly do pronounce the final 'S'.
Similarly, if you mention the 16th arrondissement, most Parisians who don't live there (or is that 'their'?) will sneer and say, "Oh, they are all snobs over there" or "I don't like those people there, they're not very nice."
So imagine me being pleasantly surprised when I went to visit REGIS chocolatier in the heart of enemy territory.