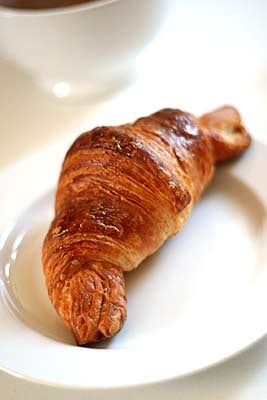 Truth is, I don't eat croissants very often for the simple reason that I don't like to get dressed until I've had my morning coffee & toast. So having one is a relatively big deal for me, since croissants are only good early in the day: I refuse to eat one after 11am if I can help it. Like anything made with copious amounts of butter, they don't get better the longer they've been out of a hot oven.
Although stories abound, no one quite knows who invented le croissant. It's believe to be in an invention of the Austrians, who created a crescent-shaped pastry to oppose the Ottomans, who had invaded their country. They symbol of Turkey is a crescent, and granted, who doesn't like to eat Turkey?
Except maybe vegetarians. So maybe croissants were invented by and/or for vegetarians?
Aha…a new theory emerges…this is how rumors get started on the internet, folks, and perhaps people will be quoting me decades later: "David Lebovitz says croissants were invented for Austrian vegetarians!"
But today, I think few would argue that the croissant is most closely associated with France and in fact, one rarely comes across a bakery in Paris that doesn't offer their own version. If you need further proof of their proprietary alliance with French gastronomy, ask yourself when was the last time you heard the words das croissant?