I'm excited to announce the release of the e-book of my Paris Pastry Guide!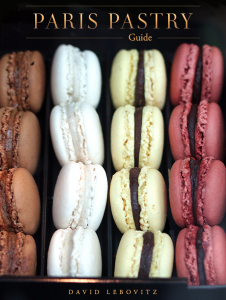 With over 300 addresses for the best places in Paris for chocolates, pastries, and other confections, this comprehensive guide is the perfect sweet companion for your trip to Paris. But even if you're not planning a trip, there's plenty of pictures to so you can enjoy the scrumptious pastries of Paris – wherever you are!
The Paris Pastry e-book is available in three formats:
E.Pub: For the iPad, iPhone, iPod Touch, Sony eReader, Kobo, and Blackberry.
Mobi: For Kindle
, MobiPocket, and Calibre.
Kindle: The Kindle version is available on Amazon.

They can be downloaded via the Paris Pastry website. It will soon be available in the iBooks bookstore and Barnes & Noble (Nook). To be alerted when they're ready, follow Paris Pastry on Twitter or Facebook.

So get your copy today!
---
FAQs
Is the map in the e-book aligned with a GPS system?
Yes, it is. So if you tap on a link, a map will open that will take you there. You will need to have an internet connection to use that feature. For those with other mobile devices, and iPad users, the e-book will work on those devices.
In the app, because people often have to pay substantial roaming charges, we attached the addresses to a fixed map. So if you want a map that is linked to Google maps, you might wish to consider downloading the e-book or the Kindle version.
(We are working on an Android version of the app, and appreciate your patience. There's no need to leave a message or comment requesting an Android version because it it already something under consideration; if you'd like to be notified when it's available, follow Paris Pastry on Twitter or Facebook. Although I don't have an Android-enabled device, according to the publisher, you can read the e-book on Android devices using the Kobo app.)
I have an iPad. Which version should I buy?
The app available in the iTunes store will work fine, although it's formatted for the iPhone and to save on roaming charges, the maps in the iPhone app do not require an internet connection (they aren't attached to Google maps-although that will be changed in the next update). The book is formatted for larger size reading devices, such as the iPad, and the maps are linked to Google maps, which work with an internet connection.
Is there going to be a printed book available?