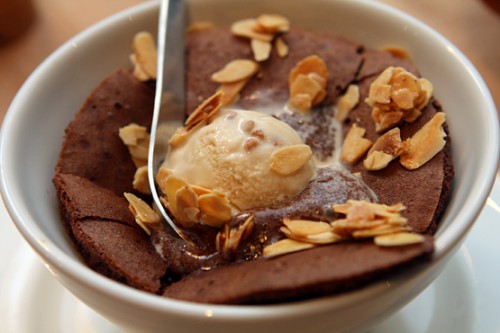 I had some friends over for dinner recently who were moving away, which is always sad, and they were in the full-on stress of moving; packing up boxes, dealing with logistics, selling most of their things, and taking care of the details of deménagement.
I had been leafing through Sinfully Easy Delicious Desserts by chocolate expert (and comrade in chocolate) Alice Medrich, who I was introduced to in the 80s, not personally, but though her spectacular chocolate cakes and confections. Her chocolate shop in Berkeley was changing the way we thought about chocolate in America, and I'd like to think my (near-daily) allegiance to the store, called Cocolat, had something to do with it.
Alice had learned techniques for making French cakes and truffles, and was getting national acclaim for her extraordinary treats sold in the shop. I was such as fan that when I was baking just down the street, at Chez Panisse, I used to stop in on my way to work for a truffle or a slice of cake. And I finally had the chance to meet Alice, and she became one of my dessert heroes, coming out with some of the best books on baking you can get your hands on. And if you're anything like me, before long, those hands are likely to be smeared with a little bit of chocolate.