Although it's possible to buy citrons confits at Arab markets here in Paris, making Moroccan Preserved Lemons couldn't be easier and they taste far fresher than anything you can buy. I insist on foraging through the mounds of lemons at my market in pursuit of the smallest citrus possible (which I don't recommend doing here, by the way, unless you know the vendor pretty well.)
But you may be lucky to have a friend with a lemon tree and they're probably more than happy to let you take a few off their hands… although none of my friends in Paris seem to have lemon trees growing in their apartments, unfortunately. And if you live where Improved Meyer Lemons are available, by all means feel free to use them instead of the more common Eureka lemons.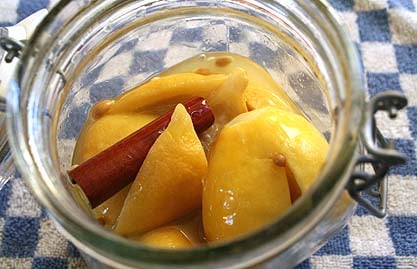 I like to finely dice preserved lemons and mix them with sautéed vegetables, such as green beans, fava beans, or to elevate lowly rounds of carrots into something interesting and exotic, perhaps tossing in a few cumin seeds as well. They're also good mashed into butter with some fresh herbs, then smeared on top of grilled fish or a nice hunk of caramelized roasted winter squash. And I've been known to sneak some into a batch of tapenade, as well as adding some finely-chopped little pieces to a batch of lemon ice cream too!
In addition to their ability to multi-task, there's something comfortable and nice about having a jar of vivid lemons on the kitchen counter to keep tabs on their progess every morning, like a flowering Amaryllis bulb or a family of Sea Monkeys coming to life. I'm keeping a vigilant eye on my lemons daily, noticing how much juice they're giving off, how soft they're getting, and enjoying how they gently deflate and nestle themselves against each other as they settle nicely into the corners of my vintage glass canning jar (which I barely rescued from the clutches of some madame at a flea market last summer.)