A friend of mine, another David L (who also worked at Chez Panisse with me and is now a chef in Switzerland) comes to visit me often, and it's one of the few times I let someone else into my tiny kitchen. He's a terrific cook, and perhaps the only person who is more picky about the way things should be in a kitchen than I am.
David and I like to roam about town looking for things to eat but we always we have a falafel at L'As du Falafel on the rue des Rosiers, in the Marais when he arrives. I usually insist visitors to Paris go there during their trip, since I would rank their 3.5 euro falafel as good as many 3-star dining experiences (and better, and cheaper, than one I recently had.)
Recently we were at the Richard Lenoir market, off the Bastille, and on sunday (the market is thursday and sunday) there are two of the nicest young women from the Savoie selling products from their region. They've got everything from buckwheat squares of pasta, rugged mountain cheeses, and cured meats. David (the other one) was excited to see this sausage which is studded with nuts!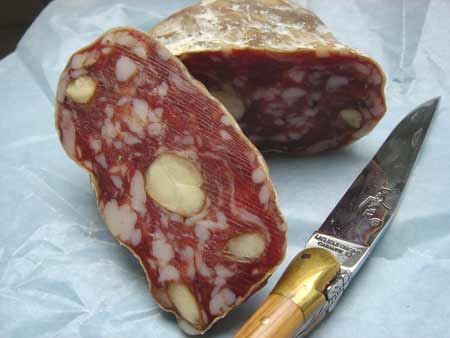 It seemed pretty wacky to me to put nuts in sausage, isn't it? But the nutty, crunchy almonds are terrific and I can't wait until next sunday since, as you can see, I'm almost at the end of my, er, sausage.