With all due respects, the first time I met Sherry Yard, I was squirming in my seat. I was sitting in the originally Spago, in West Hollywood, overlooking the city of Los Angeles. The room was filled with celebrities, but I remember getting special treatment.
I arrived in my best; a well-tailored Italian wool suit that I hoped made me fit in a little better with all the glamorous types seated all around me. It was a great meal, and we were having a wonderful time. But the longer I sat in the stylish chairs, the most uncomfortable I was becoming. It wasn't that I felt out of place. It was that my rear-end was starting to itch uncontrollably.
I knew that I shouldn't stand up and engage in an all-out scratch-fest (although nothing would have felt better), but I didn't know what to do. The longer I sat, the more intense it got. The wool in combination with the padded chairs was driving me nuts!
But soon enough, it was time for dessert, the cavalcade started. Sherry starting bringing out all sorts of wonderful things; tastes of hand-dipped dark chocolates, puckery lemon tartlets, and twists of crackly caramel that were so stunning, all these hot-shot celebrities starting looking at me.
But miraculously, as I started to spoon up and savor all these desserts, the itching subsided and each dessert was more delicious than the next. That was the first time we met and I was charmed at what a genuinely lovely and funny person Sherry is.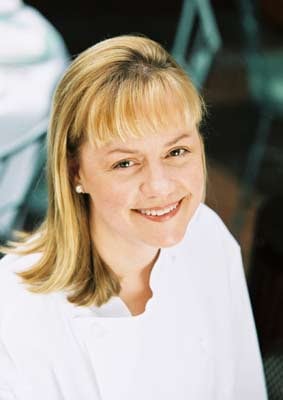 A few years later, Sherry moved over to Wolfgang Puck's newer Spago restaurant, located a few miles away in swanky Beverly Hills which replaced the original. Since we were pastry-pals, Sherry and I run into each other every now and then over the years; her vivacious personality is infectious and I don't know anyone who's more enthusiastic about what she does than Sherry. And if you talked to her for a few minutes, as I recently did, you'd see what I mean…
David: Every time I talk to you there seems to be something new and fabulous going on in your life. After all, being the pastry chef at Spago in Beverly Hills makes you the pastry chef to the stars. Plus you make the dessert for the big Oscar dinner every year.
Who are some of your favorite celebrities that you've cooked for?
Sherry: I guess you can say them all, from David Lebovitz to Presidents.
David: Thanks for the flattery, but compared to Madonna and Andy Dick (ick!), I'm a rube. But I loved celebrity-watching and Spago is the best. I one stood next to Shaq O'Neill there and his feet were huge! But your boss is a bit of a celebrity too. You've been with Wolfgang Puck for a long time as his executive pastry chef.
How's it been working with him, and what's he like as a boss?
Sherry: At the 2000 Bon Appétit Awards, Barbara Fairchild introduced Wolfgang Puck as my boss. His response, with a chuckle, when he walked up to the mike was "Anyone that knows Sherry knows she is my boss!"

David: He's actually quite funny, and works very hard too, which I think is because he was trained as a chef from a really early age. I also like that he gives ample credit to the chef's in his restaurants, and they tend to stay with him for a long time.
I love the desserts you make. They're always so contemporary, with clean, modern tastes yet grounded in traditional pastry techniques. I remember a Concord Grape Gelée that you made, enrobed in dark chocolate that was exceptionally good.