When I told a friend that I was going to Italy to learn how to make coffee, she responded, "You just dump the coffee into a filter and pour water over it. What else do you need to do?"
Well, since you asked, plenty.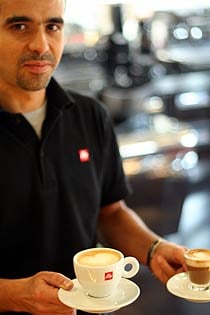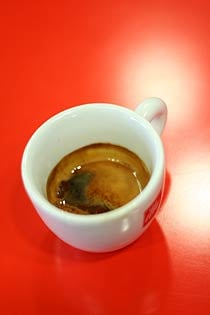 Illy barista Giorgio Milos shows off his skill, and one of my first efforts to match his
First of all, there's an important distinction between 'brewing coffee' and 'extracting espresso'.
Brewed coffee is steeping ground beans in hot water, which any fool like me can do, whereas making espresso involves a couple of crucial steps and the deft use of a high-pressured machine combined with several specific techniques. It's not easy to make the perfect espresso, but anyone can make a pretty decent one, even using an inexpensive home machine.
And how do you know what a good espresso is?
It's a very tiny cup of deep-brown liquid, just a couple of sips, not bitter-tasting, but rich, complex and lingering, which endures on your tastebuds for 10-15 minutes afterward—one singular, perfectly-extracted shot of true Italian espresso.
I was really anxious to visit Illy, since I've been having trouble getting just the right little shot to taste good at home. Mine was either too watery, or bitter and virtually undrinkable, even though I was using a very powerful espresso maker. But I was also curious why the espresso in Italy tastes so much better than it does anywhere else, even in the humblest caffè. So when Illy invited me to come to their roasting plant and Università del Caffè in Trieste, I cleared my calendar and jumped on a plane.
So what did I learn at Illy?
I learned that anyone, even me, can pull a great cup of espresso at home.
Here's the 1, 2 and 3's of it…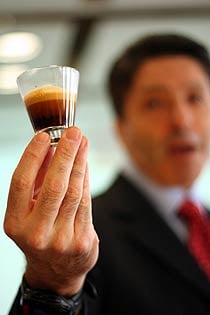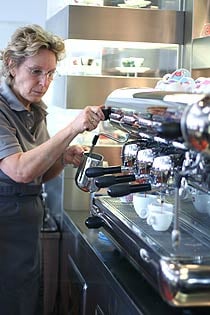 Moreno Faina shows off a perfect crema while a barista keeps the Illy staff fueled all day long
1. Start with good coffee.
This seems like a no-brainer. But I have a friend who said his vinaigrettes never tasted as good as he'd like them to. When I pointed out that you can't make a good salad dressing with crappy olive oil from Trader Joe's, neither can you make a good cup of espresso unless you start with good coffee beans correctly roasted and packed.