When I lived in San Francisco, the baking community was a very friendly group and we all mingled easily. One of the people who I particularly admired and liked was Emily Luchetti, who was also a pastry chef and cookbook author. Her desserts were known for their stunning simplicity, which highlighted bold flavors as well as local ingredients, and whose recipes walked a balance between home-style and sophisticated. And even more importantly, she tends to like two of my favorite things – chocolate and caramel – and she uses them frequently.
Emily's newest book is The Fearless Baker, a book of 175 easy-to-make desserts that won't intimidate anyone. I asked her if she would be interested in doing a guest post, and when she suggested something combining…you guessed it, caramel and chocolate brownies, I couldn't wait to share the recipe with you. Please welcome this guest post by Emily Luchetti. -david
---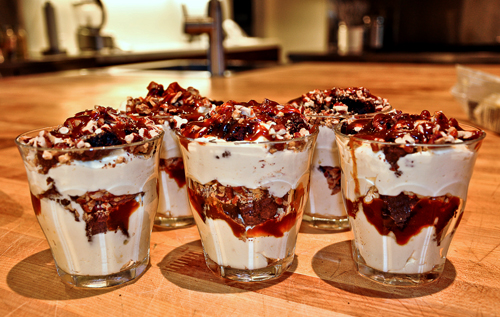 A common dilemma for chefs who participate in out-of-town events is what mise en place to take and what to prepare on site. Making dessert for 500-1000 people at a walk-around tasting away from your familiar work place takes logistical and advanced planning. If I have a couple of events within a month of each other, prepping the same dish is easier the second time around. I have a much better idea of how to pack it all. Since different audiences are at each event, it's not like I am serving identical desserts to the same people. (It only took me 20 years in the business to figure this out!)
My dessert for offsite events this winter/spring was Brownie Brown Sugar Parfait. Originally I created it for the opening menu at Waterbar in San Francisco. It is perfect road trip dessert. There are 4 components brownies, caramel sauce, toasted pecans and a brown sugar pastry cream that's lightened with whipped cream. Most of it can be made ahead of time and put together later in Connecticut at The Mohegan Sun Casino, or in Miami at the South Beach Wine and Food Festival.