Bob's Bake Shop
Although people don't hug in France, and to be honest, it kinda gives me the willies now, too – there are some people who I just can't resist giving the ol' wrap around to. (Which probably explains why a number of people back away when they see me coming.) One is a baker in San Francisco, who always seems to have a big smile on his face. I'm not sure what it is that makes me want to hug him, but perhaps I am hoping some of his good cheer will rub off on me — along with a touch of flour. Or else I'm still, hopelessly, Californian, and will never shake the body-bonding habit of hugging.
But another target, for some reason, is Marc Grossman, here in Paris. Marc is the owner of Bob's Juice Bar, a hugely popular vegetarian joint. But lest you think it's full of kooky Californians getting their juice fix, it's primarily Parisians who work in the neighborhood, obviously as attracted to Marc's good food as the rest of us, who try to find a seat at the communal table in his café/juice bar.
For years, the unspoken secret was that Marc makes the best bagels in Paris. And lest people think it's odd to feature, or even talk about bagels in Paris, consider that they likely originated in Eastern Europe, not too far from us. So they belong in Paris just as much as they do in New York and Montreal.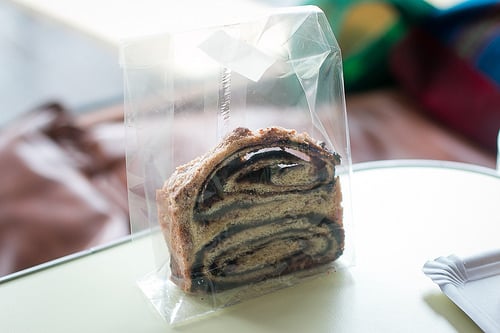 Marc spent a number of years tinkering with bagel making, slipping them onto his menus whenever he had the time to make them.
But he's recently gone full-on and opened Bob's Bake Shop, a modern, spacious café, where not only can you get hand-formed bagels, but on display are other baked goods, like knishes, chocolate-swirled babka and authentic rugelach, made with dough enriched with cream cheese.
Glass jars around the shop also tempt with Mexican wedding cakes (or cookies), and there's Honey pie studded with pecans. (But it's still Paris. So don't touch!)
However, not to worry. If you think it's all carbs, canoodling with the owner, and cream cheese, there's a kaleidoscope of cleansing Bob's cold pressed juices, in a variety of flavors, which might include watermelon, cucumber-spirulina, kale, fresh ginger, and fennel.
It was raining pretty heavily the day we arrived, and we ran through the 18th arrondissement, looking for the somewhat elusive Halle Pajol, an écologique building, where Bob's Bake Shop is located. (If you're unfamiliar with the area, I recommend familiarizing yourself with the route from the bus or métro stop before setting out. It's also just a block or so from En Vrac café and wine shop. So tote along an empty bottle to fill up, while you're at it.)
The trip made me feel the need for a little pick-me-up, which I had in the form of a carrot-pineapple-maca juice, that was gone in a flash. Along with a smoke whitefish sandwich on a still-warm bagel that I made quick work of.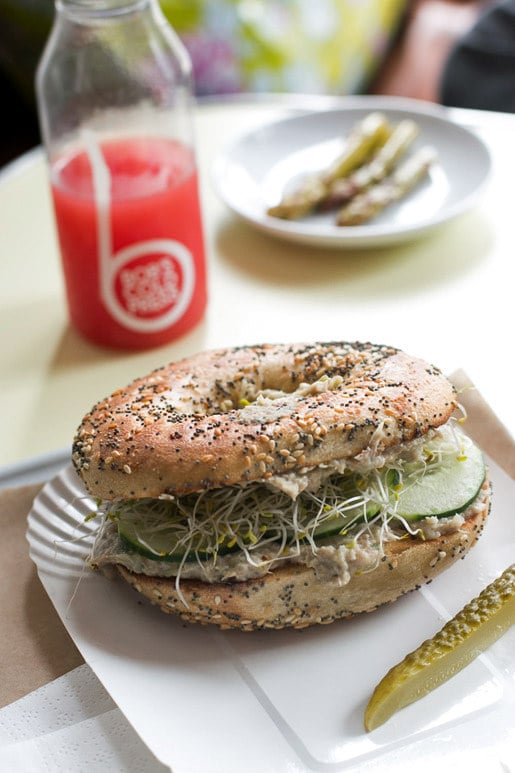 Parisians are flocking to the bake shop, but are still a bit unfamiliar with things like the house-made bialys, which get a bit of help in the signage that says "Non poché," or without holes (or pockets), so they can reference their cousins, les bagels.
Ya want pickles with that sandwich? What does he look like…a pickle man? Get the hell outta here!
That was just in case you wanted a bit of authentic New York atmosphere. Marc isn't making his own dill pickles yet, but we had some crunchy spears of pickled organic asparagus he had put up, in his precious few spare moments between rolling and shaping bagels morning, noon, and night..
In case you want to just come in and hang out, Bob's Bake Shop is featuring Belleville Brûlerie coffee.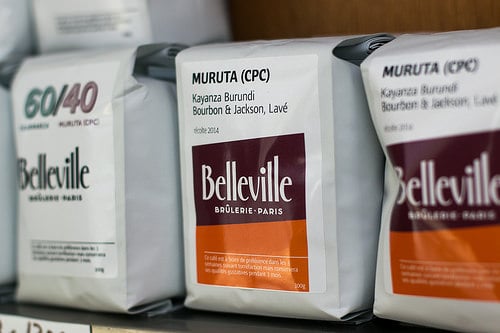 I sipped a terrific café noisette after my cold-pressed juice. Which I hope didn't negate the effects of it, because I want to hang on to the good vibes I get when I go to Bob's, as long as possible.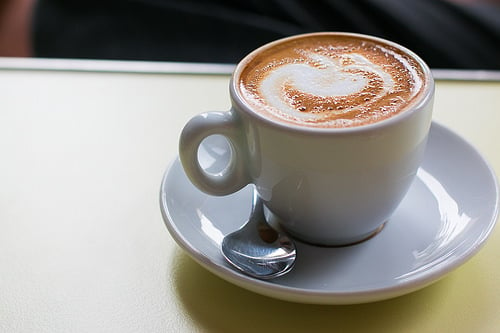 Bob's Bake Shop
Halle Pajol (map)
12 Esplanade Nathalie Sarraute (18th)
Tél: 09 84 46 25 26