Caponata
I used to have a hard time with certain cooked vegetable salads, such as ratatouille, even though people have insisted that I would like their version. Which I've always found odd, because if someone told me they didn't like chocolate (I know – horrors!), I would not try to sell them on a brownie or chocolate cake. Ratatouille always tastes like a lot of stewed vegetable all mixed up, and never seemed to capture the distinctness of each of the ingredients like the caponata I had in Sicily, that changed my mind about cooked vegetable salads.
Caponata is the cornerstone of Sicilian cuisine, according to Fabrizia Lanza, who was born in Sicily and returned to her family's agricultural estate to teach cooking classes there. I got to visit a few years back and still remember it as one of the best weeks I've spent in, well…years. During the week, she made caponata, and served it on a big platter in her courtyard. From the first bite, I was hooked.
I loved the way the eggplants exploded with flavor, and the other ingredients – salty olives, still-crisp celery, and capers – kept the dish bright and crunchy. It was so good that I bookmarked the recipe in her excellent cookbook, Coming Home to Sicily. The book highlights her life in Sicily, along with her favorite cheesemakers and farmers on the island, including the most incredible fresh ricotta I've ever had, and change-your-life tomato paste.
Then a few seasons passed, and I never got around to making caponata. That changed this week, as did my stewed-vegetable life, when I took the first bite of my homemade caponata and all the flavors of the incorrigible island of Sicily came rushing back to me. Every flavor of Sicily, and summer, were concentrated in each forkful, and I couldn't stop eating it.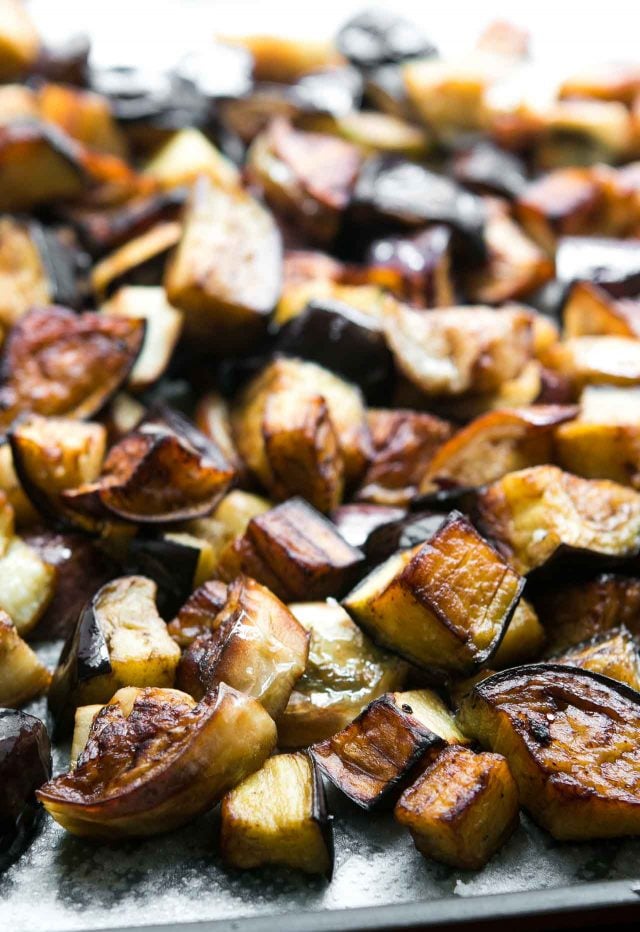 Here's the kicker in this recipe. A while back, there was an article about "deal-breakers" in recipes, an ingredient or technique that make someone not want to make a recipe. Mine is deep-frying. Yes, I tackled fried chicken in duck fat, but deep-frying at home isn't my thing.
However, there I was, heating oil in my cast iron skillet and frying up the eggplant for this caponata. I got some beautiful small eggplants at the market, and watched them go from being pale, to a burnished golden-brown, and couldn't resist snacking on the darkest cubes as soon as they were cool enough to eat.
Sicilians aren't afraid of using copious amounts of olive oil and cooks there use a lot of it in their cooking. I suspect they fry the eggplant in olive oil, too, although in her book, Fabrizia recommends vegetable oil. I used sunflower oil but you can use a good-quality peanut or canola oil for frying. Or go for it and use olive oil.
A good tip I learned is to cover the surrounding stove area, including the stove and oven knobs, with aluminum foil, to lessen clean up. But in fact, the recipe gave me the chance to give my stovetop a long-overdue cleaning. And frying the eggplant in the oil ended up not being nearly as messy as deep-frying and the clean-up took just minutes.
One could make fresh tomato sauce but often good-quality tomato sauce that you buy is richer in flavor than fresh, because they're sometimes produced in regions with better tomatoes than one can buy at their local market. (That's why canned coconut milk is often better than what you can make at home.) So I picked up a couple of jars of salsa pronta, Italian tomato sauce, and used that.
I was recently at a dinner party with some Italians who told me no one in Italy uses jarred sauce, so I wondered who bought all those jars I've seen in Italian grocery stores? When I brought up the question online the next day, many said it was tourists, but I doubt the jarred tomato sauce industry in Italy is supported by visitors stocking up on jars of tomato sauce at Italian supermarkets.
If you're fortunate to get good tomatoes where you are and want to make your own tomato sauce, I've linked to Fabrizia's salsa pronta recipe at the end of the post. If going the store-bought route, choose a good-quality tomato sauce, one without a lot of extraneous ingredients.
One addition to caponata that I've seen are raisins, which are used in Sicilian savory cooking. If you want to add them, they could be added in step 4, along with the celery and other ingredients. Some also add toasted pine nuts along with the raisins, which are an option, although the good ones have gotten so expensive that they've become a luxury.
The surprising thing about caponata is that it definitely improves the day after it's made. And I speak from experience because when I first tasted it, I thought, "This doesn't quite taste like the caponata I had in Sicily." Then I put it in the refrigerator to serve the next day. When I took a bite before serving it, it had magically transformed into the most wonderful eggplant salad I could imagine.
Adapted from Coming Home to Sicily by Fabrizia Lanza As mentioned above in the post, I wouldn't be surprised if Sicilian cooks fried the eggplant in olive oil because it's so copious there. So you could replace the vegetable oil with olive oil, although not necessarily a fancy one; save the good stuff for drizzling over salads. Some might ask about salting the eggplant, which I don't usually do because I buy smaller eggplants and never had a problem with bitterness. Some in the food world think that salting eggplant isn't done anymore because eggplants are no longer bitter. Caponata is meant to be a touch sweet, a tad vinegary. I added more than Fabrizia but since vinegars can vary in strength, you can taste and add more later in the game. The original recipe made quite a bit of caponata and and I reduced the recipe by half. (Some might say you can never have enough caponata, but because of the concentrated flavors, a little goes a long way.) It keeps very well in the refrigerator, so if you wish you can double the recipe.
3
branches celery
(tough outer strings removed if necessary)
about 1
cup (250ml)
Vegetable oil,
for frying, or olive oil
2
tablespoons
extra-virgin olive oil
1
small red onion,
peeled and thinly sliced
1/2
cup (60g)
green olives,
pitted and very coarsely chopped (about in thirds)
2
tablespoons (30g)
capers,
rinsed and squeezed dry
3/4
cup plus 2 tablespoons (225ml)
best-quality tomato sauce
3
tablespoons (40ml)
wine vinegar,
red or white
1/2
tablespoon
honey
(or sugar)
1/4
teaspoon
red pepper flakes
Chopped flat-leaf parsley or mint,
for serving
1. Remove the leaves from the celery branches and cut the branches into 1/2-inch (1,25cm) thick slices. Bring a medium sized pot of water to a low boil and simmer the celery until crisp-tender, about 5 to 7 minutes. Drain and rinse well in cold water. Set aside.
2. Trim the stems off eggplant and cut into 1-inch (3cm) pieces.
3. In a large, heavy-duty skillet (I used cast iron) heat 3/4-inch (2cm) of vegetable or olive oil. Cook the eggplant in batches, not crowding too many into the pan at once, turning them occasionally, until they are browned all over. Remove with a slotted spoon and drain on a baking sheet lined with paper towels. Season with salt, then fry the rest of the eggplant in batches, seasoning them with salt as you remove them from the oil. You'll likely need to add more oil to the pan as you go. (I ended up using a total of 1 cup/250ml.)
4. In a large skillet or Dutch oven, heat the olive oil. Add the onion and cook, stirring frequently until wilted and starting to turn golden brown, 5 to 7 minutes. Add the parboiled celery, olives, capers, tomato sauce, vinegar, honey, and red pepper flakes. Let come to a low boil then add the eggplant.
5. Cook the mixture at a simmer, stirring carefully so as not to mash up the eggplant pieces, for 3 to 4 minutes. Taste, and add additional salt if desired, and perhaps another splash of vinegar. Remove from heat and transfer the caponata to a large, shallow serving platter or bowl and cool.
Serving and storage: Caponata is best served the next day, so the ingredients and flavors have time to meld. Top with chopped flat leaf parsley or fresh mint. It also makes a nice topping for crostini: Pile it atop grilled bread that's been brushed with olive oil before grilling, or let the bread cool and smear it with fresh ricotta or another spreadable cheese, then top with caponata. Fabrizia serves it with quartered hard-boiled eggs.
Related Posts and Recipes
Ratatouille (Simply Recipes)
8 Tips on Using and Choosing Olive Oil