French Apple Pie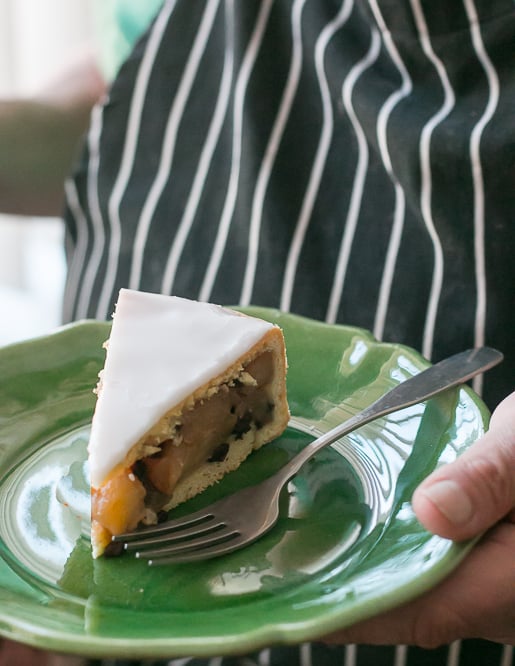 It's always nice to meet your heroes and many years ago, I was fortunate to meet one of mine. But I can't claim Nick Malgieri as "mine," as he's been a guiding influence for bakers everywhere, publishing books with recipes and technique for making everything from traditional Italian pastries to Viennese tortes and even Middle East and Greek sweets, to the delight of bakers near and far
If you like to bake and have picked up one of his books, you'll probably feel a little kinship with him as well. Nick established his credentials as a baking professor and author after stints as the Executive Pastry Chef at the Windows on the World restaurant, as well as having extensive experience baking professionally in Switzerland, Monaco, and France.
But not to worry. Nick's focus now is on home baking, and his newest book is meant to make home baking as straightforward and foolproof as possible. Nick Malgieri's Pastry: Foolproof Recipes for the Home Cook has spectacular photos by Romulo Yanes, who many know for his brilliant photography that appeared for years on the cover, and inside, of the much-missed Gourmet magazine.
For those that like books with lots of pictures, and step-by-step photos, this is the book for you, especially if you want to tackle some of those more challenging doughs, like Viennese strudel and yeast dough, as well as French brioche and yufka, the Turkish version of filo dough. They're all demystified here. (For gluten-free bakers, he presents two different recipes without a laundry list of difficult ingredients.) There's also pizza chiena, baked in a cake pan, as well as this lovely French Apple Pie, a neat puck of pastry filled with cooked apples and raisins.
There's really nothing very French about this pie, except for the fact that it's buttery pastry filled with fresh apples (a popular combination in France), and makes a fine dessert. There are a number of things that are called "French" that no one in France would have any idea of what they are if you mentioned them – French-cut green beans, orange-colored "French" salad dressing, French kisses, French vanilla ice cream, and Franco-American SpaghettiOs. Heck, even French fries aren't French. But Nick says this pie was a "mainstay of retail bakeries about 50 years ago and has all but disappeared from sight."
I have a pretty good memory and do remember when I was a kid, seeing lots of desserts topped with white icing, the kind that hardened and crackled on your teeth when you bit into it. I liked to reach into the cardboard bakery boxes that my parents brought home from a local bakery on Sunday morning, picking crunchy icing shards off the flaky coffee cakes, which were loaded with toasted almonds and soft raisins dotted all around. Ah, bliss… So when I saw this pie in his book, the smooth glaze immediately appealed to me.
Speaking of pie, the French also don't really have a word for pie. An enclosed tarte is usually how I describe it to French friends, but an American pie is usually a slightly less-formal affair with a crimped crust, and baked in a shallow dish with sloping sides. And it's a mess when you serve it, which is considered a good thing. (I'd rather have a juicy wedge of pie than one with fruit firmed up with too much thickener.) For the sake of nostalgia, Nick is right to call this a pie, and I'm going to call it as "French," since it's refined enough so that you might see something like it in a fancy pastry shop in Paris.
Nick's still a hero of mine, especially because he invited me over the other day, to share this pie with you. It's easy to make and is, indeed, foolproof. It's just two sheets of dough fitted into a cake pan, filled with a meltingly tender mound of sautéed apples along with raisins or currants, then covered and baked.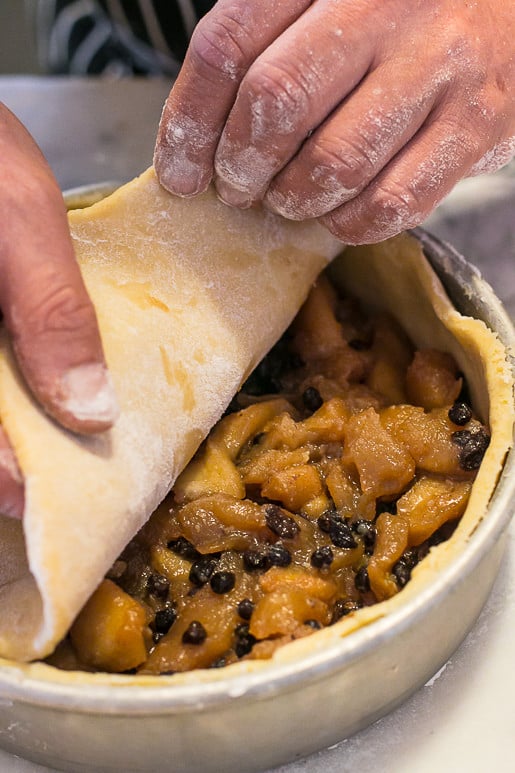 Once cooled, a slick of icing is spread over the top and left to firm up before diving in. The icing adds a sophisticated look to the pie and gives it a little je ne sais quoi, which means "I don't know what," but in this case, I think I know – the crunchy icing is the "what." And whatever else it is, or whatever you want to call it, it's pretty delicious.
When we were eating the apple pie at his dining table, even though I keep trying to become French (and getting thwarted at every turn..) I guess I'll always be très américain, and couldn't help tinkering with tradition and thought that the glaze would be nice with a shot of calvados in it. So if you want to replace a small amount of the water, perhaps up to half of it, with liqueur (such as calvados, Cognac, or Armagnac), I think it'd give the cake a little nod in another direction, if you're so inclined.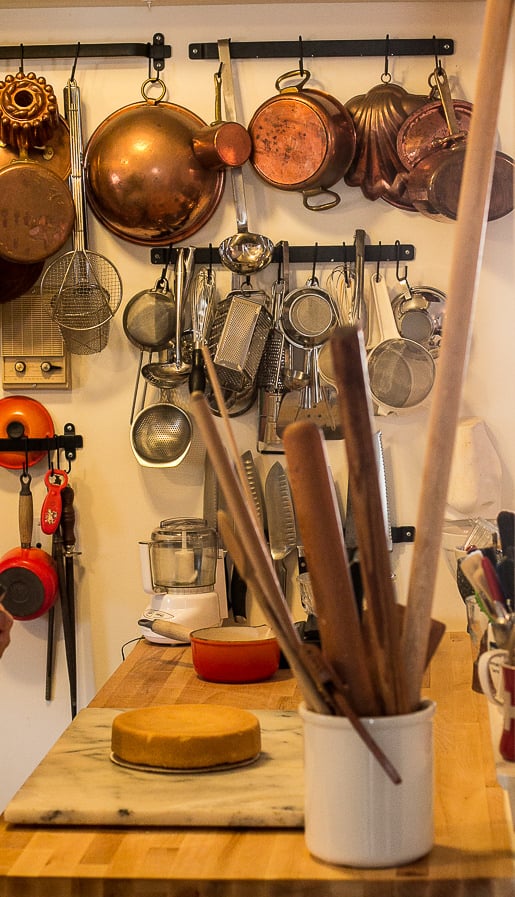 After getting to hang out with him in his amazing kitchen (although few in New York have room in their apartments for a rolling pin as tall as his!), he packed up a few pieces of French apple pie for me to take-away, a nice souvenir of a visit to Nick in his kitchen, which I enjoyed the next day for breakfast. Yes, it travels well, from France (maybe…) via the oven of a New York baker, landing right at home, on my table.
| | |
| --- | --- |
| French Apple Pie | Print Recipe |
Make one 8-inch (20cm) pie,
8 servings
Reprinted with permission from Nick Malgieri's Pastry: Foolproof Recipes for the Home Cook, by Nick Malgieri Nick uses Golden Delicious apples, which aren't overly juicy when cooked and reliably hold their shape well. However if you have a favorite baking apple, you could use that. If you don't wish to add the rum, use 1 teaspoon of vanilla extract in its place.
Cooked Apple Filling:
2 1/2
pounds (1.2kg)
Golden Delicious apples
2
tablespoons
unsalted butter
1/2
teaspoon
ground cinnamon
3/4
cup (140g)
dark raisins or currants
Pastry Dough:
2
cups (280g)
unbleached all-purpose flour
8
tablespoons (115g)
unsalted butter,
cold
Icing:
1
cup (140g)
confectioners' sugar
One 8-inch (20cm) round pan, 2 inches deep, buttered
1. For the apple filling, peel, halve, core, and cut the apples into thin wedges. Melt the butter in a wide saucepan or Dutch oven with a cover, and add all the remaining ingredients but the rum. Stir well and place on medium heat. Cook until the apples start to sizzle, then cover the pan and decrease the heat. Cook until the apples have exuded water, between 5 and 10 minutes. Uncover the pan and stir occasionally while the water evaporates. Remove from heat, add the rum, and spread the filling in a shallow bowl. Refrigerate the apple filling.
2. For the dough, combine the flour, sugar, baking powder, and salt in the bowl of a food processor and pulse to mix. (You can also make this by hand, in a bowl.) Cut the butter into 8 or 10 pieces and add. Pulse until the butter is no longer in visible pieces. Add the eggs and pulse until the dough starts to form a ball. Invert to a floured work surface and carefully remove the blade. Wrap and chill the dough.
3. When you are ready to assemble the pie, set a rack in the lowest level of the oven and preheat to 350ºF (180ºC) degrees.
4. Lightly knead the chilled dough to soften it. Roll a little more than half the dough on a floured surface and line the pan. Cut away excess dough at the rim of the pan. Spread the chilled apple filling in the crust. Roll the remaining dough and cut an 8-inch (20cm) disk. Set it atop the filling and fold the dough on the side of the pan over it to seal. Use a fork to press down the folded dough and to pierce some holes throughout.
5. Bake until the dough is baked through and dark golden, about 35 to 40 minutes. Cool on a rack.
6. Unmold the pie to a platter keeping the bottom of the pie as the top. Combine the confectioners' sugar and water in a small saucepan and stir well. Heat to lukewarm and quickly spread on the pie. Let the icing set before serving.
Related Recipes