La Newyorkina Mexican Ice Cream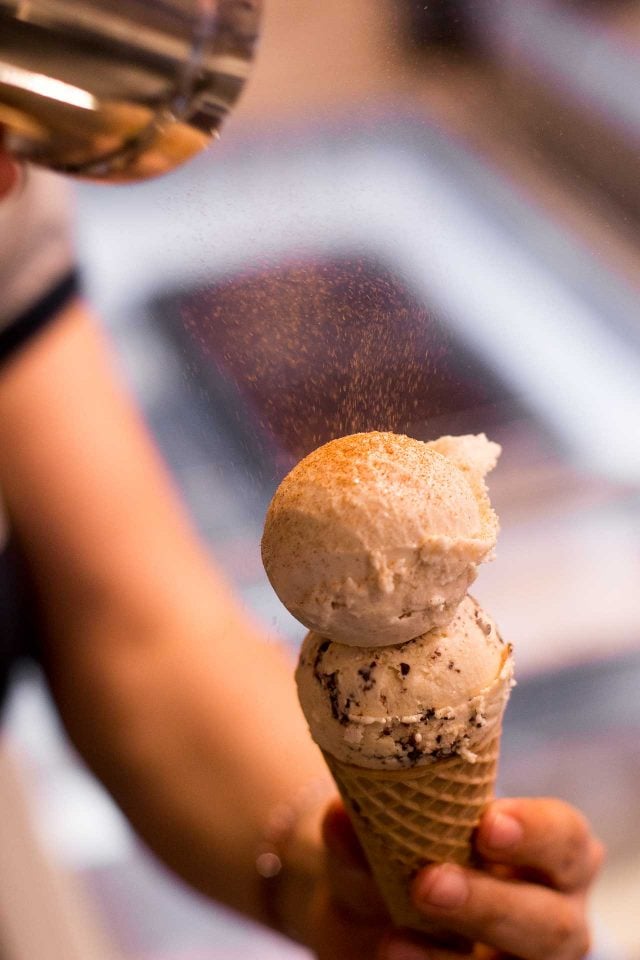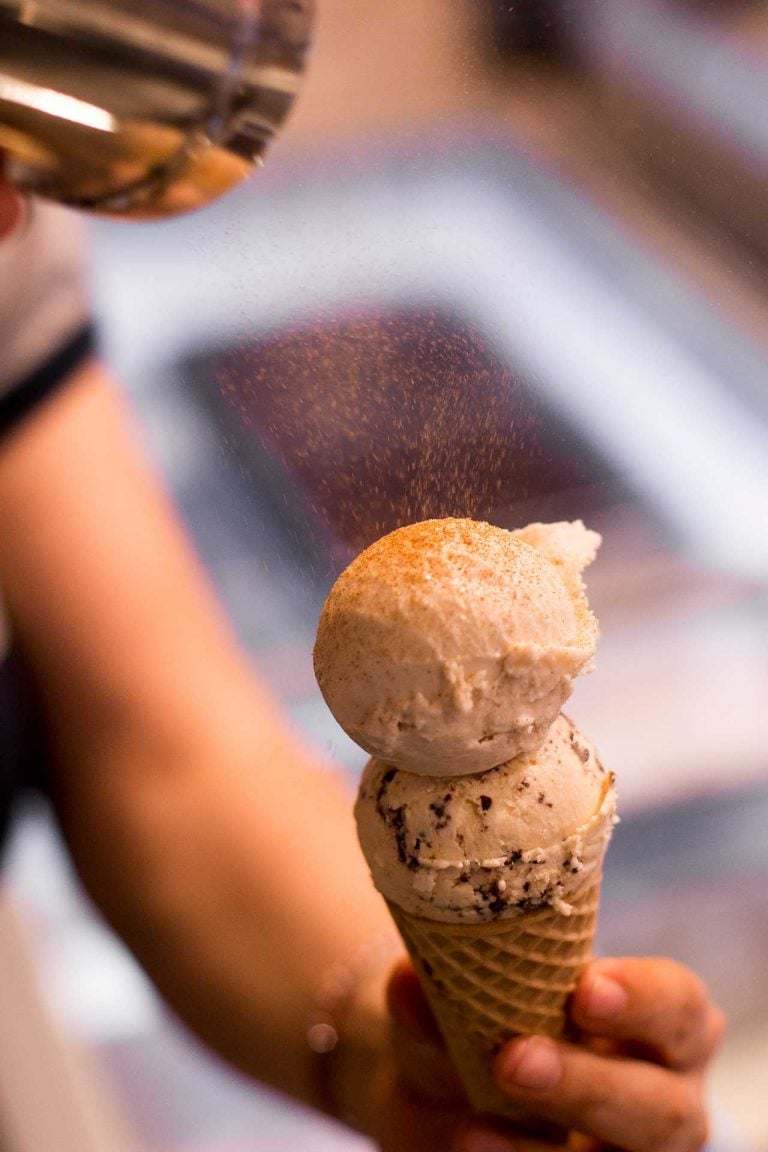 Before my first trip to Mexico a number of years ago, I didn't know Mexico was a country known for its ice cream (helado), let alone an array of other delicious sweets. I wandered through panaderias (bakeries) with the metal tray and tongs they gave me, picking out my own cakes and confections. I fell especially hard for the little disks of mazapán de cacahuate (peanut paste), caramelized flans sold on blocks of ice from pushcarts on the street, and anything – and everything – made with cajeta, goat's milk caramel.
Americans have integrated many of the wonderful foods from Mexico into our culture, but the ice cream remains elusive. Fany Gerson is changing that. I was introduced to Fany when I picked up a copy of My Sweet Mexico, a book that she wrote to present desserts and pastries from our neighbors south of the border.
There aren't a lot of book that focus on the sweet side of Mexican cooking and I was so taken with the book, and the photographs of Mexican bakers, fruit vendors, and candy makers, that before I signed my contract to write My Paris Kitchen, I insisted on having Ed Anderson shoot the photos, who did the photos in My Sweet Mexico. Like the recipes in the book, his pictures captured what makes Mexico, and the foods of the country, so special. I knew he could do the same for Paris, revealing something about the city's soul and culinary culture that exists, but is often presented in a different way than I saw it. (Someone wrote to me that they were surprised that there were some recipes included that weren't French in the book, not understanding that foods like pistou, foie gras, macarons, croissants, and even coffee, have roots in other cultures.)
After her book on Mexican pastries, Fany came out with a book on Paletas, those cheerful Mexican popsicles which are often a palette for creativity, made with everything from mangoes and limes, to cucumbers and chiles. And, of course, Mexican chocolate and vanilla, considered some of the best in the world, figures its way into everything.
Fany offered up her treats in a series of pop-up spaces and food stores, and sold her paletas, Mexican-style, from a pushcart on the High Line. But I was thrilled that she's finally opened her own shop, La Newyorkina in the West Village. When I walked in, I made a beeline toward the stainless steel square bins of just-churned ice creams and sorbets.
In the great American tradition of giving samples, I tasted a few flavors, including a spicy mole ice cream, horchata, based on the rice and cinnamon beverage, and coffee ice cream, using beans from Chiapas.
Because Fany was a pastry chef, you'll find hand-made cones, chile-flecked brownies, and chocolate drizzled cookies (garabatos) filled with thick caramel, on the counter, as well as mixed into some of the ice creams, or used as ice cream and sundae toppings.
I was drawn to the list of them, featuring flavors and ingredients that scream "order us!"
While I was chatting with Fany, a neighbor popped in for a paleta, another fellow had a cup of spicy, chile-accented mango granita. It was nice to see how quickly integrated into the neighborhood her shop has become.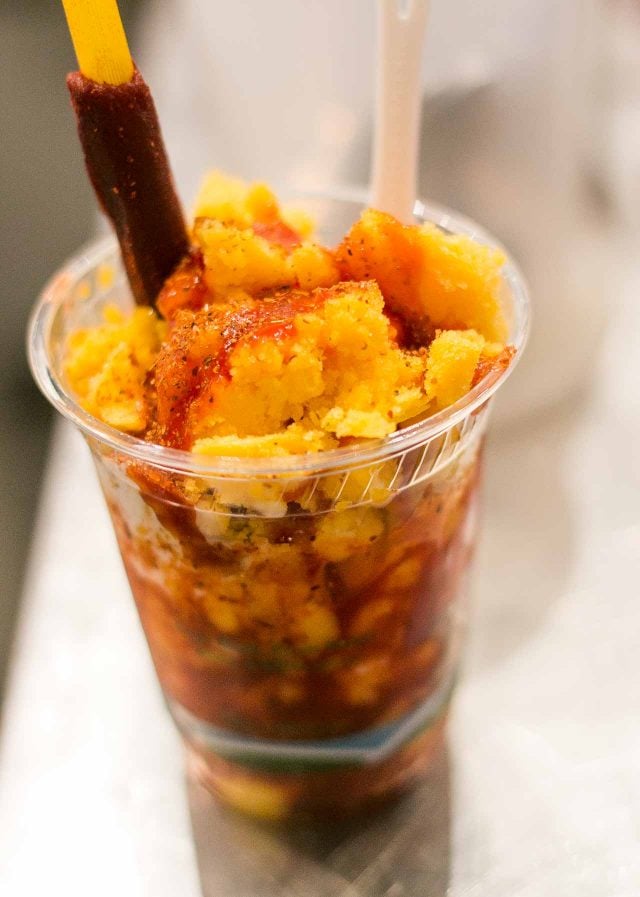 One of the most unusual flavors was that spicy mole ice cream, which was dreamy with warm Oaxacan chocolate ladled over it. But other flavors include toasted coconut-chocolate, canela (cinnamon), and Tres leches ice cream, riffing off the famous cake made by soaking spongecake with three kinds of milk; condensed, evaporated, and fresh, whole milk.
Curiously, Fany also hand-churns ice cream, called Nieves de Garrafa, stirred over ice in large wooden buckets that she brought back from Mexico, garrafas. (I'm wondering "How can I bring one home?")
When I learned to make ice cream, we had a bucket that used ice and rock salt, and it took forever to churn. So I think I'll stick to my electric machine, or leave the stirring to others. (She said it takes about 45 minutes of stirring before the ice cream is ready.) The day I was there, the flavors included pineapple with herbs (basil and mint) and a very tart lime, that would have been great with a shot of tequila or mezcal poured over it.
But she's probably best-known for her paletas, and offers up several dozen varieties that change with the seasons; mango with pickled plum juice, yogurt-berry swirl, and tamarind, among others. Mexican sweets often make use of flavors and tastes that we don't incorporate into desserts elsewhere, including vinegar, salt, herbs and flowers. I can't list them all here, but the ones that got my attention were the filled pops.
The stripes ones are beautiful, but a strawberry paleta filled with sweetened condensed milk and another flavored with Mexican cinnamon with gooey goat's milk caramel inside, got my vote, and are reason enough to visit. (The woman who'd come in earlier for a popsicle looked like she was a model, so if she can indulge, so can I.)
Before I left, I spent some time talking to Fany about food (mostly about ice cream) and our cultures, and how we intersect. America is such a vibrant mix of people and foods from other places, which include hot dogs and pizza, coffee and ice cream, burgers and pastrami.
We eat French food because we've traveled to France, or read about it, and wanted to have those flavors closer to home. And there's a rich mix in our cities of authentic Italian and Asian foods and restaurants that represent the diverse mix of cultures that are part of America.
We also have tacos and tortilla chips (and personally, I could imagine life without chips and guacamole), so I'm thankful that Fancy has brought a bit of the sweet side of Mexico to us, too.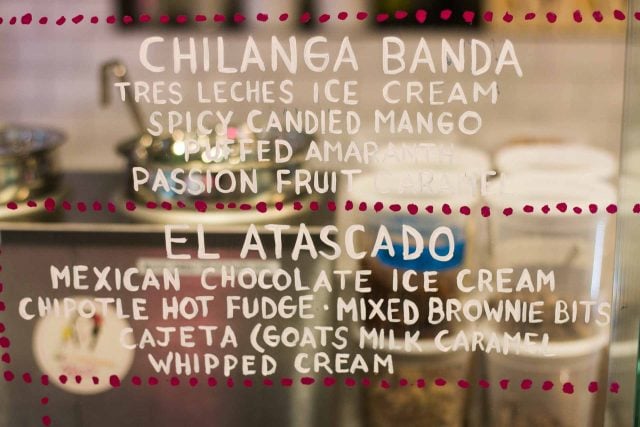 La Newyorkina
240 Sullivan Street
New York, NY
(646) 861-0727