Modica (Sicily)
The good news about my trip to Sicily is that it wasn't all eating almond cookies and cannoli, looking for parking spaces in Palermo (and paying one of the fellows lurking about to keep an eye on the car), gorging on fresh ricotta, and wiping and everything you possible can in generous drizzles of the amazing olive oil produced there.
There was "pasta" – made from almond paste, a plate that'd fool even those with sharper eyes than I. We had the aforementioned spleen sandwiches, which I was relieved to hear were not made from pancreas, and we ate salumi (charcuterie) because it was so good that it would have felt like a crime not to. (And I didn't want to get into trouble in Sicily, if you know what I mean.) Since I only had one week on the island – two days of which were travel days, and two other days were dedicated to work that landed in my Inbox right before the trip – we managed to make the time for a quick trip to Modica.
If no secret that I love chocolate. And if it is still a secret, then I am the worst keeper of secrets in the world. And I knew that no trip to Sicily would be complete without a trip to Modica, a city with a chocolate-rich history. And friends right and left kept telling me that if I had a chance to go there, I should jump on it.
So I booked a hotel online and off we went, driving across the island, stopping at service stations and sipping excellent espresso, drinking fresh orange juice, and eating panini. In Italy, even gas station coffee is a gazillion times better than the coffee you get back home, the oranges are locally grown, and everything is served with a smile and a laugh. (Well, just the food. The guys pumping the gas – and yes, they still have people pumping the gas for you, handing you a handwritten receipt, if you need one – weren't as friendly as the fellows in the cafe.)
We were told it was 3 to 3 ½ hours to Modica from where we were staying and almost took everyone's word at it, and did it as a day trip. Arriving in Modica a bit more than 4 ½ hours later, after darkness had fallen over the city, I was cranky and wiped out from navigating streets and maps. And our first thirty minutes were spent struggling to find our hotel; no one in the small city had ever heard of the street that it was on, which I thought was kinda strange. Finally I called and they kindly reeled us in (turns out we were half-block away), and fortunately, we were three-quarters of a block from Antica Dolceria Bonajuto chocolate and confectionary shop.
(When you arrive, even if it's in the evening later than you anticipated…once you get your head out of the Michelin map of Sicily, which is bigger than the island – it's easy to see why Modica is a UNESCO World Heritage Site; it's beautiful.)
Because I have the world's best partner, he happily agreed to go with me right away (although I think he knows of the consequences if he doesn't…), and at the beautiful little shop with glass showcases of vintage chocolate-making tools and paraphernalia, they had bowls of each and every chocolate to taste. And taste, we did!
I love coarse Sicilian chocolate, which is reminiscent of Mexican and Spanish chocolates, where the beans are not finely ground, so texture remains slightly crumbly and bitter, often with a hint of cinnamon added. And proof of the adage that "if you offer a taste, people will buy" (which may just be my adage, because I always do), after tasting each and every chocolate, I bought a big bag of chocolate bars – from ones seasoned with white pepper, to another made with Trapani salt, and blocks of almond-studded torrone. We also tasted a spicy chocolate syrup that I wasn't sure what it was for, but it was fiery hot and delicious. While my mouth tingled with the heat, I continued to scrape the cup clean.
They were so nice, especially when I pointed out my friend Mort's chocolate book in their showcase, and they even brought out a plate of pastries to try – a rich marzipan-like cookie made with almond paste they grind on the premises, aranciata e cedrata, a shredded tangle of candied citron and orange, and 'Mpanatigghi, a specialty of Modica, cookies made with beef and chocolate. The woman at the shop told us the recipe was 400 years old and a closely guarded secret, but they did let me got into the back where they were forming the cookies to watch.
In the kitchen they were preparing and rolling out the dough, then piping a mixture of meat and chocolate on each one. And in case you want to know how bakers and pastry chefs keep in shape, check out those forearms! They told me the recipe was conceived as a way to preserve meat, but they're still popular, in spite of the advent of refrigeration. I ate one and liked it, surprisingly. As I did with the tiny "olives" in a jar of olive oil, which were actually little ovals of almond paste preserved in the thick oil. Delicious.
I also tasted a chocolate-eggplant pastry that curiously, was a memorable combination for me. About a decade ago at an Italian wine bar in Paris, they had candied eggplant stuffed with ricotta, chocolate and candied orange on the menu for dessert, served with chocolate sauce. I was intrigued. But when I ordered it, the waiter advised me not to. However I was proud of my contrarian nature, because I liked it – a lot. Although folks think it sounds weird, eggplant is technically a fruit, and when candied, it takes on a lovely, silky texture that goes marvelously with creamy ricotta and dark chocolate. So even vegetarians can have an unusual chocolate experience in Modica, too.
Dinnertime was rolling near, but it was hard to resist one last treat: a cannoli with cow's milk ricotta (shown at the top of the post), which they told me was a southern Sicilian thing, different from the sheep's milk ricotta used in the north of Sicily. The smoother cow's milk ricotta was more refined, less-grainy. I would have liked to have spent more time comparing cannoli, but since time was limited – and my energy was waning, I wanted to hit apertivo hour before dinner, the great Italian custom of having a drink, with something to eat alongside. (An Italian woman once said to me, "Of course you must have something to eat when you drink, no? – it's much nicer!"
I ordered a Spritz and Romain had a flute of prosecco. The two glasses came out followed by a generous platter of little sandwiches, wedges of pizza, potato chips, and savory cream puffs. It could easily have been dinner, but we had reservations to go to at A putia ro vinu, so we left with the plate half-empty, or half-full, depending on how you look at it. (The bill for our two drinks, and all that food was a startling €7,50. In addition to the beautiful architecture, I'm putting Modica on my list as a place to come back to.)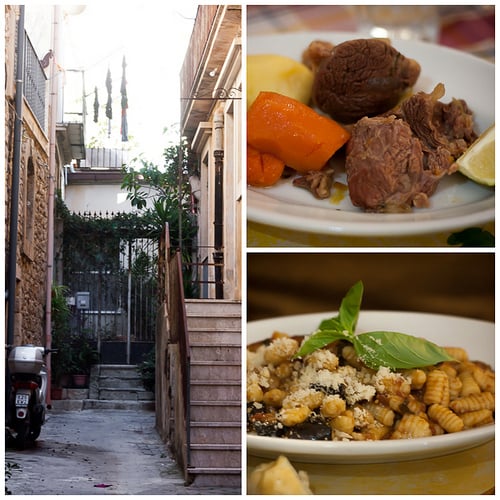 We hadn't done a bunch of research for where to eat. And to tell you the truth, I was about to collapse from the day of co-piloting during the drive, in spite of the extra boost of energy from all the chocolate. Dinner at the trattoria was homespun, and just fine. We had three small carafes of house wine (our total wine bill was €3!) – I loved my bowl of Paddunedda carni, a soup with thin noodles and tiny meatballs floating in the broth, then had a bollito misto (boiled meat) that was okay, although I was eyeing Romain's heap of pasta with eggplant and took a few tastes, and I wish I had ordered that. We concluded with two icy lemon graniti, one espresso for my Parisian driver/dining companion – and after that, I was épuisé (kaput), and we called it a night.
The next day we headed to Ragusa. After getting caught in a tangle of traffic, and still a bit bleary from the previous day's drive, we parked the car and walked around. The only thing I knew about Ragusa is that is was supposed to be beautiful, and that they are famous for a pizza-like turnover, or roll-over, called scaccia. I found a great quote in a Saveur article, accompanied by a recipe, which said "The uglier your scaccia looks, the better it tastes."
We'd been given brief directions to go to a specific place, which consisted of – "It's at the end of one of those long streets in Ragusa", and after driving back and forth (and forth and back) down a number of long streets, checking out each end in search of the legendary scaccia, we asked at a local café where to go and were directed to a nearby forno (bakery.)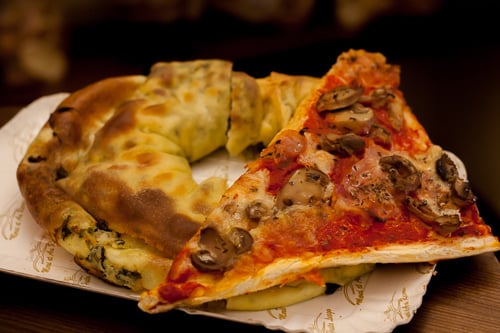 It wasn't the best pizza I had, nor the best scaccia (although to be honest, I'd never had scaccia, so don't take my word for it), but we at least could have bragging rights for trying it. Being a hedonist, I skipped visiting the church in favor of wandering around, hoping to come across an interesting pastry shop. And sure enough, although I can't find my way out of a Sicilian city or town to save my life, my instincts for finding a nice place for sweets were still as sharp as ever.
Bar Olimpia (Via Salvatore, 12) has a fabulous façade, the kind that makes you want to head in right away.
I went inside and found a glass showcase full of treats, include some elaborately glacéed cakes made of almond paste (a specialty of Sicily), and a great variety of cookies. My favorite was the quaresimale. I have a recipe for crispy ones in Ready for Dessert, but the ones here were soft nuggets made with dried fruit and crackly almonds. I know better than to pick a fight in Sicily, and since theirs were so good, I didn't ask.
Most interesting were the 'Bones of the dead' cookies, which looks fantastic (although via a mix-up in my lousy Italian, I almost got 50 of them, rather than 5) – however when I got home and tasted one, I nearly chipped a tooth they were so firm.
Many Italian cookies are baked, and rebaked (biscotti means "twice-baked") so that they are intentionally crisp, and meant to be dunked. But I tried a brief dunking, then a lengthier dip in the glass, then a several-minute saturation. But nothing was going to soften those cookies. So I didn't just leave my heart in Sicily, I left my bones, too.