Moist Chocolate-Beet Cake
It's interesting reading some of the talk regarding if the internet is ready to replace cookbooks. Sure, there are people furiously clicking around wherever they can for a chocolate cake recipe. And there are hundreds of thousands of chocolate cake recipes that you can find using a search engine. But to me, that's not enough. When I want to spend my precious time and funds making something to eat, I don't want to merely find a recipe. There's nothing compelling about a downloadable list of ingredients. It just leaves me cold. I want the author or writer to tell me about the recipe, what inspired them to create it, or how it came about.
I want to know why someone chose that recipe, what twists they gave it, what made the cake or casserole they were making so special to them that they wanted to share it. Was it an unusual ingredient? Did they like the description they read of it elsewhere? Were they inquisitive about how a root vegetable from their garden could make its way into a chocolate cake?
When I had dinner with my publisher last spring in San Francisco, we talked about cookbooks, of course. And as I start a new one, I'm curious to how I want to present the recipes. Everyone is searching for recipes online nowadays and the mere mention of a Parisian pastry on Twitter can set off a stream of recipe requests. (I often wonder if people really think someone can respond with a recipe for a complicated French cake in a 140 character tweet.)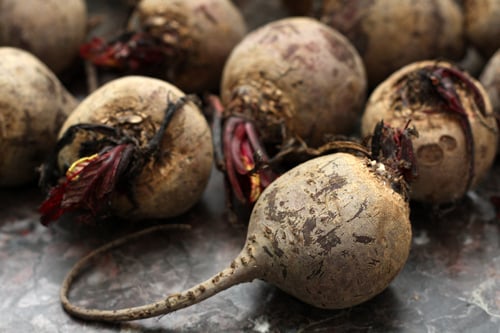 Perhaps the internet does make searching, and researching, easier, but it saddens me to see the large aggregator sites simply repositioning content all in the hopes of making a buck, just to create a profitable database. Although I write for a living, everyone I know who writes about food and recipes, from top-selling authors to people who work for small community-based publications, will invariably tell you that the main reason they work so hard to create recipes is because they really do want people to cook and bake from them.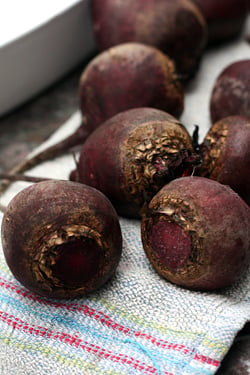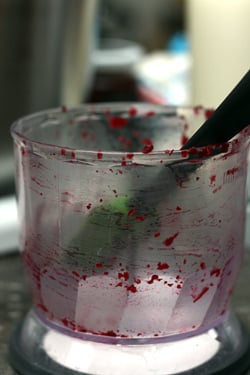 Seeing how this blog has evolved into something more than I thought it would, with conversations running the comments, tips from people from all over the world, and being part of a vast network of other food blogs, which range from expats learning to negotiate the outdoor markets in Egypt to folks getting by in everyday American communities – I find the whole phenomenon interesting and enjoyable.
I read cookbooks and I read blogs (and write both), and the ones that catch my fancy nowadays are ones with an author's voice in there. A story about something unusual – emotions, open and unguarded, are ingredients for the best writing. The most interesting dishes, the ones that make me want to pull out my mixing bowls, have a story behind them or offer a glimpse into another culture. They're not a rote list of ingredients, oven temperatures, and cooking times.
After my dinner with, a few weeks later, a copy of Tender by Nigel Slater arrived in the mail. It was enormous and most importantly, it was exactly the kind of book that I'm talking about. And it a book that I wanted to spend some time in a comfortable chair with, savoring the recipes, the spontaneous, engaging, casual writing, and the gorgeous photos. I have an iPad, and possibly could have read it on that. But then I would have missed the thick, coarse paper, and the delicate lushness of the photographs would have gotten lost behind the shiny screen.
For me, this recipe popped forward as I turned the pages of this 580 page book, and I went with my intuition to make it. A moist, chocolate loaf cake smeared with thick crème fraîche and enlivened by the subtle crackle of poppy seeds. Count me in.
I found the recipe not by scanning the Index looking for a recipe that sounded good. I started reading the book, Nigel Slater's thoughts about gardening and the vegetables he's raising behind his home, and that drew me into his world. Some of the gardening lore went over my head (my "garden" right now, in mid-winter, is a pot of dead mint on my roof) but he was writing about food and ingredients that he believed in, and the pictures were imperfect, real food, like the vegetables that come out of the ground of his garden.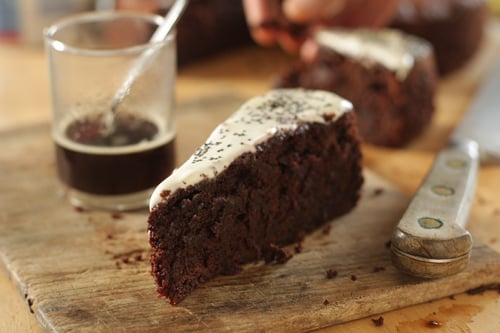 What truly appealed to me most was Nigel Slater's deep affection for his subject and his recipes, which was obvious in each and every word printed in the book. It's intelligent and reflective, and makes me want to position myself on the sofa and continue to read through the pages, and the recipes. And perhaps give my rooftop garden another go in the spring. In the meantime, I'll stick to making cake.
Moist Chocolate-Beet Cake
Adapted from
Tender
by Nigel Slater I was attracted to this recipe because 1) I was intrigued but the words "moist chocolate", and 2) It has beets in it. Because the author is British, superfine sugar (which is readily available there) is called for, which is called castor sugar. In France we have
sucre semoule
, but elsewhere you can simply whiz regular sugar in a food processor for about ten seconds until it's fine. I had a bunch of beets I was roasting so I used a couple of those, but for economy's sake, you can boil the two beets or cook them as you prefer. You'll need a scant 1 cup (250 g) of grated beet purée. This cake is not overly sweet, which is good for those of you looking for more of a snack cake, rather than a towering, frosted dessert. Although the original recipe calls for chocolate that is 70% cacao solids, you can use one that is in the 50-60% range, depending on what's available in your area. For those of you who can't get crème fraîche, I suspect mascarpone would be interesting, or perhaps just sour cream. Or maybe just a nice scoop of
vanilla ice cream
alongside
8

ounces (240g)

beets

,

unpeeled, rinsed and scrubbed free of dirt

7

ounces (200 g)

bittersweet or semisweet chocolate

,

chopped, 70% cacao solids

1/4

cup (60ml)

hot espresso

,

(or water)

7

ounces (200g)

butter

,

at room temperature, cubed

1

cup (135g)

flour

3

tablespoons

unsweetened cocoa powder

,

(the darkest you can find, natural or Dutch-process)

1 1/4

teaspoon

baking powder

5

large eggs

,

separated, at room temperature

pinch

of salt

1

cup (200g)

superfine sugar
Butter an 8 or 8 1/2 inch (20 cm) springform pan and line the bottom with parchment paper.

Boil the beets in salted water with the lid askew until they're very tender when you stick a knife in them about 45 minutes. Drain then rinse the beets with cold water. When cool enough to handle, slip off the peels, cut the beets into chunks, and grind them in a food processor until you get a coarse, yet cohesive, puree. (If you don't have a food processor, use a cheese grater.)

Preheat the oven to 350ºF (180ºC).

In a large bowl set over a pan of barely simmering water, melt the chocolate, stirring as little as possible. Once it's nearly all melted, turn off the heat (but leave the bowl over the warm water), pour in the hot espresso and stir it once. Then add the butter. Press the butter pieces into the chocolate and allow them to soften without stirring.

Sift together the flour, cocoa powder, and baking powder in a separate bowl.

Remove the bowl of chocolate from the heat and stir until the butter is melted. Let sit for a few minutes to cool, then stir the egg yolks together and briskly stir them into the melted chocolate mixture. Fold in the beets.

In a stand mixer, or by hand, whip the egg whites until stiff. Gradually fold the sugar into the whipped egg whites with a spatula, then fold them into the melted chocolate mixture, being careful not to overmix.

Fold in the flour and cocoa powder.

Scrape the batter into the prepared cake pan and reduce the heat of the oven to 325ºF (160ºC), and bake the cake for 40 minutes, or until the sides are just set but the center is still is just a bit wobbly. Do not overbake.

Let cake cool completely, then remove it from the pan.
Notes
Serving and storage: This cake tastes better the second day; spread with crème fraîche and sprinkle with poppy seeds shortly before serving. Or serve them alongside.
Related Recipes
Zucchini Cake with Crunchy Lemon Glaze
Carrot Cake with Cream Cheese Frosting