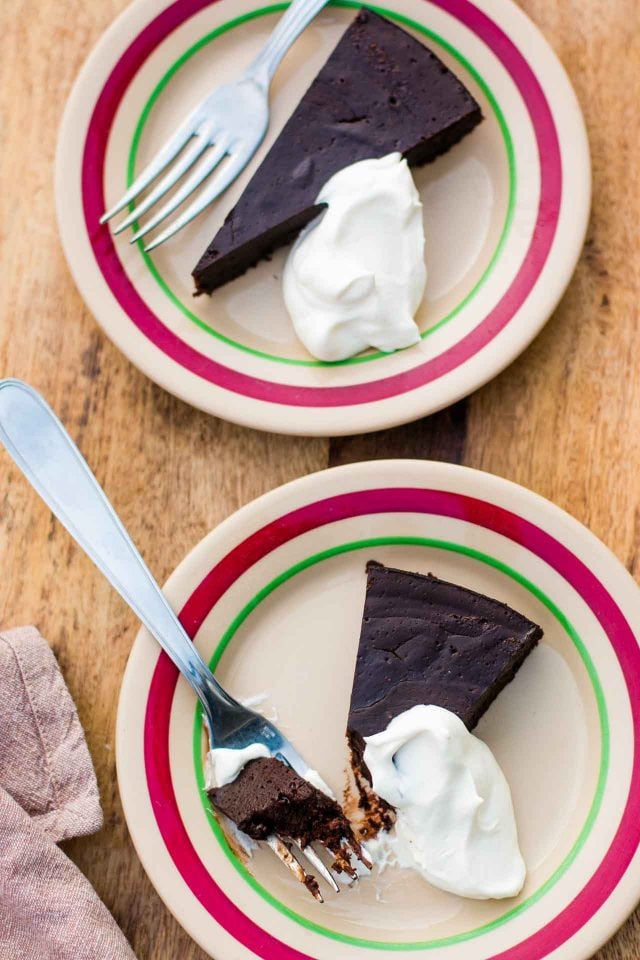 The word 'consulting' always sounds like a dream job when you're working in a restaurant kitchen, slaving over a hot stove as a line or prep cook. As a consultant, it sounds like you sweep into a kitchen whenever you feel like it, and bake something up with the staff. But it's rather challenging work.
Restaurants call in consultants when the kitchen is in dire trouble. You walk into the kitchen and no one wants to talk to you or change anything. (Which is why they needed to call someone for help in the first place!) I took a job like that once, when I was between jobs as a pastry chef, and although the kitchen staff was friendly and fairly helpful, desserts were not a high priority to them. In fact, they were storing the dessert sauces in the same cabinet as the chopped garlic. Yikes.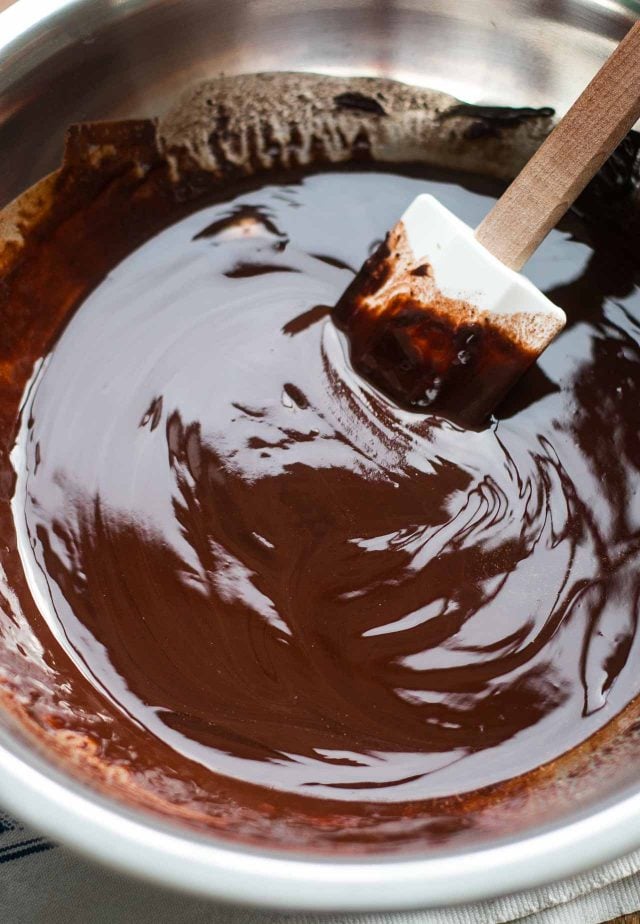 I decided that I needed to create a cake for them that was fool-proof. It needed to be made without any fancy techniques or ingredients, and the cooking didn't have to depend on the whims on whatever cook was called upon to make the cakes that day. And it also had to keep well.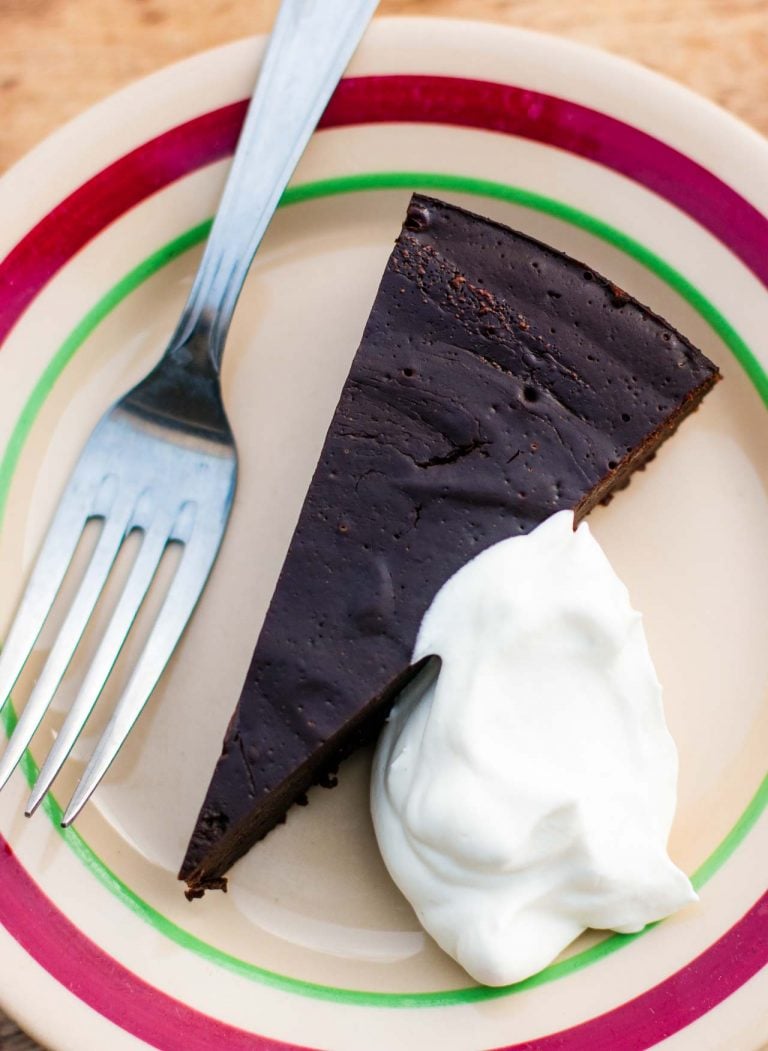 But most important, it had to taste great. I like chocolate cakes that are straight-on chocolate. While I don't mind frosted, multi-layered wedges of cake, this one is pure, uninhibited chocolate indulgence. There's not much to get between you and the deep, bittersweet flavor of dark chocolate.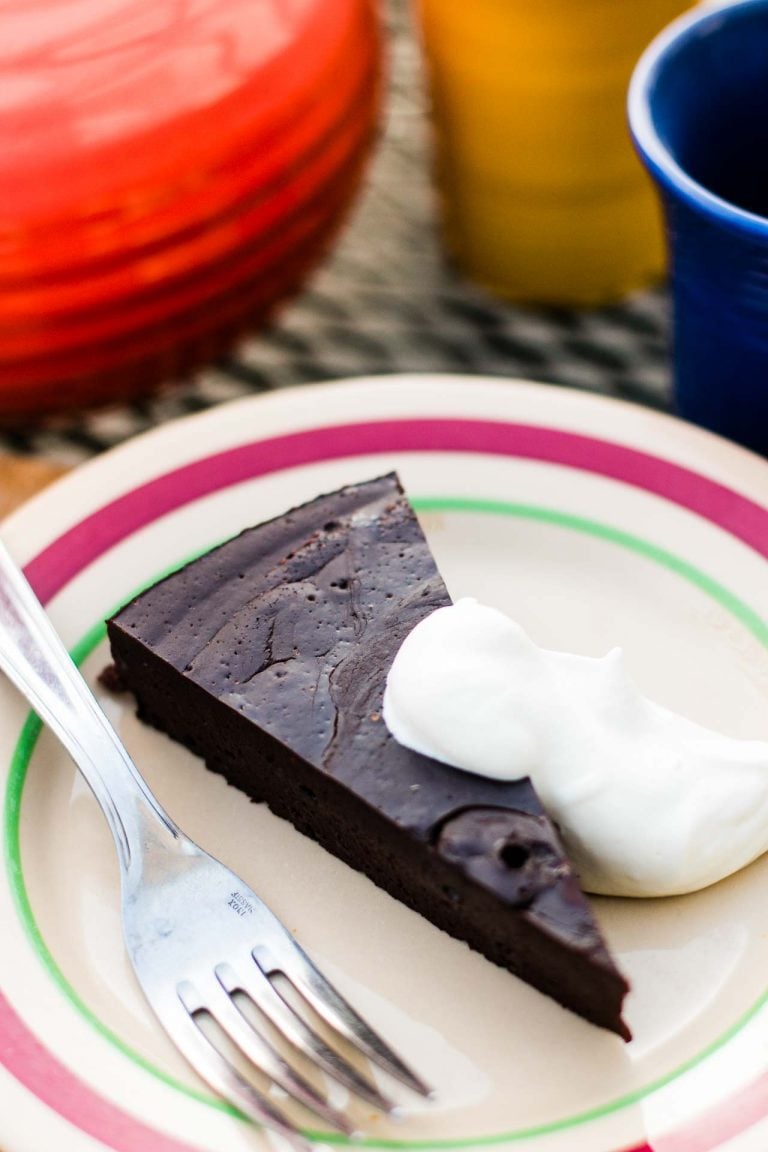 I jokingly called this Chocolate Idiot Cake, since anyone can make it, and it's hard to screw up. (Although I didn't say that to anyone's face, of course.) Later I made it when I was in the pastry department at Chez Panisse, where a co-worked looked at them as they were coming out of the oven and dubbed them, "Chocolate Orbit Cake," due to the little craters on top.
Whatever you call it, it's a pretty great chocolate cake that just requires four ingredients, no special techniques, except for a few moments of whisking, and can be refrigerated (once cool), for a couple of days, until ready to serve.
Chocolate Idiot Cake
Adapted from
Ready for Dessert
(Ten Speed Press) This cake is extremely rich, and tastes like the most delicious, silkiest, most supremely-chocolate ganache you've ever had. As mentioned, it's equally good a few days later, and only an idiot could possibly mess it up. Use a good chocolate — you'll appreciate it when you taste your first melt-in-your-mouth bite. Make sure to wrap the springform pan very well in foil, perhaps in several layers, to prevent any water seeping in during baking.
10

ounces (290gr)

bittersweet or semisweet chocolate

,

coarsely chopped

7

ounces (200gr)

butter

,

salted or unsalted, cut into pieces

5

large eggs

,

at room temperature

1

cup (200gr)

sugar

unsweetened cocoa powder

,

for preparing the cake pan
Preheat the oven to 350ºF (175ºC).

Butter a 9-inch (23cm) springform pan and dust it with cocoa powder, tapping out any excess. Wrap the outside with aluminum foil, in several layers if necessary (see headnote), making sure it goes all the way up to the outer rim.

Melt the chocolate and butter in a double boiler (or microwave), stirring occasionally, until smooth. Remove from heat.

In a large bowl, whisk together the eggs and sugar, then whisk in the melted chocolate mixture until smooth.

Pour the batter into the prepared springform pan and cover the top of the cake pan snugly with a sheet of foil. Put the springform pan into a larger baking pan, such as a roasting pan, and add enough hot water to the baking pan to reach halfway up to the outside of the cake pan.

Bake the cake for about 1 hour and 15 minutes. It should feels just set in the center, like quivering chocolate pudding. If you gently touch the center, your finger should come away almost clean.

Lift the cake pan from the water bath and remove the foil. Let cake cool completely on a cooling rack.

When cool, serve thin wedges of this very rich cake at room temperature, with crème anglaise,

ice cream

, or whipped cream. It could also be served with a drizzle of

chocolate sauce

.
Notes
Storage: This cake can be wrapped and chilled in the refrigerator for 3-5 days.
Note: I often get asked about how to remove a cake like this from a springform pan. You can dip a chef's knife in very hot water and slide it under the cooled cake to remove it from the bottom of the pan. But I generally use my glass-bottomed springform pan, since I don't need to wrestle the cake from the bottom of the pan for serving.