Spaghetti Pie
I'm kind of a nitwit in social situations. Consider last spring (or was it summer?), when I was at a party in New York, I met Justin Chapple. A bunch of us chatted casually over cocktails in our friend's backyard, but I found out later he is the Mad Genius over at Food & Wine and he's on television and all that good stuff. After I found that out, I'd hoped that I didn't have any stray ear hairs or say something inappropriate, which happens a little too-often to me at parties. (Hence the dwindling lack of invitations in my mailbox.)
But he's got some serious feathers in his cap, including being an absolute genius for his recipe for Cacio e Pepe Pasta Pie, which looked amazing on the Food & Wine website. For some reason, I had a bag of spaghetti in my kitchen cupboard which I'd been looking at for the past few months. I think I was planning on making spaghetti and meatballs, but the project eventually moved to the back burner – or drawer. So I decided to give the Spaghetti Pie a try.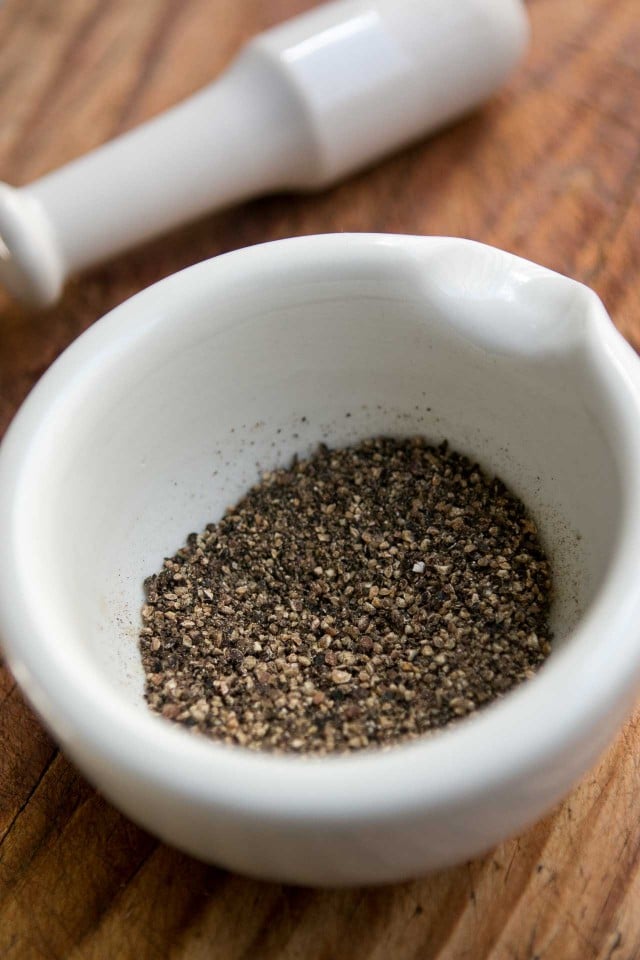 Traditionalists can relax because I've recast it a bit, and it's been redubbed Spaghetti Pie, or maybe Torte. (Because I didn't want to get into any more trouble.) Like the original Cacio e pepe pasta, which relies on pecorino cheese and lots of freshly ground black pepper for flavor, this pie (or torte) has additional cheese to make it more substantial, and so it's sliceable when baked. I used mostly French cheeses which take it even further from its semi-Italian roots, but it was absolutely delicious, no matter what cheese I swapped out, or what you want to call it. Being popular is overrated. (Well, from what I hear…)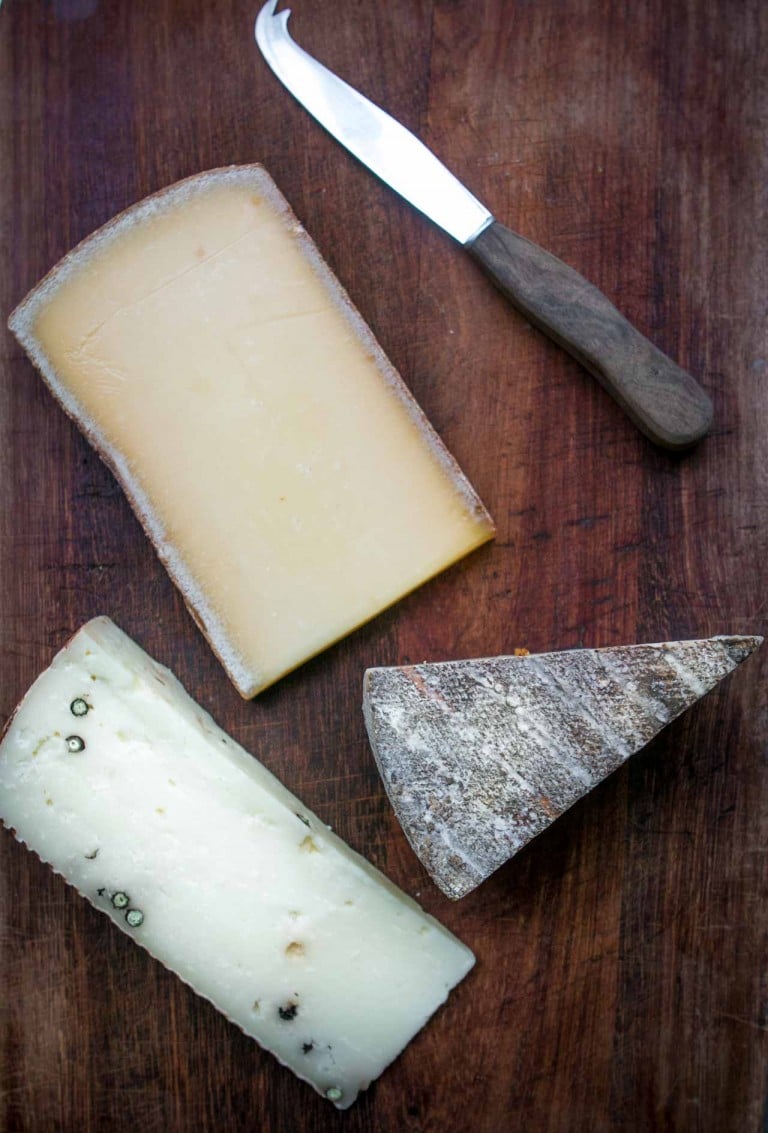 I don't normally buy cheese at the supermarket in France, since I like to support the fromagers at the markets, but it was one of those on-a-hunch meals, and I didn't have much of a choice. If you look selectively, you can get decent cheeses at the supermarket not only in France, but in the United States as well. Comté is a reliably good choice that's always available, and I was surprised to find pecorino, which isn't so widely available. I augmented them with a soft mountain-style tomme, a catch-all term used to describe any number of mountain cheeses in France. This one was similar to Fontina (it's the one in the middle, above), which gave it a dense, yet creamy texture.
I was a bit skeptical – which may be another reason people move away from me at parties – when I stirred the warm pasta into the milk, eggs and cheese, I tasted a few forkfuls because it looked so good, and had a hard time stopping myself and added it to the baking pan before I polished the giant pot of pasta off.
But later, when I unmolded the spaghetti pie from the pan, I was happily surprised at how beautiful it was. After it cooled a bit, I plunged my knife in and cut off a wedge and tasted it again. Sure enough, it was even better than it was before. Justin may be the mad genius, but I was a happy diner.
This is the perfect dish to go with the quintessential salad that recipe writers often suggest to accompany a filling or carbo-forward main course, such as this. I tossed up a lively salad of winter greens with radicchio, Belgian endive, and watercress in a mustardy vinaigrette and served it with a light red wine. I've taken to adding a handful of toasted pumpkin seeds to my salads to give them a bit of nutty crunch. Due to their slender shape, they meld very well with salads, just like this peppery pasta melded to a crispy, golden pie (or torte) in my oven.
| | |
| --- | --- |
| Spaghetti Pie | Print Recipe |
Adapted from Cacio e Pepe Pasta Pie by Justin Chapel of Food & Wine I urge you to use freshly ground black pepper that you grind before making this. This torte (or cake) was based on Cacio e pepe, an Italian pasta that gets its distinctive flavor from pecorino cheese and lots of black pepper. If you can't get pecorino, Parmesan and Asiago are different, but probably the closest substitutes. Also different, but delicious, is Vella dry jack cheese, made in California. I used cheeses that were available to me, and suggest if you can't get Comte use Gruyere, Emmenthal or Jarlsberg as a substitute for it. (A mild cheddar may work as well.) For the softer cheese, I used a Tomme de montagne, a "catch-all" term in France for a mountain cheese that's often semi-soft. Fontina isn't available in France very easily, but I know it is elsewhere. Feel free to use Gouda, Vacherin Fribourgeois, or Morbier in its place. You can make this gluten-free by substituting a gluten-free spaghetti, perhaps cooking it even less than al dente, since it tends to be a lot softer than standard pasta. (Other pasta shapes would work as well, too.) If you don't have a springform pan, you could bake this in a similar sized casserole and serve it sliced directly from the baking dish without unmolding it.
1
pound (455g)
dried spaghetti
3
large eggs,
room temperature
1 1/2
teaspoons
sea or kosher salt
2
teaspoons
freshly ground black pepper
3/4
cup (70g)
finely grated pecorino cheese
3
cups (7 ounces, 200g)
grated Comté,
or a Swiss-style cheese
3
cups (7 ounces, 200g)
grated Fontina,
or a similar semisoft cheese
1. Bring a large pot of salted water to a boil. Cook the spaghetti just until it's very al dente. Do not cook until completely tender. (The recommended cooking time on my bag was 10 minutes. I cooked mine for 8 minutes.)
2. Preheat the oven to 425ºF (220ºC). Butter a 9-inch (23cm) springform pan. Wrap the bottom very securely in one large sheet of aluminum foil. Set the pan on a rimmed baking sheet lined with foil. (Extra insurance in case your pan leaks a bit.)
3. When the pasta is done, drain it well and let cool slightly.
4. In the pot, whisk together the milk, eggs, salt, black and red peppers. Set 1/2 cup (40g) of each of the Comte and Fontina cheeses aside. (Total: 1 cup/80g.) Stir the rest of the grated cheese, as well as the pecorino, into the milk and egg mixture.
5. Stir the slightly cooled spaghetti into the milk and cheese until it is completely combined.
6. Transfer the mixture to the prepared springform pan. Smooth the top so it's relatively even and sprinkle the 1 cup (80g) reserved grated cheese over the top.
7. Bake for 30 to 35 minutes, until the cake feels just set in the center and is slightly bubbling around the edges. Turn on the broiler and brown the top of the torte on the upper-third rack of the oven until well-browned. Remove from oven and run a knife around the inside of the cake pan to loosen the pie from the sides. Let rest about 10 minutes then released and remove the sides of the pan. Serve while still warm, in slices. It can also be served at room temperature if you're looking for a picnic dish.
Storage: The torte can be made up to three days in advance and refrigerated, then rewarmed in the oven, covered with foil. It can be frozen for up to two months.