Drinking French
The world of French drinks comes alive in Drinking French, a tasty primer that covers the iconic drinks enjoyed in Parisian cafés and bistros, as well as tea salons, chocolate shops, and cocktail bars.
The book takes you through a typical French day, starting with beloved favorites like café au lait, homemade citron pressé (lemonade), herbal tisanes, fresh mint tea, and hot chocolate with salted butter caramel (which you can top with a homemade Armagnac marshmallow with a recipe that's also included in the book), as well as two other favorite versions of French hot chocolate. As the day progresses, you might find yourself craving an icy-cold chocolate or coffee frappé, or a refreshing Spritz cocktail – with a French twist, bien sûr. Other chapters include thirst-quenching apéritifs, recipes for homemade liqueurs and infusions, and dozens of French cocktails, classic and contemporary, culled from the best bartenders in France.
And because it's always nice to have something to eat with when you drink, you'll find a chapter of snacks to nibble on while you sip, with everything from spiced nuts to cornmeal-bacon madeleines. No matter where you live, you can drink with the same joie de vie that the French are known for. Drinking French has been chosen as a finalist for a 2021 International Association of Culinary Professional Cookbook Award and was the winner of the Best New Cocktail Book by the acclaimed Tales of the Cocktail Foundation.
Drinking French is available from local independent booksellers, including Book Larder, White Whale, Kitchen Arts and Letters, Omnivore, Powell's, Now Serving, Strand, Books & Books, Books are Magic, Bel Canto, Avid Bookshop, The Raven Bookstore, and RJ Julia, as well as others in your community.
Drinking French is also available at Bookshop, Indie Bound, Amazon, and Barnes & Noble.
L'appart
After a decade of living in Paris, it was time to make my dream come true: To own my own home in Paris, complete with my dream kitchen. Undertaking such a task anywhere can be overwhelming, but doing so in a city with unique customs, and having to learn a brain-draining amount of vocabulary for bank terms, hardware, tools, appliances, and fixtures, was a lesson in patience and perseverance. (Or some might say, a recipe for disaster!) L'appart tells the story, an uproarious comedy of errors, of making my home in Paris, seasoned with a soupçon of delicious recipes.
For publicity and media inquiries, contact Crown Publicity.
My Paris Kitchen
My Paris Kitchen features over 100 of my favorite recipes that I make in my kitchen in Paris. Included are recipes for appetizers, first courses, main courses, and – of naturally – dessert! (All recipes are in standard and metric measurements.) There are stories throughout the book about Paris and Parisian culture, and the book is lavishly photographed, with pictures of the streets, cafés, bakeries, chocolate, cheeses, and pastries that make Paris such a delicious city. My Paris Kitchen was named one of the top 10 cookbooks of the year by The Los Angeles Times, Amazon, National Public Radio (NPR), Serious Eats, The Chicago Tribune, Eat Your Books, The Splendid Table, and The Washington Post.
The Perfect Scoop
The ten-year anniversary edition of The Perfect Scoop is here! Everyone's favorite book on making ice cream at home has been completely revised and updated with a dozen new recipes, and with even more tips and techniques for churning up the best ice cream at home.
This beautifully photographed book also features dozens of recipes for sauces, like Marshmallow Hot Fudge and Salted Butter Caramel, as well as easy instructions for mix-ins to add to your ice cream. If you crave things like homemade thin mints, peanut butter patties, fudge ripples, candied nuts, and dark chocolate truffles in ice cream, you'll find them all in this best-selling book. There are also chapters on sorbets and granitas, too, which use the best of the season, including fresh berries, tropical fruits, citrus, with an added bonus of a selection of adults-only frozen cocktails.
And because ice cream always tastes better when perched on something edible, you'll find recipes for homemade cones, feather-light meringues, golden-brown cream puffs, chewy and cakey brownies, as well as oversized cookies to make the best ice cream sandwiches you've ever tasted. Start churning today with The Perfect Scoop.
Ready for Dessert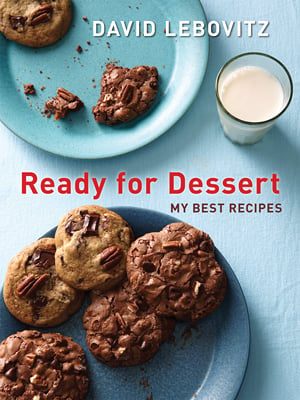 Here they are, my all-time favorite dessert recipes, in one delicious volume. Ready for Dessert features a generous collection of recipes from Room for Dessert and Ripe for Dessert, which have been completely updated and revised, as well as a selection of brand-new recipes that have never been published before.
This lushly photographed book features everything from a tropically-inspired Coconut Rum Cake, Chocolate-Dipped cupcakes with a creamy filling, rustic fruit desserts, and the famous Fresh Ginger Cake recipe, in addition to nearly 150 others.
For those in the United Kingdom and Europe, check out the UK-edition of Ready for Dessert.
The Sweet Life in Paris
Like many others, I dreamed of living in Paris ever since I first visited the city. Finally, after a nearly two-decade career as a pastry chef and cookbook author, I moved to Paris. Having crammed all my worldly belongings into three suitcases, after a ride in the smallest elevator that I've ever ridden in (never mind I had three large suitcases in there with me as well), I arrived in my new home with high hopes, ready to start all over again, in Paris.
But I soon discovered it's a different world in France. From learning the ironclad rules of social conduct to the mysteries of men's footwear, from shopkeepers who seem to work hard not to sell you something, to the etiquette of learning the right way around the cheese plate, here is my story of how I came to fall in love with—and even understand—this glorious, yet quirky city.
The Sweet Life in Paris was a finalist in the Best Literary Writing category in the 2010 Cuisinart/International Association of Culinary Professionals awards.
The Great Book of Chocolate
The ultimate guidebook to the world of chocolate, this comprehensive volume has it all, beginning with how chocolate is made to explaining what those labels mean, simple explanations of the history of chocolate as well as some of the startling health benefits that scientists have discovered about chocolate. The New York Times and Food+Wine magazine named The Great Book of Chocolate was noted by as one of the best books of the year.
Much of the book is devoted to recipes for classic and modernized chocolate desserts, which are guaranteed to satisfy the cravings of Chocophiles everywhere! You'll find recipes for moist and light Chocolate-Cherry Scones to Warm Individual Chocolate Cakes oozing chocolaty goodness. With simple instructions to make your own unbelievably good Belgian Chocolate Truffles and my famous recipe for Homemade Rocky Road, this is the one book that every chocolate-lover needs to own.
Room For Dessert
Hailed by critics nationwide and called an "instant masterpiece" by the San Francisco Examiner, Room For Dessert was honored by being selected as a finalist for an IACP/KitchenAid Best Book on Baking Award. There are over 100 recipes from everything from a simple, yet over-the-top Chocolate Orbit Cake to Chocolate Chunk Cookies, as well as a great recipe for chewy Coconut Macaroons that you will want to make over and over. The recipe for Fresh Ginger Cake is a classic, and another reason that Room For Dessert has become a favorite of home cooks everywhere. The New York Times said about Room For Dessert, "David's instructions are so clear and simple and the recipes are so good that it becomes clear what a master baker he is." (Note that this book is out of print. A selection of recipes from it are included in Ready for Dessert.)
Ripe For Dessert
Ripe For Dessert features desserts with fruit inside, outside, and alongside. Whether you're looking for something simple and delightful, such as a flavorful Apple and Blackberry Crisp and a luscious Plum Cake with Toffee Topping, or what many consider 'The Absolute Best Brownies' in the world with a secret ingredient and a lofty, brightly-flavored Lime and Marshmallow Pie, Ripe for Dessert includes everyone's favorite desserts with fruit. (Note that this book is out of print. A selection of recipes from it are included in Ready for Dessert.)
The Bakers Dozen Cookbook
A collective result of the best bakers in the San Francisco Bay Area, we tested hundreds of cheesecakes to come up with best, creamiest, and densest cheesecake imaginable. Other contributors include Flo Braker, Alice Medrich, Carol Field, and Marion Cunningham. The result is an oversized volume of recipes that resulted from our get-togethers and baking confabs where we learned from each other how to make the perfect Angel Food Cake, the secrets of the best cookies, the flakiest pie crusts, and dreamiest chocolate cakes.