favorite Paris Pastry Shops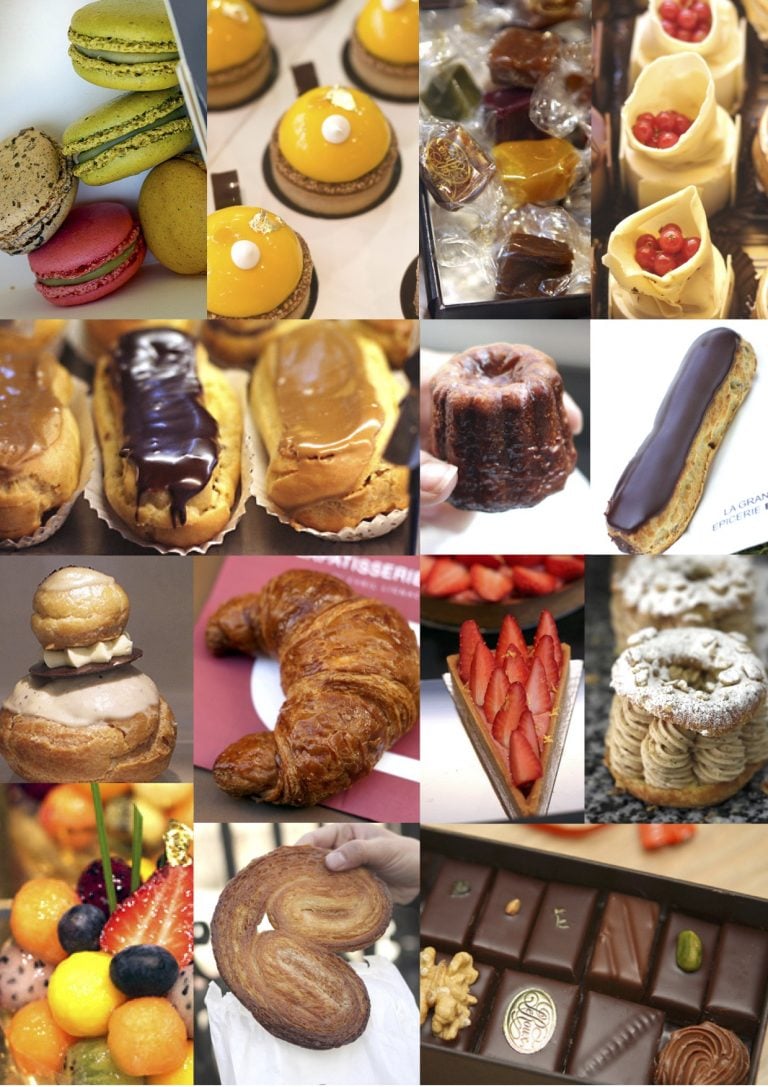 "What are the best pastry shops in Paris?" is a tough question.
There are over a thousand bakeries in Paris and each bakery has its own personality, often reflecting the neighborhood it's located in. Pastry shops on the swanky Left Bank and Marais area will be more upscale due to an affluent clientele and located where many visitors to the city stay. Whereas in the outer arrondissements (often referred to as the "double-digit" arrondissements), bakeries cater more to locals, and the shops will be more neighborhood-oriented. However Paris is evolving and many young pastry chefs are opening shops across the city in all arrondissements, so I've included favorites from around the town.
A number of bakeries and chocolate shops now have multiple addresses. I've listed the main ones below the descriptions, but check their websites for other locations in Paris. For places I've written more extensively about on the site, I've linked to those posts at the end of the description.
For a list of my favorite ice cream shops in Paris, click here.
Note that addresses and hours are subject to change so it's best to check the websites or the Instagram page for shops and bakeries for the most up-to-date information. Also note that some shops close in August.
---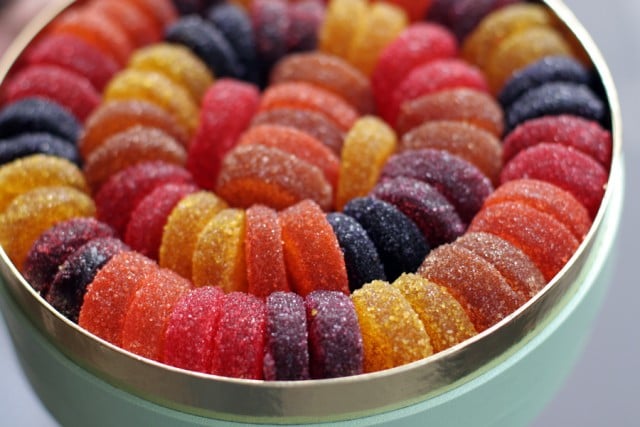 Fouquet
One of the oldest confectionery shops in Paris, founded in 1852, the chocolates at Fouquet are squarely in the style of à l'ancienne. That means darker chocolate is used to enrobe with fillings of ground caramelized nuts, and ganache centers that focus less on cream, more on bittersweet chocolate. The pâtes des fruits (fruit jellies) are at the top of my list of the best in Paris, and I'm addicted to the crunchy Croquants, dark chocolate-enrobed spice cookies, as well as their housemade marshmallows. The vintage jars filled with hard candies, caramels, and fondants are all made in the kitchen behind the shop in the rue Lafitte location, and the vinegars and rum punch are brewed up downstairs in ancient caves. (More on Fouquet.)
Fouquet
23 Rue François 1er (8th)
Tél: 01 47 23 30 36
Métro: Franklin D. Roosevelt
and
36, rue Laffitte (9th)
Métro: Grands Boulevards or Notre-Dame-de-Lorette
---
Yann Couvreur
One of the newest stars on the Paris pastry scene, you'll find people hanging around the counter of the Avenue Parmentier location, nibbling on a pistachio-chocolate roulé in the morning (they open at 8am), or a Coffee-Star Anise éclair in the afternoon. The buckwheat Kouign amann could be a bit moister, but the picture-perfect pastries are worth crossing town for, especially the stylish éclairs, fashioned into rectangles, flavored with caramel or tonka beans. Especially good are the lemon tartlets and the Merveilleux, small, round cakes layered with meringue, ganache and glazed with a slick of dark chocolate.
Yann Couvreur
137 Avenue Parmentier (10th)
No phone
Métro: Goncourt
and
23bis rue des Rosiers (4th)
Métro: Saint-Paul
---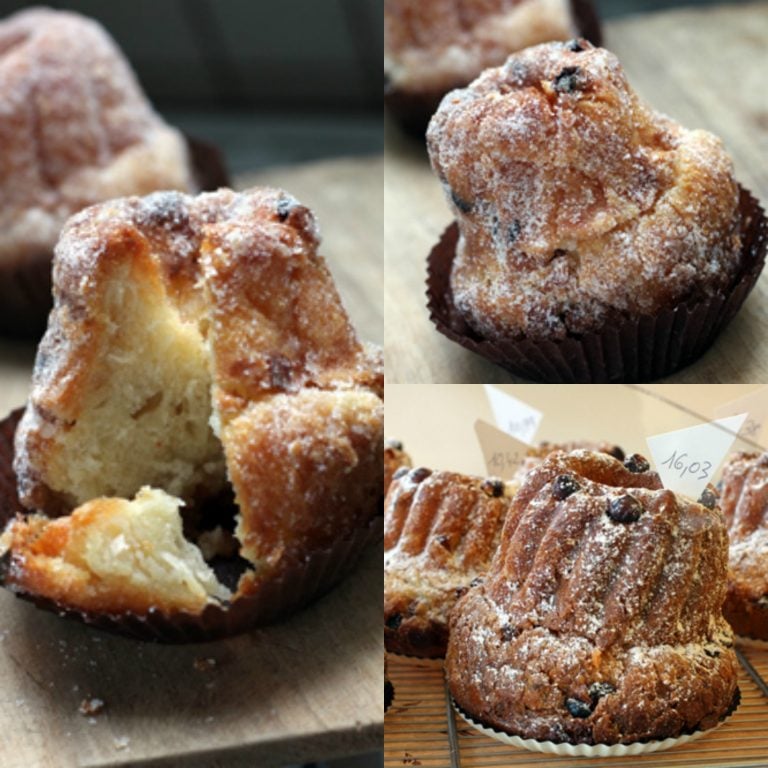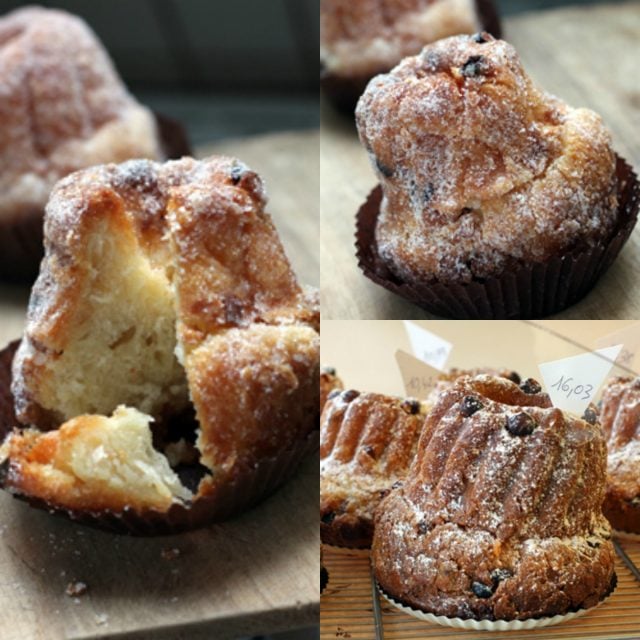 Vandermeersch
Why am I asking you to trek out to the Porte Dorée, at the edge of Paris? You'll thank me when you take your first bite of their outstanding Kougelhof, a yeasted Alsatian cake like you've never had before. Baked in traditional fluted molds, the buttery cakes are bathed in liqueur syrup and rolled in crunchy sugar when they're hot out of the oven. Breads are superb, especially Stéphan Vandermeersch's pain rustique, sold by the slab, and Bostock, the baker's favorite (because it uses it unsold brioche) gets smeared with almonds and baked until golden brown. (More on Vandermeersch.)
Vandermeersch
278, avenue Daumesnil, (12th)
Tél: 01 43 47 21 66
Métro: Porte Dorée
---
Du Pain et des Idées
Christophe Vasseur ramped up the Paris bread scene, putting bread back in the spotlight for a new, younger generation with his Pain des amis, hearty loaves baked in giant slabs, then cut into rectangles. I'm a fan of the spelt bread, available only on certain days. (And I never seem to be able to remember which one, so I often miss them.) I find their escargot pastries (Danish-style spirals) rather sweet; his extra-crispy croissants and chocolatines (chocolate croissants) are more in line with my tastes. The little snack-breads by the cashier make a great savory bite in the afternoon, filled with everything from prunes and feta, to Mimolette and smoked bacon. There's usually a line nowadays as it's become a popular address. (More on Du Pain et des Idées.)
Du Pain et des Idées
34 Rue Yves Toudic (10th)
Tél: 01 42 40 44 52
Métro: Jacques Bonsergent
---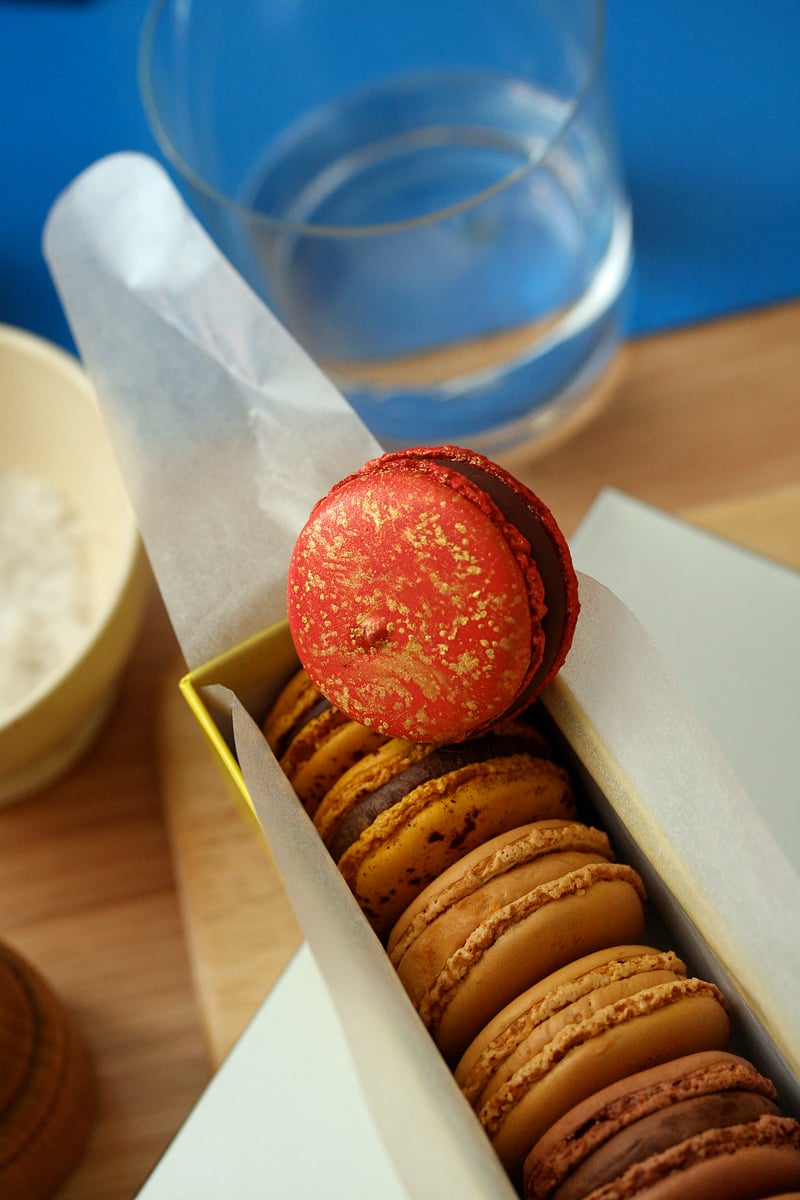 Pierre Hermé
No one would dispute that Pierre Hermé could be called the father of modern French pastry. Not since Gaston Lenôtre has anyone done more to make French pastry more visible, and relevant, than Chef Hermé. Combining unique flavors, like white truffles and hazelnuts, chocolate and foie gras, or his most famous, Ispahan, an exotic blend of lychee, raspberry and rose, you'll find such unique combinations in his iconic macarons and other pastries. He can ever make vanilla taste like something altogether new in his Tarte Infiniment Vanille. The 2000 Feuilles is a double-decker Napolean made up for two thousand layers of puff pastry, rather than the usual millefeuille, or "1000 layers." If you splurge on the towering milk chocolate cherry cake (for €95), they'll put it in a special box, and many customers leave with a box of Korova cookies, dark chocolate cookies with a touch of fleur de sel. Don't miss the morning pastries, especially the Kouign amann and yeasty Kugelhof, discreetly located in the back of the shop.
Pierre Hermé
72 Rue Bonaparte (6th)
Tél: 01 43 54 47 77
Métro: Saint-Sulpice

(Multiple locations around Paris)
---
Poilâne
When people used to ask me why I moved to Paris, my answer was, "To be close to Poilâne." There's nothing at this beloved bakery that I don't like, from the hearty rye-raisin rolls to the famous pain Poilâne. Founded in 1932, the breads at this Left Bank stalwart are still baked in a wood oven underneath the shop. (The oven heats the entire building in the winter.) The simple apple tarts, layers of flaky pastry with softly cooked apples in the center and crunchy brown sugar on top, are the best in town. Punitions are "punishments," crisp shortbread cookies (sablés) sold by the bag, which people come from all over Paris – and the rest of the world – to pick up. (More on Poilâne.)
Poilâne
8 Rue du Cherche-Midi (6th)
Tél: 01 45 48 42 59
Métro: Sèvres – Babylone
---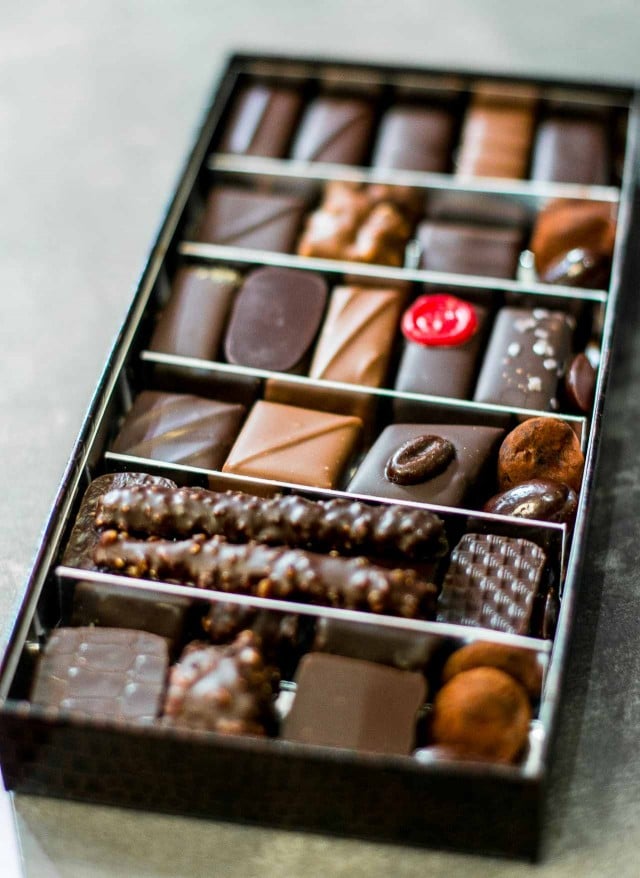 Jean-Charles Rochoux
It would be a challenge for Monsieur Rochoux to branch out, because he oversees everything that comes out of the kitchen under his little shop, just off the bustling rue de Rennes. He is the master of chocolate, as evidenced by sculptures on shelves around the shop, crafted of pure chocolate. But his contemporary confections tempt all of the customers, including me. The liqueur-filled chocolates (especially the chocolates filled with Chartreuse) must be eaten in one quick bite, but take time to savor the gianduja-dipped almonds, square pavé-like truffles, and DO NOT LEAVE without treating yourself to a jar of his hazelnut praline paste. (More on Jean-Charles Rochoux.)
Jean-Charles Rochoux
16 Rue d'Assas (6th)
Tél: 01 42 84 29 45
Métro: Rennes
---
Bague de Kenza
North African pastries might not be on the top of your list of sweets to try in Paris, but Bague de Kenza will change your mind. Fresh nuts and real honey are used in their pastries, which focus less on sugar, and more on the quality of the ingredients, such as nuts and almond paste. It's hard to choose from the delicate, refined pastries piled up (which is quite a sight!) – the Cornes de Gazelle and Baklava go perfectly with a glass of fresh mint tea, which is offered in some of their shops, although I like the cigar-like pastries rolled in sesame seeds and the cornets of pistachio. Most pastries aren't labeled or have descriptions that don't quite let you know what's in them, so best just to choose a small assortment, or ask for advice.
Bague de Kenza
106, rue Saint-Maur (11th)
Tél: 01 43 14 93 15
Métro: Faidherbe Chaligny
(Multiple locations in Paris.)
---
Le Chocolate Alain Ducasse
The first bean-to-bar chocolate shop in Paris is the work of famed chef Alain Ducasse and chocolatier Nicolas Berger. The single-origin bars showcase the beans, but the praline filled bars are the ones that make me swoon. Delicious individual chocolates come filled with ground salted peanuts and Sicilian pistachios. Most creative flavors include raspberry and peppery Piment d'Espelette, coconut-passion fruit, and a sensational creamy-smooth caramel mousse. (More on Le Chocolat Alain Ducasse.)
Le Chocolat Alain Ducasse
40 Rue de la Roquette (11th)
Tél: 01 48 05 82 86
Métro: Bastille
and
26 rue Saint-Benoît (6th)
Tél: 01 45 48 87 89
Métro: Saint-Germain-des-Prés
(Multiple locations in Paris.)
---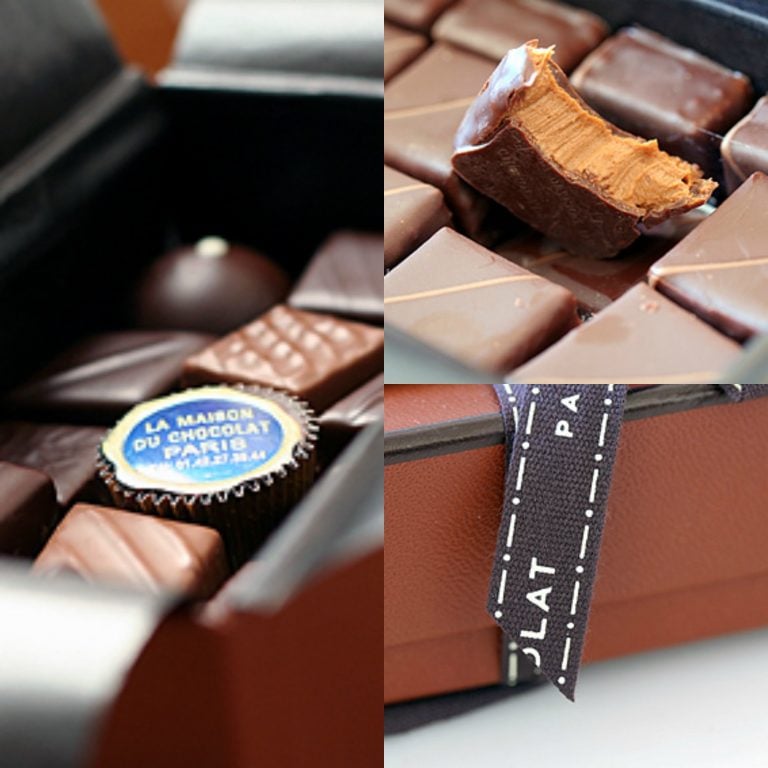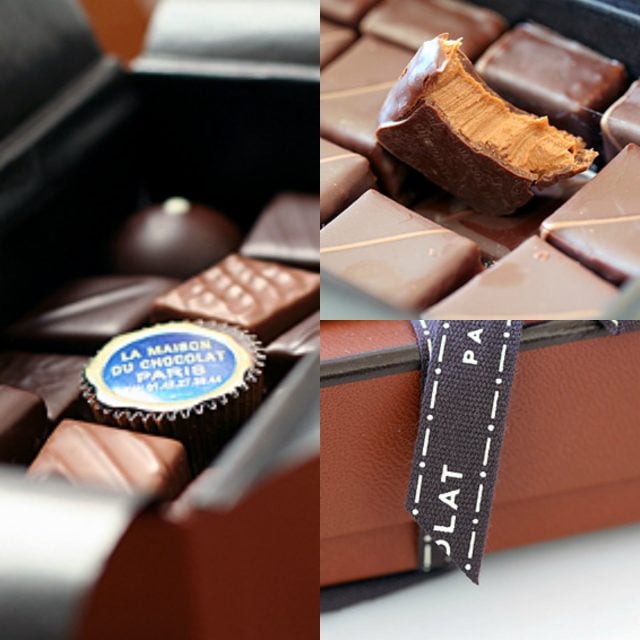 La Maison du Chocolat
La Maison du Chocolate is "the" classic Parisian chocolate shop, the place where ganache-based chocolates were perfected. Be on the lookout for Zagora, infused with fresh mint, Smyrna, a slim rectangle stuffed with rum-soaked raisins, and my absolute favorite – Rigoletto Noir, a thin layer of dark chocolate enrobing airy layer whipped caramelized butter mousse. Some of the shops have chocolate salons where you can have a hot chocolate during the chilly winter months, and sip cold chocolate frappé (and lap up some ice cream) in the sweltering summer. (More on La Maison du Chocolat.)
La Maison du Chocolat
225 rue du Faubourg Saint-Honoré (8th)
Tél: 01 42 27 39 44
Métro: Ternes
(Multiple locations in Paris.)
---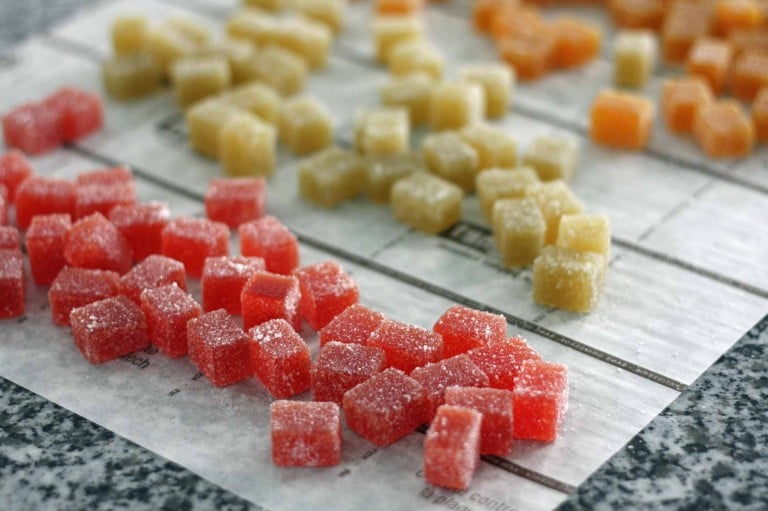 Jacques Genin
A true perfectionist, one bite of Jacques' buttery caramels will make you agree that they are the best, most perfect caramels in the world. They retain the flavor of pure French butter, and the passion fruit-mango surprised me by becoming my favorite of the lot, although the nature caramels (plain), are no slouch, either. A sleek selection of chocolates includes mint-infused ganache, chestnut honey, and basil. The tea salon offers oversized cups of hot chocolate and made-to-order individual pastries, which previously were available to go, but now are only available at the salon. (Or by special order, to go.) They change often, but the Paris-Brest is my favorite pastry in Paris, which can be ordered in advance, and picked up to enjoy elsewhere. (More on Jacques Genin.)
Jacques Genin
133 Rue de Turenne (3rd)
Tél: 01 45 77 29 01
Métro: Oberkampf or Filles du Calvaire
---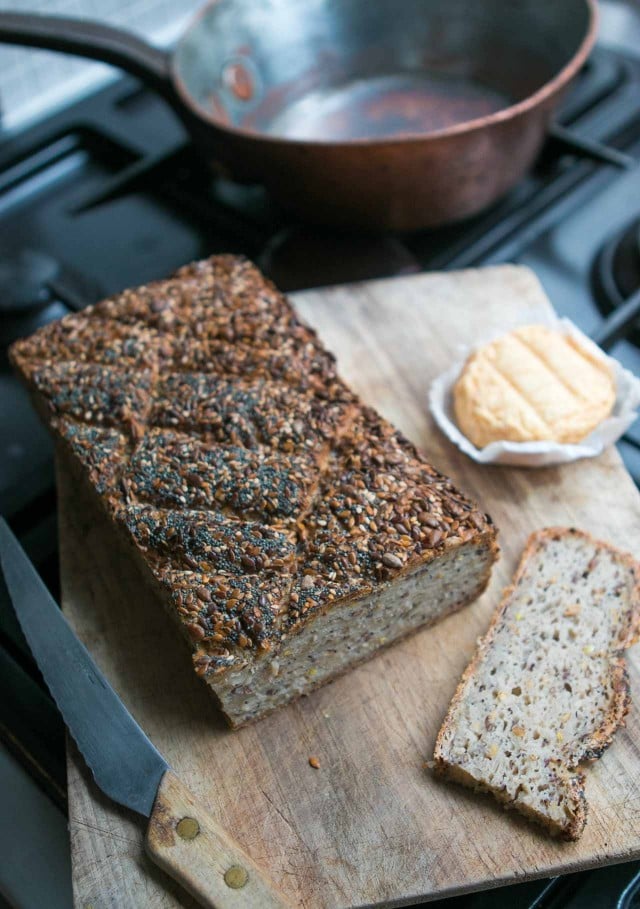 Chambelland
When I heard that Chambelland was opening, I didn't know if Paris was ready for a gluten-free bakery, but they quickly became popular (with me as well) for their outstanding pastries that use rice and buckwheat flours at their own mill. Even if you do eat gluten, this is a worthwhile stop. Their lemon tart is perhaps my favorite in the city, with a drift of meringue over a layer of tangy lemon custard in a remarkably flaky pastry crust. Lunch is served in their light-filled café with salads and sandwiches featuring their now-famous bread. I'm very fond of their multigrain loaf, riddled with seeds, giving the slices a pleasing crunch that will satisfy anyone, gluten-free or not. (More on Chambelland.)
Chambelland
14 rue Ternaux (11th)
Tél: 01 43 55 07 30
Métro: Parmentier or Oberkampf
---
Des Gâteaux et du Pain
Pastry chef Claire Damon, who previously worked with Pierre Hermé, shows off her own talents at this sleek shop devoted to "cakes and bread." Breads include fougasse with black olives, a pain noir (rye bread) with sunflower seeds, and Comté cheese bread. (Selection varies.) On the pastry side is an exceptional raspberry baba au rhum, lime-basil tartlets, and a sensational apple-maple tarte Tatin topped with caramelized pecans, that shouldn't be missed.
Des Gâteaux et du Pain
63 Boulevard Pasteur (15th)
Tél: 01 45 38 94 16
Métro: Pasteur
---
Patrick Roger
Once Parisians got a taste of Roger's chocolates, they wanted more. This brilliant young chocolatier started with one shop on the outskirts of Paris, but now has boutiques across the city, and wows locals and visitors with intriguing chocolates filled with traditional flavors, as well as lemongrass, oatmeal, and saffron. My personal favorites are the chocolates filled with praline feuilleté, crispy bits of caramelized nuts. The colorful domes in the showcases are filled with liquid caramel, some with honey from his beehives just outside of the city (don't miss those!) or prunelle, made from tiny, plum-like sloe fruits. (More on Patrick Roger.)
Patrick Roger
108 boulevard Saint-Germain (6th)
Tél: 01 43 29 38 42
Métro: Odéon
(Multiple locations in Paris.)
---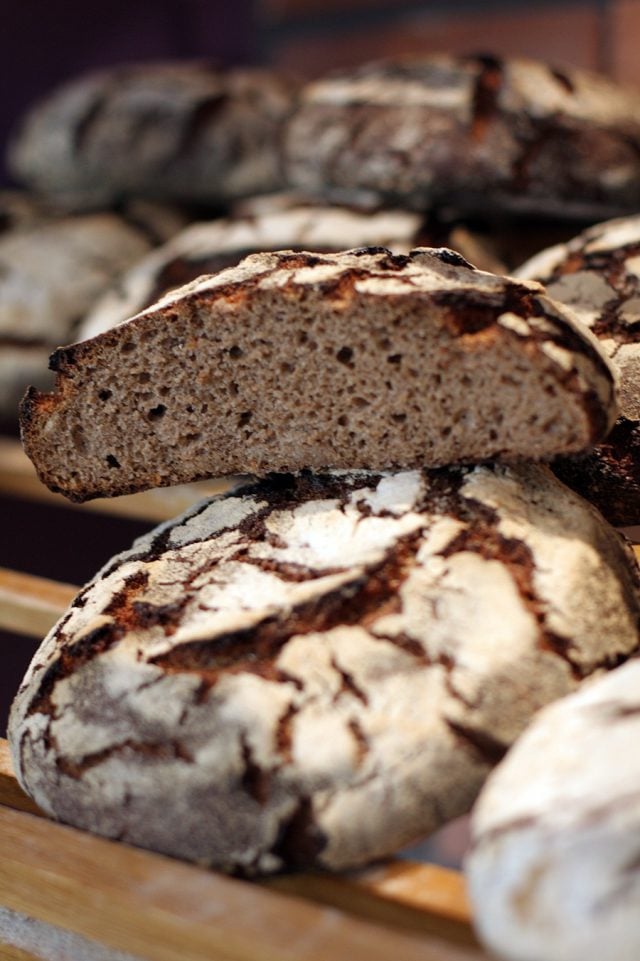 Tout Autour du Pain
Outstanding breads from Benjamin Turquier at this little bakery just across from Jacques Genin's shop. (It was formerly known as 134 RDT.) There's humble, but spectacular-tasting Tourte de seigle (rye) bread and healthy Schwarzbrot, dense German loaves which I always smeared with salted French butter as soon as I get home. His baguette de tradition has rightfully won awards for being the best in Paris, as have his croissants, which are some of the best in Paris. This quirky bakery has snack-size loaves of bread riddled with white chocolate chips, and chocolate chouquettes, which make a perfect afternoon snack.
Tout Autour du Pain
134 rue de Turenne (3rd)
Tél: 01 42 78 04 72
Métro: République
---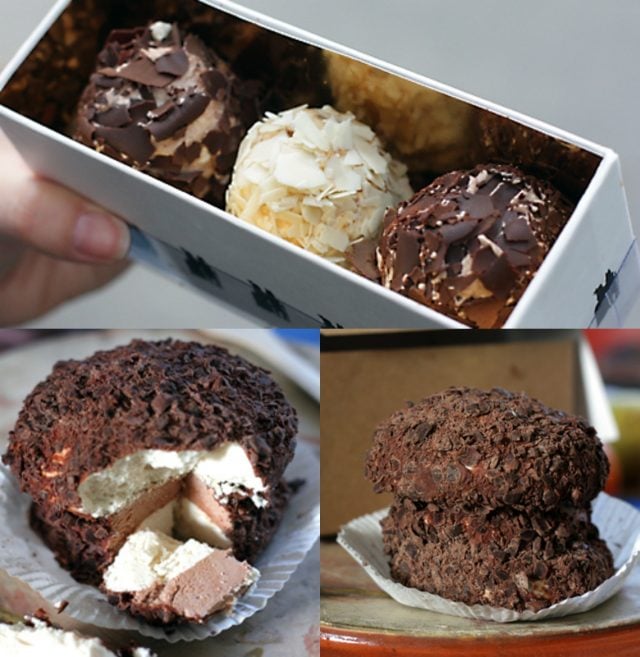 Aux Merveilleux de Fred
Apologies if you're one of the tourists I've accosted on the street, as you stood in front of the window at Aux Merveilleux de Fred, urging you to go in. But the specialty here is too good to pass up. A contemporary take (and a very successful one, at that) of a classic pastry from Lille, the Merveilleux is composed of meringues layered with whipped cream, flavored with coffee, vanilla or speculoos (spice cookie). While all are fabulous, the ones crusted with caramelized crunchy bits of coffee meringue, and filled with coffee cream, are hard to beat. Tip: The bite-size individual miniatures ones don't have the same ratio of crunch-to-cream, so I recommend the softball-sided pastries, which you'll have no trouble finishing off on your own. (More on Aux Merveilleux de Fred.)
Aux Merveilleux de Fred
129 bis rue Saint Charles, 75015
Tél: 01 45 79 72 47
Métro: Charles Michels
(Multiple locations in Paris.)
---
La Pâtisserie
Telegenic French chef Cyril Lynac owns this pastry shop, helmed by pastry chef Benoît Couvrand, and everything is terrific. Glossy chocolate éclairs, extra-flaky croissants, baba au rhum topped with a poof of whipped cream, and Parisian macarons are part of the line-up here. Breads aren't an afterthought here, and I never leave without picking up a loaf of pain aux céréales (grainy bread) for breakfast the next morning. (More on La Pâtisserie.)
La Pâtisserie
24, rue Paul Bert (11th)
Tél: 01 43 72 74 88
Métro: Faidherbe-Chaligny
---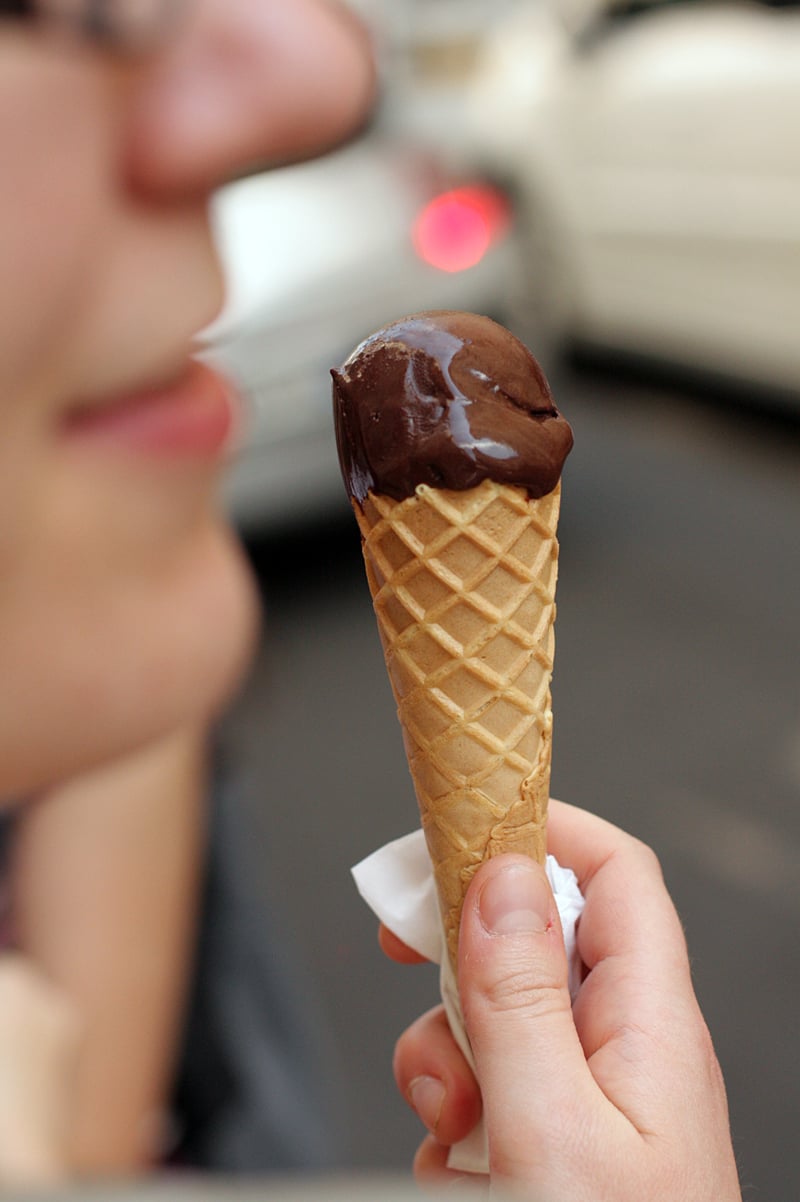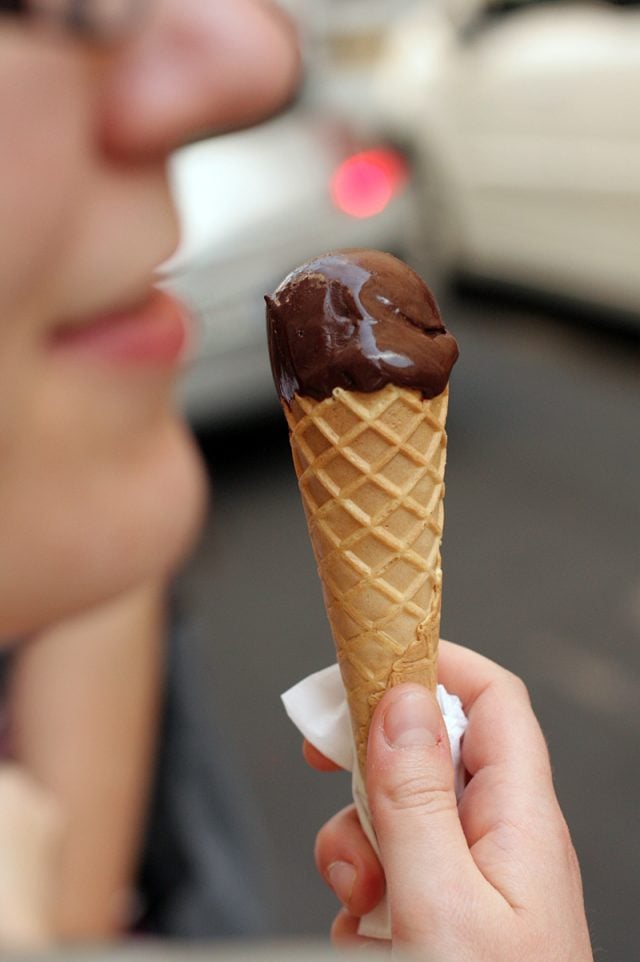 Berthillon
Still going strong, the lines on the Île-Saint-Louis attest to the popularity of this classic Parisian ice cream shop, and with good reason: the ice cream is some of the best in the world. Each understated (and some say, undersized) scoop is packed with flavor. The chocolate and caramel ice cream are life-changing, although sorbets like fraises de bois (wild strawberry) and blood orange, are particularly refreshing. I can't resist the chocolate sorbet, which you'll swear is as rich as ice cream. The tea salon next door has lovely desserts, including an impressive tarte Tatin. When the shop is closed, or the lines are too long, many cafés around the island offer up scoops of glace Berthillon, especially handy in August when the main store shuts down for vacation.
Berthillon
31 rue Saint-Louis en Î'Ile (4th)
Tél: 01 43 54 31 61
Métro: Pont Marie
---
Boulangerie Utopie
One of the newest bread bakeries to make its mark in Paris, this tiny corner spot is popular with locals, like me, who crave their poppy seed or sesame baguettes, the latter seasoned with a hint of curry. There are swirled croissant-dough pastries flavored with charbon (charcoal) and a grainy apricot loaf, too. (They also make a charbon baguette, too.) Pastries range from rustic to fancy, and include a lemon tart flavored with tarragon and a slender sesame-raspberry gâteau, although I stick with the breads – especially the baguettes, which they seem to do best.
Boulangerie Utopie
20, rue Jean Pierre Timbaud (11th)
Tél: 09 82 50 74 48
Métro: Oberkampf
---
Eric Kayser
One of France's best-known bakers, Eric Kayser's bread empire has spread to other countries, including the United States, and with good reason: his bread is excellent. With shops all over Paris, you're never that far from one of his shops. I'm completely smitten by his pain aux graines, an airy loaf that somehow manages to hold plenty of seeds and crackly grains. His financiers are the best in Paris – and come in chocolate, pistachio, and nature (almond).
Eric Kayser
8 rue Monge, 75005 Paris
Tél: 01 44 07 01 42
Métro: Maubert-Mutualité
(Multiple locations in Paris.)
---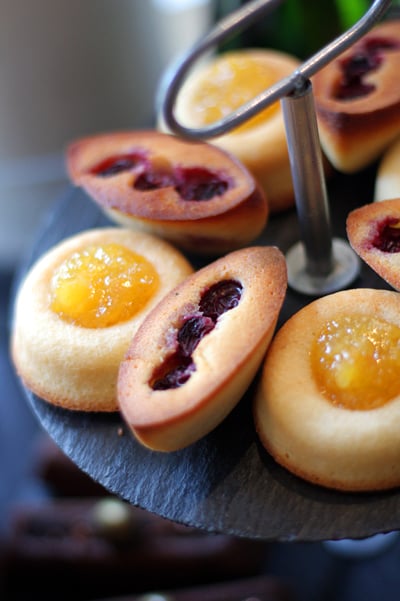 Hugo & Victor
Perhaps the most refined pâtisserie in Paris, with pristine strawberries tarts resting in pastry shells that look like an architect designed and elegant almost-scented financiers filled with berries or dollops of tangy jam. The shop prides itself on "deconstructing" traditional French pastries, and riffing them with unusual flavors and textures for a playful contrasts. Litchi and blood oranges find their way into macarons and the Arlequin tarts are engineering marvels. I'll skip the tonka bean-infused chocolate cake (tonka beans aren't my favorite things), but their mille-feuille with Tahitian vanilla is the perfect Napoleon.
Hugo & Victor
40, boulevard Raspail (7th)
Tél: 01 44 39 97 73
Métro: Sèvres-Babylon
---
L'Éclair de Génie
Christophe Adam upped the éclair game when he opened his all-éclair boutique in the city. You'll find everything from passion fruit-raspberry, basil and mint, and lime-coconut, as well as an etherial éclair salted butter caramel, packed with various textures and layers in one neat (albeit very well-decorated) French pastry.
L'Éclair de Génie
14 rue Pavée (3rd)
Tél: 01 42 77 85 11
Métro: Saint-Paul
---
Henri Le Roux
For a long time, if you wanted to sample Monsieur Le Roux's famous caramels, you had to go to his shop in Brittany. Now he's got three boutiques in Paris, so you don't have to go very far to taste them. Credited with "inventing" the salted butter caramel, called C.B.S. (which he would acknowledge he didn't quite invent, but popularized), he's taken it to a new level. You can taste the luxurious salted butter used in each chewy bite, with flavors ranging from cassis, black tea, black sesame (yum!), apple Tatin (caramelized apple), buckwheat, and more, which change with the seasons. Being Breton, buckwheat can also be found in his dark rectangles of chocolate, some of which also include Italian hazelnuts and walnuts from the Périgord. Don't miss the jars of salted butter caramel spread, packed with toasted nuts and an extra hit of flaky fleur de sel. (More on Henri Le Roux.)
Henri Le Roux
1 rue de Bourbon le Château (6th)
Tél: 01 82 28 49 80
Métro: Saint-Germain des Prés
(Multiple locations in Paris.)
---
Michel Chaudun
This swanky shop delights with everything from cream-smooth chocolate squares called Pavés, to slender disks of chocolate flecked with cocao nibs, known as Columbe. Monsieur Chaudun surprises Parisians with chocolate filled with sesame seeds and peanuts, ingredients not normally associated with fine French chocolates. But he pulls them off magnificently. Because the shop has an address in Japan, you'll sometimes find boxes filled with miniature versions of his chocolate, which are adorable. (More on Michael Chaudun.)
Michel Chaudun
149 Rue de l'Université (7th)
Tél: 01 47 53 74 40
Métro: La Tour-Maubourg
---
Ladurée
It's hard to mention Paris pastries and not give a nod to Ladurée, credited for inventing the "Parisian macaron," bite-sized almond cookies sandwiched with buttercream. Even though they have shops around the world, the macarons at the Parisian boutiques are still made in Paris, and pastry chef Claire Heitzler has been brought in to refresh and keep the brand (and the pastries) au courant.
Ladurée
16-18 rue Royale (8th)
Tél: 01 42 60 21 79
Métro: Madeleine
---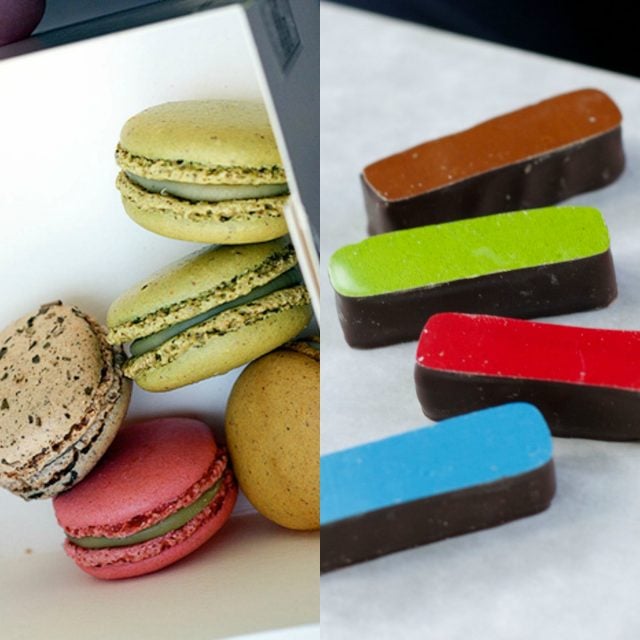 Sadaharu Aioki
Part of the first wave of Japanese pastry makers in Paris, Aioki also gained famed for his puff pastry, which is like no other. He uses it to sandwich green tea galettes, and cherry blossom flavored éclairs, when in season. The colorful bonbons maquillage are meant to resemble makeup and filled with tea and fruit-flavors, and the Chocorons are macarons dipped in dark chocolate. (More on Sadaharu Aioki.)
Sadaharu Aioki
35 rue de Vaugirard (6th)
Tél: 01 43 06 02 71
Métro: Saint-Placide
---
Fou de Pâtisserie
If you can't make it to a dozen pastry shops in Paris, you can visit a lot of them in one place: Fou de Pâtisserie. It's hard to say what will be available, as the city's best bakers and pastry chefs put on their thinking caps to come up with one-of-a-kind creations for this tiny slip of a boutique. (The rue Montorgueil has lots of other pastry shops on it, so it's also worth exploring.)
Fou de Pâtisserie
45 rue Montorgueil (2nd)
Tél: 01 40 41 00 61
Métro: Sentier
and
36 rue des Martyrs (9th)
Tél: 01 42 40 11 23
Métro: Saint-George
---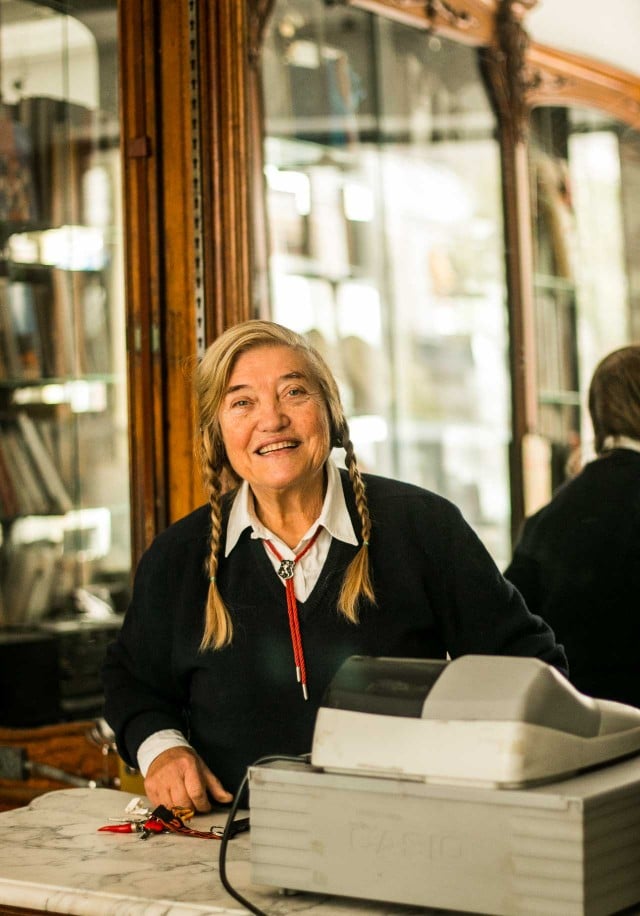 A L'Etoile d'Or
[UPDATE: As of September 2022, after 46 years, Madame Acabo has retired and closed her shop in Paris.]
Denise Acabo has been presiding over her shop near Montmartre for decades, even surviving her shop being blown up in a gas explosion. But she's still going strong, selling tablets of the famed Bernachon chocolate (she's their only outlet, outside of Lyon), a family-run bean-to-bar chocolate shop that produces bars like Moka, made with ground chocolate and coffee beans, and the outstanding Kalouga, filled with oozing salted butter caramel. The shop is a candy-lovers dream, with glass jars of marshmallows, pralined almonds, and showcases packed with filled chocolates from the best chocolatiers in France, including Bernachon (try their palets d'or), Bonnat, and more.
A L'Etoile d'Or
30 Rue Pierre Fontaine (9th)
Tél: 01 48 74 59 55
Métro: Blanche
---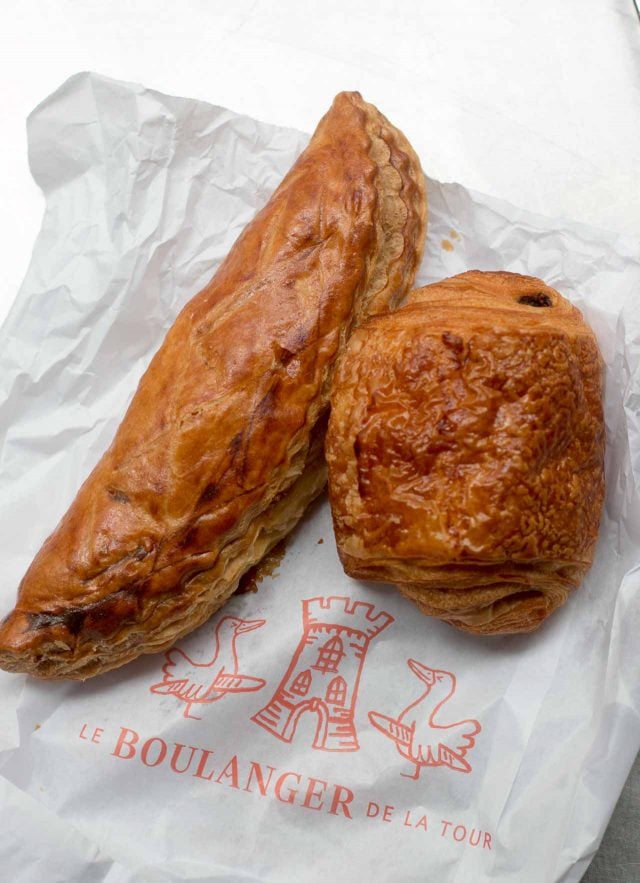 Le Boulanger de la Tour
The upscale Tour d'Argent, the Michelin-starred restaurant that overlooks the Seine, gave their bread baker his own space, which is open to the public. You'll find excellent baguettes, hearty loaves made with cornmeal or grains, and morning pastries, although I was especially wowed by a well-caramelized Palmier, a brittle fan of puff pastry, wispy sheets of pastry held together by dreamy French butter. Be sure to ask for one that's well-cooked, if that's your preference.
Le Boulanger de la Tour
2 rue Cardinal Lemoine (5th)
Tél: 01 43 54 62 53
Métro: Sully Morland or Cardinal Lemoine
---
Pain de Sucre
I'm crazy for Didier Mathray's spongy marshmallows, piled in jars. Flavors include whiskey, coconut, litchi, and basil, although my favorites remain the chocolate marshmallows coated with shredded coconut. Small pastries like éclairs filled with hazelnut cream tempt, and the aptly named Tentation features raspberries in pistachio frangipane. Ice cream is available in the summer, in flavors such as lemon verbena, goat milk, and fresh mint. Chocolate-lovers will want to stop at the shop of François Pralus, an outlet of a famed French bean-to-bar chocolate maker (also noted for his Praluline, a brioche studded with pink pralines, which is rather sweet, but hard to stop eating), located just down the street, at 35 Rambuteau.
Pain de Sucre
14 rue Rambuteau (3rd)
Tél: 01 45 74 68 92
Métro: Rambuteau
---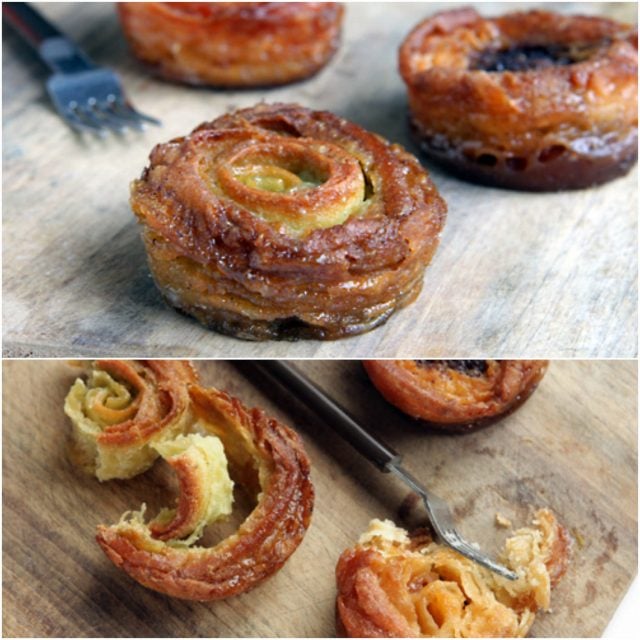 Maison Georges Larnicol
Although there's a boatload of "gift items" in this shop, which seems appropriate since Brittany is notable for its nautical influences, what's notable here are the Kouignettes, little Kouign Amann pastries sold by the kilo. Even better, you can help yourself to whatever flavors that you like. I'm a traditionalist and go for nature (plain) or salted butter caramel, but there's chocolate, pistachio, almond, and others. They' infinitely better if you rewarm them a bit, which might be tricky if you're staying in a hotel. If so, I'm sure the staff could be convinced to let you use their oven if you brought a few extra back as bribes. I mean, as gifts/ (More on Maison Georges Larnicol.)
Maison Georges Larnicol
14, rue de Rivoli (4th)
and
132, boulevard Saint-Germain (6th)
Tél: 01 43 26 39 38
---
Benoît Castel
Benoît Castel ran the pastry shop at La Grande Épicerie for eight years before leaving to run his own pastry shops. The focus of his patîsseries is to be the pastry shop for le quartier – for the neighborhood. Highlights include a custardy Far Breton, which reflects Benoît Castel's Breton roots, as well as a tarte au citron presented on a square of salted butter shortbread. There is a gorgeous chocolate millefeuille; shatteringly crisp puff pastry sandwiching swirling ripples of bittersweet chocolate ganache. The location on rue Ménilmontant has a café which does breakfast, lunch and weekend brunch, but be prepared to go early on weekends to avoid crowds.
Benoît Castel
150, rue du Ménilmontant (20th)
Tél: 01 46 36 13 82
Metro: Gambetta or Pelleport
and
72, rue Jean-Pierre Timbaud (11th)
Tél: 01 48 06 70 59
Metro: Parmentier
---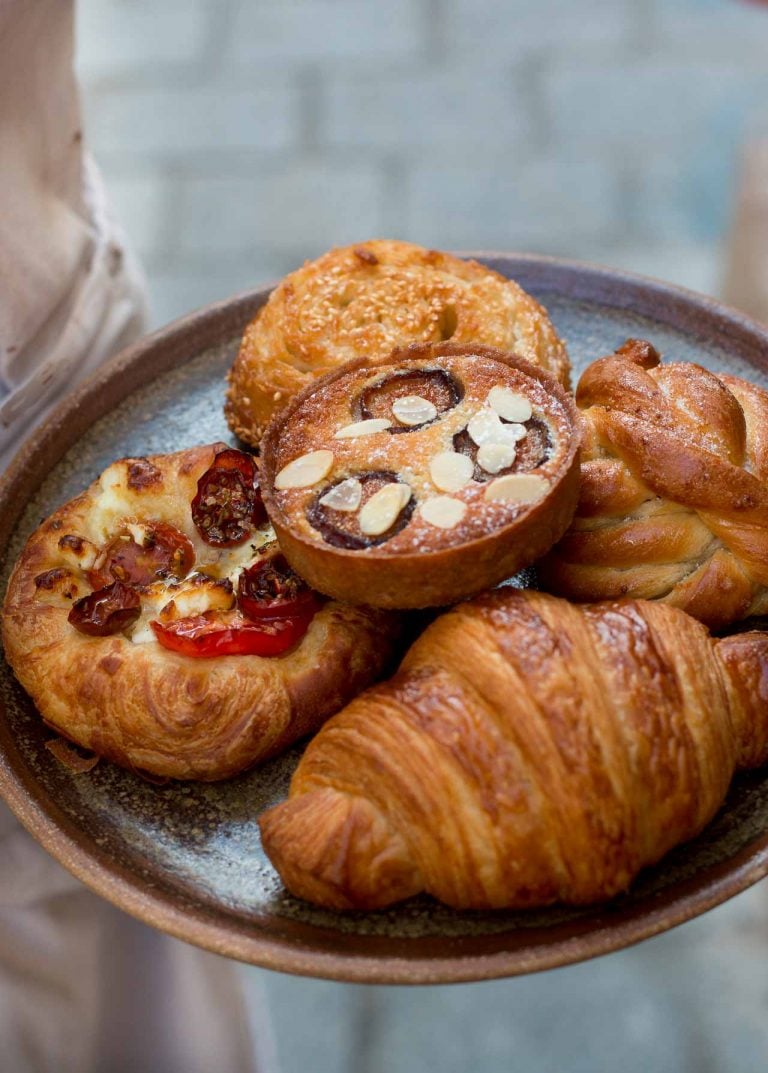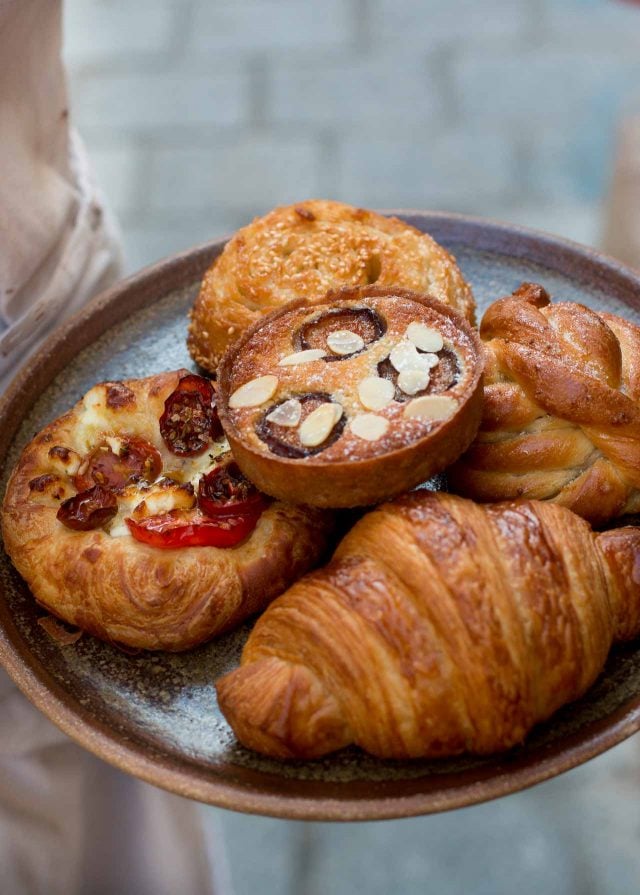 Le Petit Grain
A recent (and welcome) addition to the Paris pastry scene, Le Petit Grain features pastries that rely on natural leavenings, including what is a contender for the best croissant in Paris. There are also savory pastries, sesame Kouign amann, custard- and fruit-filled beignets, cinnamon rolls, fresh fruit tartlets, and non-French (but delicious) peanut-marshmallow Bakewell tarts and Lamingtons. Owner/chef Edward Delling-Williams uses organic flours for the pastries and breads, which include a 100% rye bread and a terrific multigrain loaf.
Le Petit Grain
7, rue Denoyez (20th)
Métro: Belleville
---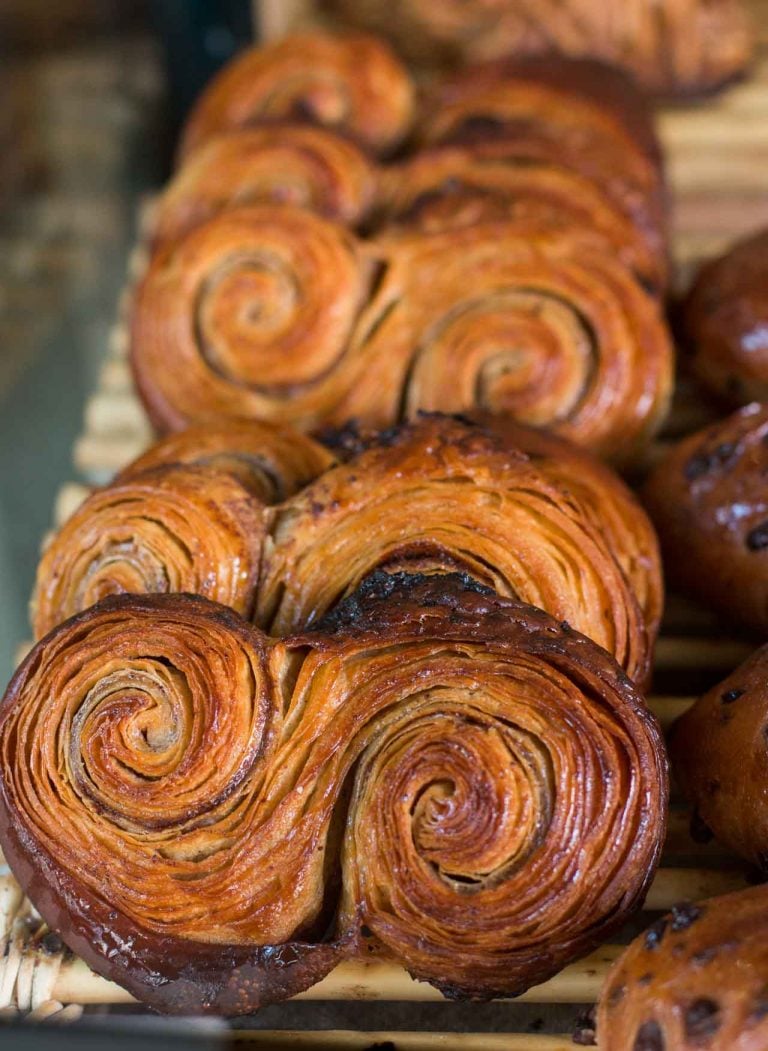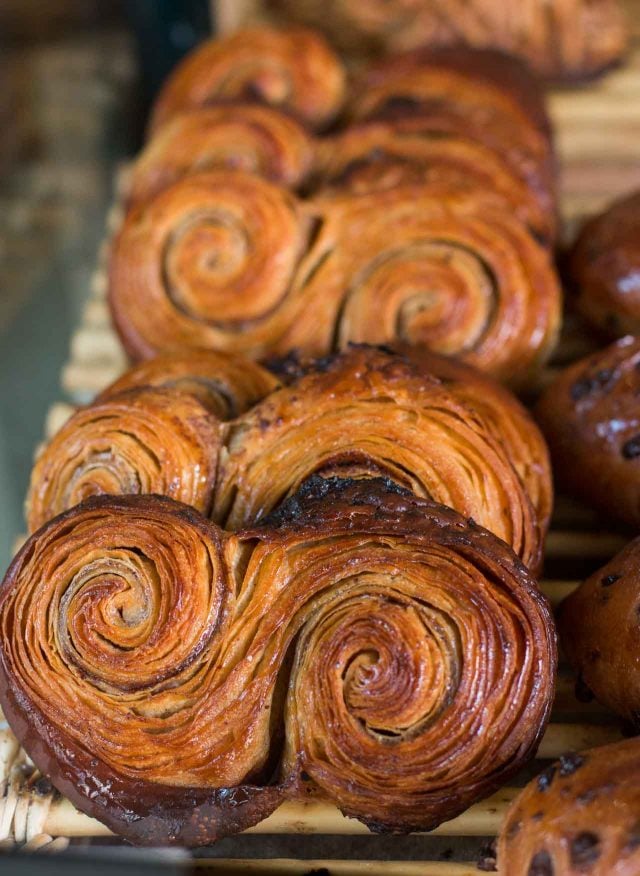 Sain Boulangerie
Neighbors make a beeline to this sidewalk bakery for their Chaussons aux pommes, rustic apple turnovers that seduce with their crackly shells of buttery dough encasing well-caramelized apples. From a counter on the street, you can pick up other French pastries as well as hearty breads made with natural leavening, slowly fermented.
Sain Boulangerie
15, rue Marie et Louise (10th)
Tél: 07 61 23 49 44
Métro: Belleville or Jacques Bonsergent
---
Maison Aleph
Myriam Sabet brilliantly fuses Middle Eastern flavors with French techniques in this pin-sized Marais boutique, which is a beautiful place to enjoy her pastries and perhaps a cup of tea, or a housemade lemonade. Sabet uses only the best-quality ingredients, as evident in her Madagascar vanilla Flan, a terrific revamp of the classic French afternoon snack with the aroma of what tastes like a gazillion vanilla beans. Les barres chocolatée are little squares and rectangles with a tangle of angel hair pastry atop almonds, seeds, candied fruit, and a layer of pure chocolate. If available, the Za'atar Panettone, which leans toward the savory side, is well-worth taking a loaf home.
Maison Aleph
20 rue de la Verrerie (4th)
Tél: 09 83 03 42 02
Métro: Hôtel de Ville
---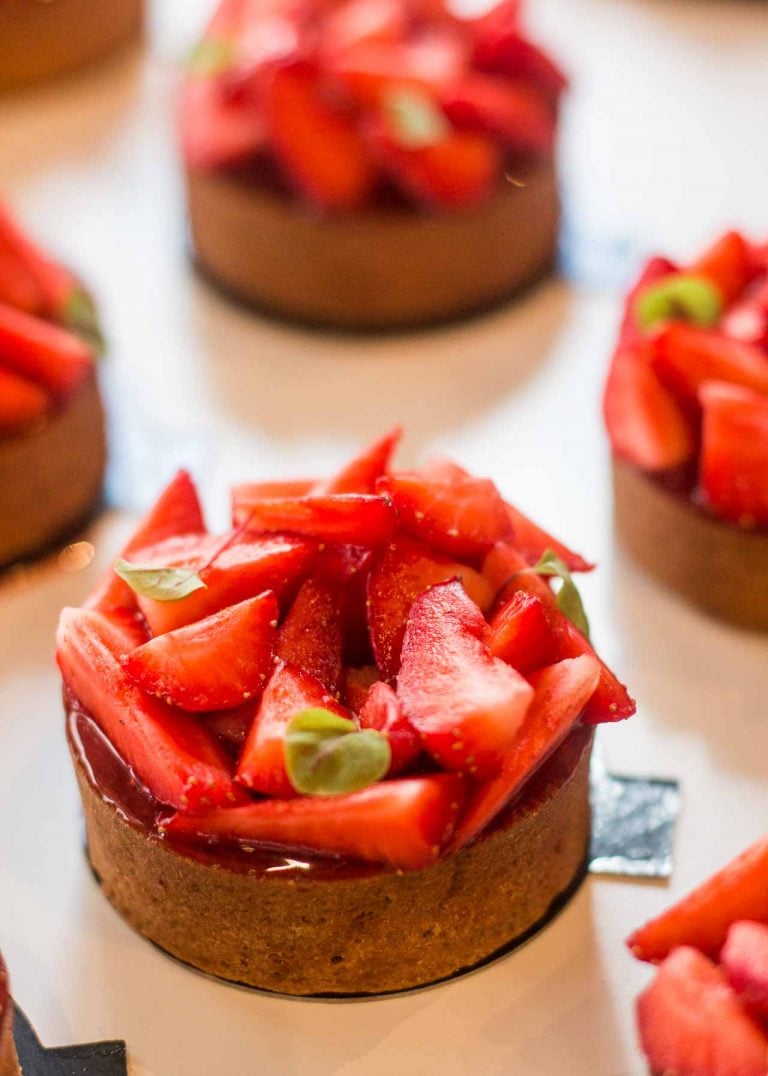 The French Bastards
Don't let the name scare you away! These are some of the nicest guys in Paris, and they make some very good pastries to boot. While the selection changes with the season, their Lemon Meringue Tart is a favorite as is their Cinnamon Babka. (Warning: With an American-sounding name, be aware that the baked goods are on the hefty side.) Speaking of their name, their namesake Bâtard (bastard) is a classic French bread that is often sized between a baguette and a loaf of bread, hence the moniker. Theirs is made in a slender baguette shape and is perfect with cheese. I like the one with grains.
The French Bastards
61, rue Oberkampf (11th)
Métro: Oberkampf or Parmentier
Closed Thursday
---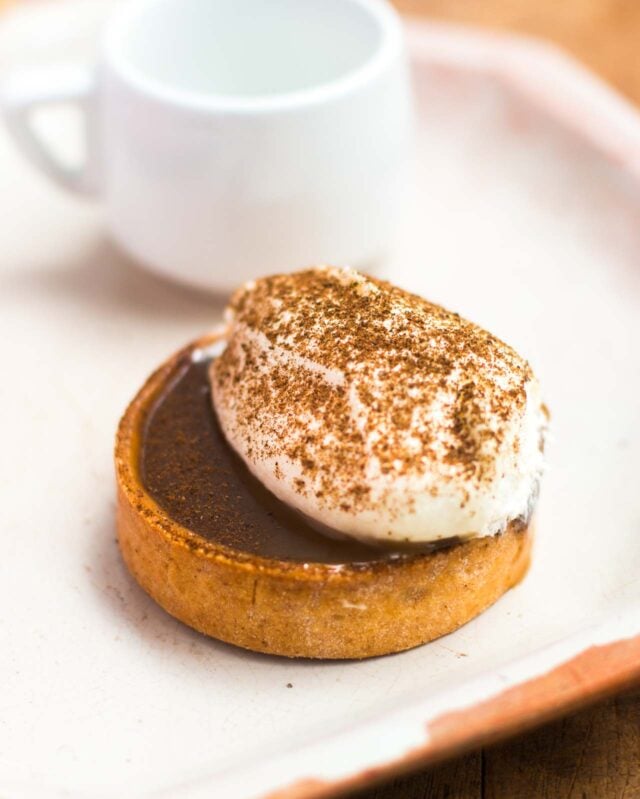 One of the newer bakeries in town, this one is from the team at Septime. The justly-famous Tarte à l'Érable (shown) is made with maple syrup, and is a marvel; a mound of spice-dusted cream floating in a pool of just-set maple syrup in a buttery shell. It doesn't travel well, but boy, is that good. The flavor of the choux (cream puffs) changes with the seasons, like most of the menu, and may be flavored with vanilla and raspberry custard, bee pollen, or hay-scented pastry cream, depending on the whims of the bakers. A cassis tart I had served on vanilla mousseline crème was a splurge of tangy black currants over a lofty layer of mousse. The kouign amann is a lighter version of the classic buttery Breton pastry, and you can't go wrong with a wedge of Flan pâtissier.
Tapisserie
65, rue de Charonne (11th)
Tél: 01 55 28 79 43
Métro: Charonne or Ledru-Rollin
---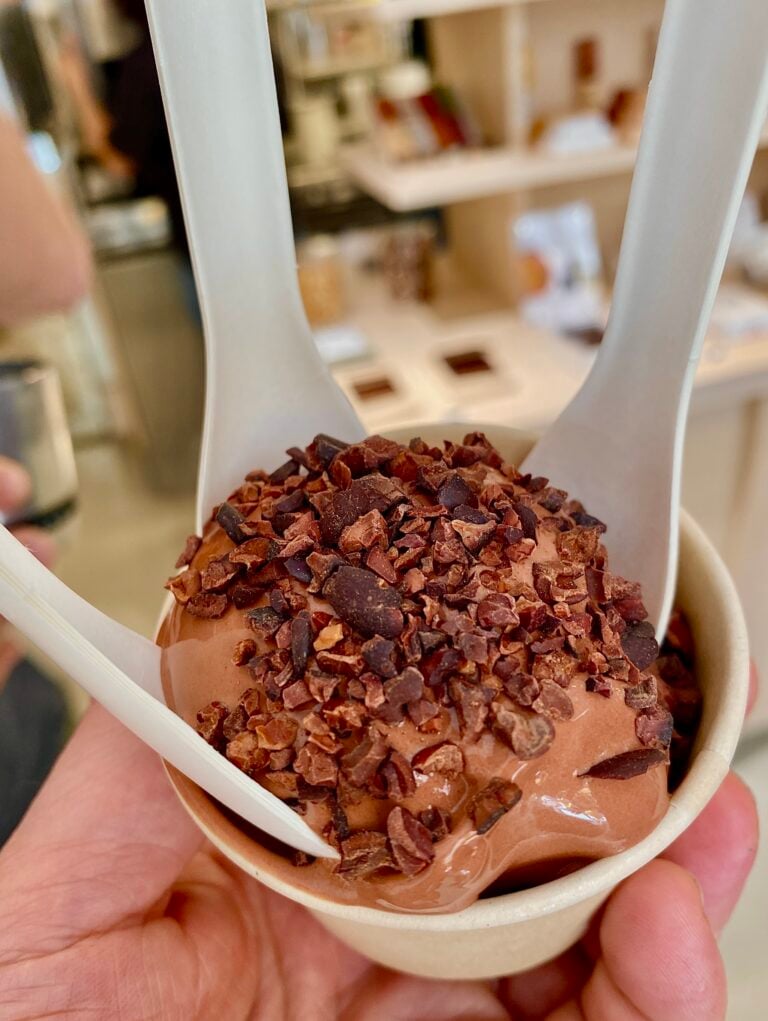 This small-scale bean-to-bar chocolate shop roasts and grinds their beans right in the store, and the smell wafting out of the grinder is heaven. You'll find single-origin bars and bars filled with peanut praline and hazelnuts, as well as coconut rochers and in the summer, chocolate granita and chocolate sorbet…and in the winter, hot chocolate, to warm to up. Pro tip: The Chuao chocolate bars are made from a rare cocoa bean, and are definitely worth trying.
[Another bean-to-bar chocolate shop not far away, that's worth visiting, is L'Instant Cacao.]
Plaq
4 rue du Nil (2nd)
Tél: 01 40 39 09 54
Métro: Sentier
For more, check out my Paris Pastry and Chocolate Shop Posts