Vandermeersch: King of the Paris Kouglof
I was browsing through my archives this weekend and landed on a post that I wrote back in 2005, about Vandermeersch. The bakery is really out in the middle of nowhere and for most visitors and even local, whether you're going by foot or even by métro. But I was looking at the pictures I'd taken back then, which didn't do the kouglof justice, that I hadn't been back there in a while and since I had friends in town, I figured there was no time like today.
When I arrived in the nondescript area just at the perimeter of Paris, my friends were a few minutes late and I noticed—then panicked—because there were only five large kouglofs left in the shop, and just a few individual ones. Certain they'd arrive just as the last ones were being bought up by someone less-worthy than me, I was a little rude and went ahead and bought two of the pastries, and stashed them in my bag.
My visitors arrived a bit later and they were lucky to get the very last one. (At least I didn't buy them all—see? I'm not all that bad.) By the time we'd spent the afternoon in a café and I got home, it was late in the afternoon and we were meeting soon for dinner. But I decided it'd be fine just to lop off a slice from one of the yeasted cakes for myself, merely to taste it and see if it was as good as I remember.
There's a school of thought that you shouldn't use a lot of superlatives when describing food, so I'll try to remain calm, but this is one of the all-time best things I've ever eaten, anywhere. The buttery yeasted cakes, have a slight bread-like texture and are soaked with a syrup that has a touch of orange flower water in it, so they're nice and moist. The bundt-like cakes are rolled in grains of sugar which give them a sweet crackly-crunch. They're sweet, but not at all overtly so, and every once in a while you get a moist nugget of raisin. You will not taste anything better in Paris.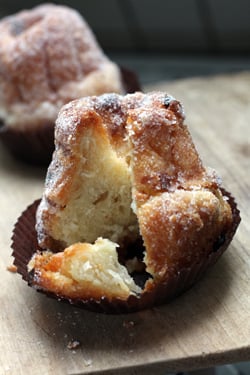 Still remaining calm, taking…deep…measured breaths, I won't lie, but I will tell you that it took every bit of willpower not to eat the whole thing. It's rich, but so good that I kept hacking off slices of the moist cake and shoving them in my mouth.
Les kouglofs are available is all sizes, but I'm the proud owner of two individual ones. (Er, one-and-one-quarter.) I was under the impression that Vandermeersch only makes kouglofs on the weekends, but according to their website, they're making them tous les jours (every day).
Vandermeersch
278, avenue Daumesnil, (12th)
Métro: Porte Dorée
Tél: 01 43 47 21 66
Closed: Monday and Tuesday
Related Links and Recipes
10 Insanely Delicious Things You Shouldn't Miss in Paris
Paris Hot Chocolate Address Book
(Note: This is a complete update of a post, originally published in 2005.)