Tarte au citron: Lemon Tart Recipe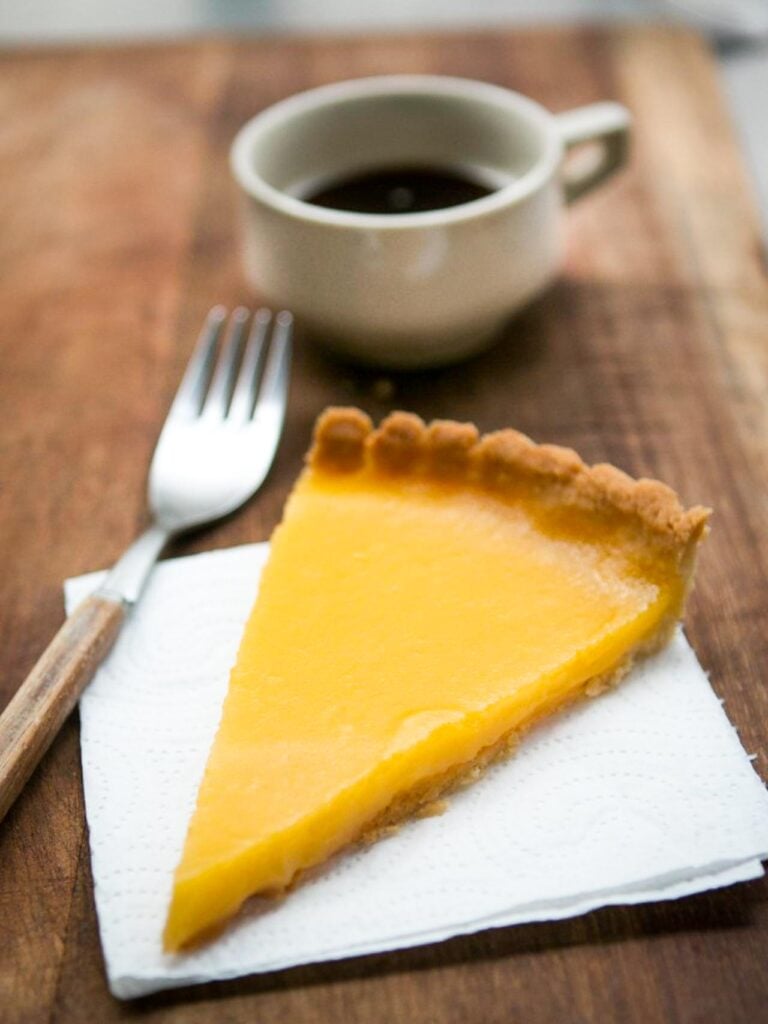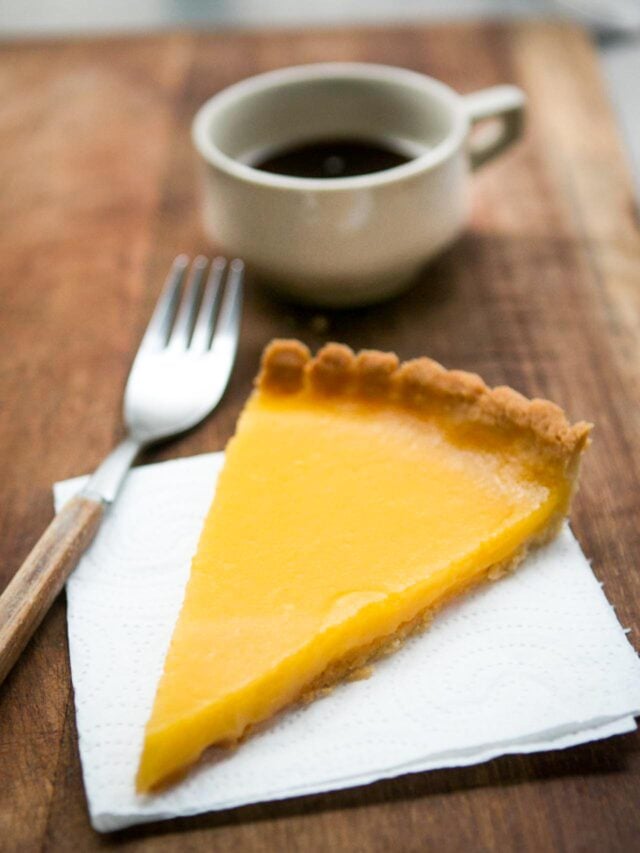 Not everyone thinks of citrus fruits as "winter fruits." But that's when oranges, grapefruits, tangerines, tangy lemons, and enticing limes are often at their peak. And that's a good thing because there's nothing that brightens up any season – but especially winter – better than a classic French lemon tart.
Any bakery in Paris will have a Tarte au citron on offer. Some are on the sweet side, others tart. I like my lemon tart, well…tart, for sure and when I search for lemons at my market, I choose the plumpest, juiciest ones I can find. Fortunately, good lemons are available just about anywhere, so anyone can make this tart. Most of us don't even have to wait until winter!
I juiced my lemons, cracked some eggs, and got to work on the tart.
For the base, I used Paule's pastry dough, which is so easy to make and hasn't failed me yet. It's delicious and buttery, and goes particularly well with the delicious lemon topping.
I cooked the filling, a sunny, luscious lemon curd, on the stovetop with the fragrant zest of the lemons, then poured the warm filling through a strainer to make it as smooth as possible.
 One could pipe whipped cream on it or top it with meringue. To do so, let it cool and spread or pipe whipped cream over the top or serve a dollop alongside. If you want to give a go at meringue, check out my Lime Meringue Tart recipe or the marshmallow topping that I use on my Pumpkin Pie with Marshmallow Topping.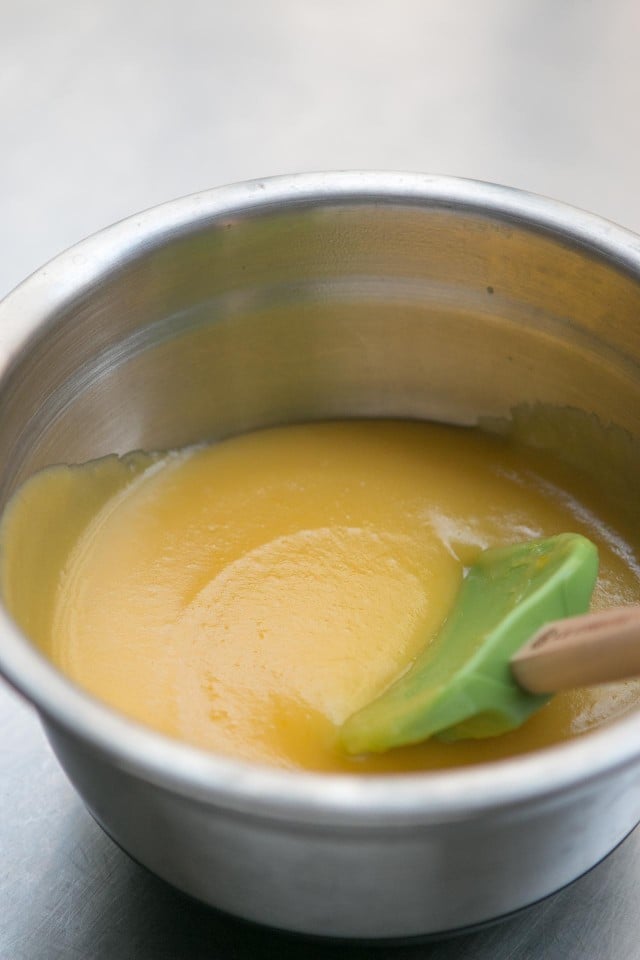 Both are delicious, but just as it is – or as the French say, nature – is just fine with me.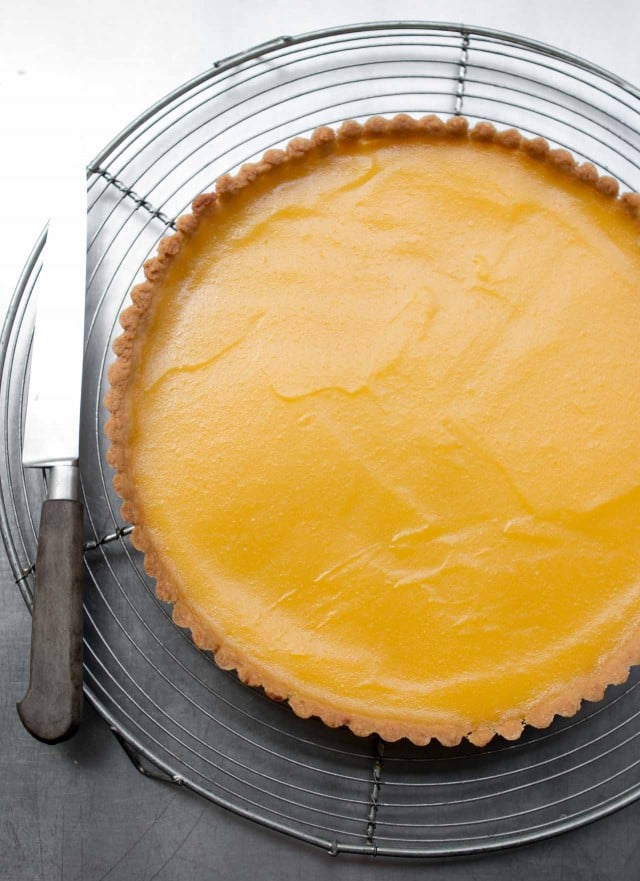 Lemon Tart
I recently updated this recipe to increase the amount of filling and I dialed down the sugar a bit due to frequent questions about reducing sugar in recipes. You can taste the filling in step 3 and if you'd like it sweeter, add up to 1/4 cup (50g) more sugar If you find that you have a bit too much filling for your tart shell (they seem to vary), any remaining lemon filling that you don't use can be spread on toast, fresh biscuits, or scones. You could substitute fresh lime juice for the lemon, and if you have Meyer lemons, reduce the sugar to 1/2 cup (100g). You can use a favorite tart dough recipe, or the one I've linked to.
1

cup (250ml)

freshly-squeezed lemon juice

grated zest of two lemons

,

preferably unsprayed

3/4

cup (150g)

sugar

12

tablespoons (170g)

butter

,

salted or unsalted, cut into cubes

4

large eggs

4

large egg yolks

One pre-baked 9-inch (23cm) tart shell
Preheat the oven to 350ºF (180ºC).

In a medium-sized non-reactive saucepan, heat the lemon juice, zest, sugar, butter, eggs and egg yolks. Have a mesh strainer nearby.

Stir until the butter is melted, then whisk the mixture continuously until the mixture thickens and holds its shape when you lift some of it up with the whisk and it visibly mounds up when dropped back down over the rest of the mixture in the saucepan. It should just take a few minute.

Pour the warm lemon curd though a strainer into a bowl (or directly into the tart shell), scraping with a rubber spatula to press it through.

Smooth the lemon filling in the prebaked tart shell and pop it in the oven until the curd is just set. It'll take about 5 to 6 minutes.

Remove from the oven and let cool before slicing and serving.
Related Links
Recipes to Use Up Leftover Egg Whites
What is non-reactive cookware?