Strawberry Rhubarb Tart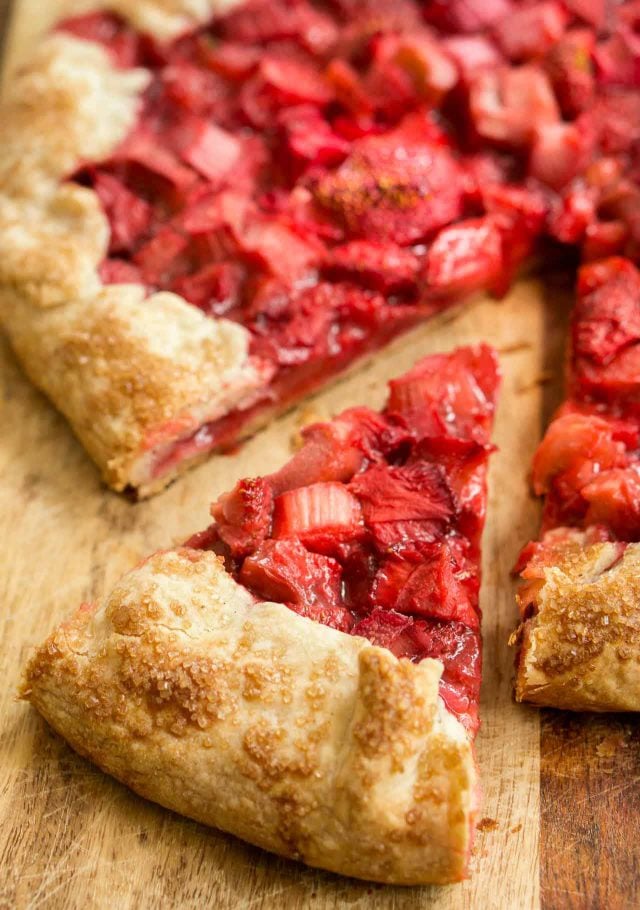 There's a certain ease and simplicity to free-form tarts like this. Sometimes they're called a crostata, sometimes a galette. You can call it whatever you want, but I call it a fast way to use great fruit when it's in season, without a lot of fuss.
At the beginning of summer, when rhubarb is still lingering around, and strawberries are elbowing their way forward, it's a good thing the two go so well together. And I'm happy to help them hook up.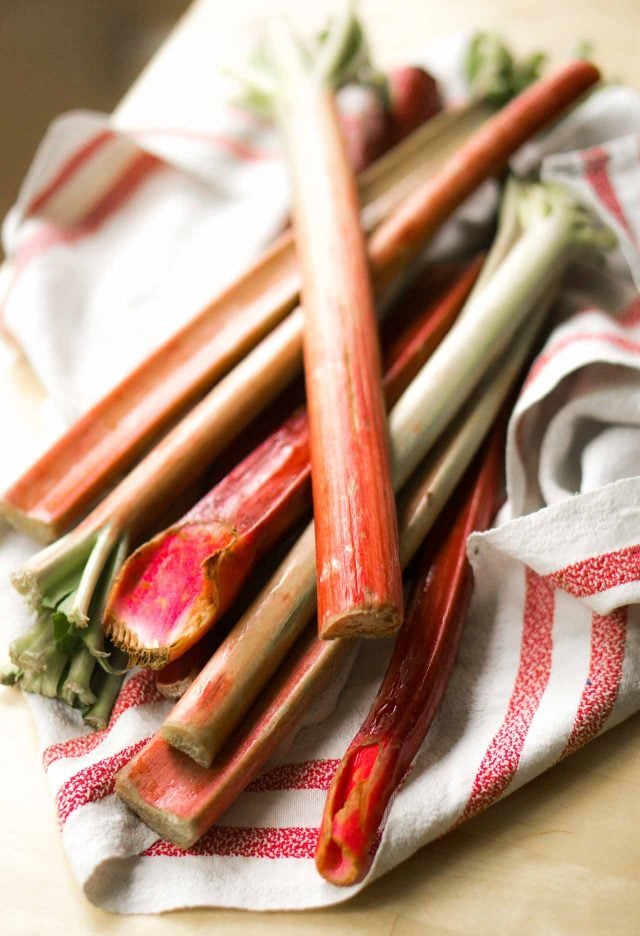 I remember a neighbor had a big rhubarb plant in their backyard and we used to dip the raw stalks in a cup of sugar and eat them. (Somehow, we knew not to eat the leaves, which are toxic.) I still remember, not just the fact that you could get free food from the earth, but that something could have so much flavor. Some kids aren't fond of things that are tangy but I've always loved the contrast of sweet and tart.
Recently I was so excited to find such beautiful berries that I bought three big baskets of them. I made a little batch of Strawberry Rhubarb Jam, and another batch of Strawberry Vodka, both of which I hope will prolong the season…unlike this tart, which lasted not so long around here.
I first learned to make tarts like this from Jacques Pépin, when he came to work with us and began his shift by rolling out dough for fruit tarts. He actually double-doughed his tarts, rolling out two rounds of dough, and sandwiching the fruit between the two.
Being French, he brushed the top with lots of butter and liberally dusted the top with sugar. Today I usually make them open-faced, but do brush the crust with lots of butter and a generous sprinkling of sugar, which makes a crunchy crust, and is a nice contrast to the tender fruit-forward filling.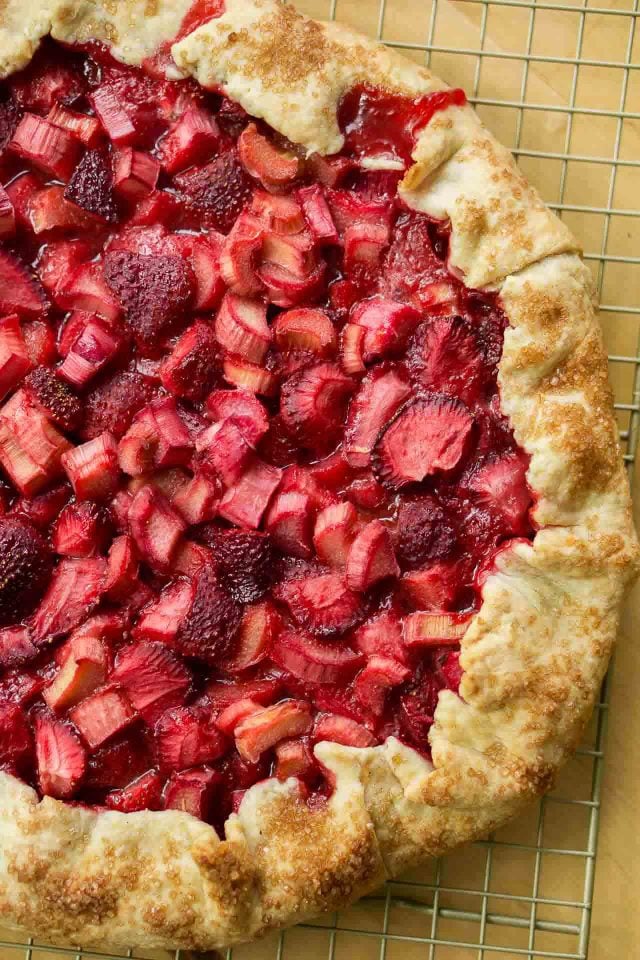 When I posted a picture of this tart on social media, with a promise to share the recipe, a friend, Ann Mah, asked me how I dealt with all the juice from rhubarb, which can exude a moderate amount. Hothouse rhubarb is generally redder in color and holds its color better than field-grown rhubarb once baked. However, I've never found much of a correlation between if it's grown indoors or out, and how much juice it exudes.
That said, as insurance, I sprinkle the dough with a little bit of almond flour to absorb any errant juices. But I don't mind things being a little bit messy; a friend's Norwegian grandmother once told me that if pie doesn't fall apart when you slice it, it's not going to be any good. This tart slices nicely but tastes great. So you're getting the best of both worlds here, in more ways than one.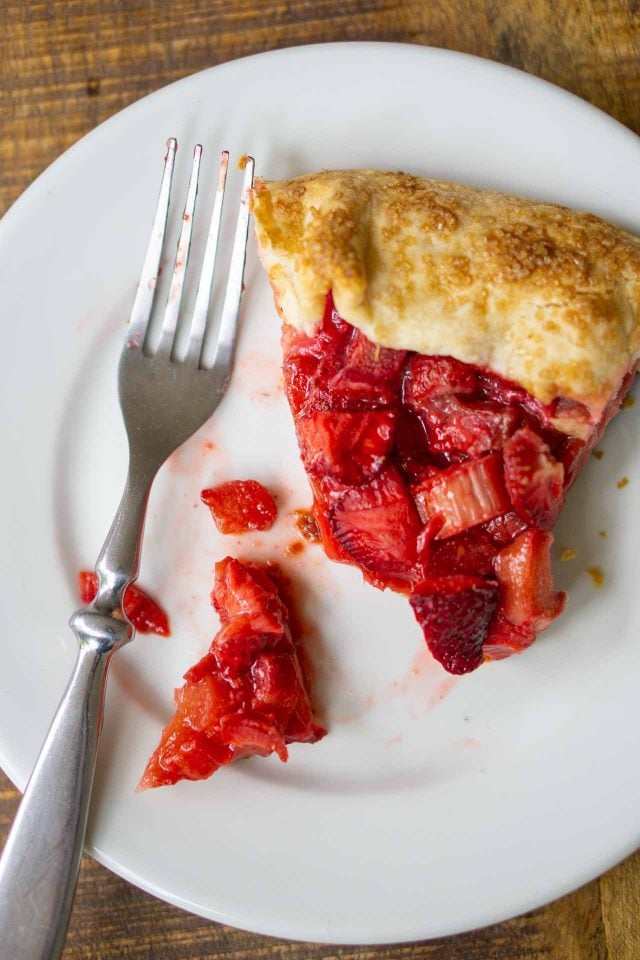 | | |
| --- | --- |
| Strawberry Rhubarb Tart | Print Recipe |
I often sprinkle a little almond flour on the tart dough, to soak up any extra juices that may come out of the fruit when it's baking. You can use cracker or bread crumbs, crumbled amaretti cookies, a bit of flour, or leave it out. For those who want to reduce the sugar, feel free to cut the sugar in the filling down to 1/2 cup (100g). For another variation, you could swap out fresh pitted cherries for the strawberries, or mix a basket or two of raspberries or blackberries with the rhubarb, in place of the strawberries. This tart is sometimes called a galette or crostata and is baked free-form. It could also be baked in a tart pan as well. Be sure to cover the baking sheet well if using parchment paper, to catch any juices that may run out during baking. I used an unrimmed baking sheet for this one but use a rimmed one if you want to make sure you're containing any errant juices.
For the tart dough
1/2
cup (4oz, 115g)
unsalted butter,
cubed and chilled
6
tablespoons (90ml)
ice water
For the filling
3
cups (13oz, 380g)
diced rhubarb
(trimmed and cut into 1/2-inch, 2cm pieces)
2
cups (10oz, 300g)
strawberries,
hulled and quartered
zest
of 1 lemon,
preferably unsprayed
1 1/2
tablespoons
corn starch
2
tablespoons
almond flour
(optional)
1 - 1 1/2
tablespoons
melted butter
turbinado or granulated sugar,
for finishing the tart
1. To make the tart dough, mix the flour, sugar, and salt in the bowl of a stand mixer fitted with the paddle attachment. (You can also make it in a food processor, or by hand, using a pastry blender.) Add the cold butter and mix until the butter pieces are the size of peas.
2. Add the ice water and continue to mix just until the dough comes together. Gather the dough with your hands, shape it into a disk, wrap it plastic, and refrigerate for at least 30 minutes.
3. Put the rhubarb and strawberries in a medium bowl with the lemon zest. Sprinkle the sugar and corn starch on top, but do not mix the ingredients together yet. (If you do, they'll start to juice and may be overly juicy by the time you're ready to use them.)
4. Preheat the oven to 400ºF (200ºF). Line a baking sheet with parchment paper or a silicone baking mat.
5. On a lightly floured surface, roll the dough to a 14-inch (36cm) circle and place it on the baking sheet. Sprinkle the almond flour over the tart dough, if using. Mix the fruit together with the sugar and corn starch and place the fruit into the center of the tart dough, then spread it with your hands, leaving 3-inch (8cm) of space between the fruit and the edge of the dough.
6. Fold the edges of the dough up and over the fruit filling. Brush the crush liberally with melted butter and sprinkle with sugar. Bake the tart until the filling is cooked and bubbling, and the crust is golden brown, 35 to 45 minutes. Remove from the oven and slide the tart off the baking sheet, onto a cooling rack.
Serving: Serve the tart on its own, or with Vanilla Ice Cream, White Chocolate and Fresh Ginger Ice Cream, or Cinnamon Ice Cream, or a dollop of crème fraîche.
Storage: The unrolled dough can be refrigerated for up to three days, or frozen for up to two months. The baked tart is best the same day but can be stored at room temperature for up to two days. (The dough will get softer the longer it sits.)