Pickled Strawberry Preserves
With some exceptions (white chocolate in fresh ginger ice cream, caramel corn, marshmallows, and candied peanuts, for example), I tend to like things that aren't too sweet. That occasionally confounds people because I'm a baker and I am no stranger to sugar, honey, and maple syrup. But I tend to gravitate toward things that get their flavors courtesy of chunks of bittersweet chocolate, a swirl of dark caramel, a squeeze of tangy citrus, or a jolt from coffee. And I also like anything that highlights seasonal fruits and berries, which tend to straddle the sweet-tangy side, as apricots, plums and berries sometimes do.
A frequently asked question I get is about dialing down the sweetness in desserts, and as a recipe developer and tester (and taster!), my response is that I test recipes with various quantities of ingredients (from butter and flour, to sugar and leavener) until I get it to where I like it. I was recently reading about the test kitchen of Ottolenghi, and one of the collaborators on their cookbooks said, "If something says 1/3 of a teaspoon, you'll bet it's been tested with 1/2 of a teaspoon and a 1/4 of a teaspoon." Like other recipe testers, I go through the same thing, testing and tweaking as I go. So if you ask me if you can change it, I don't advise it because I've already tasted it a number of ways and like it best the way I present it.
(That said, tastes changes over time, including mine. And I've been known to go back and update and change recipes that I've made for years if I've discovered something else works better, find a new ingredient, or if I can make streamline the recipe to make it easier. Recipes aren't cast in stone and there's no rule that says you can't change it to your liking. But I always advise giving a recipe a go as written first, then tweaking it the next time you make it.)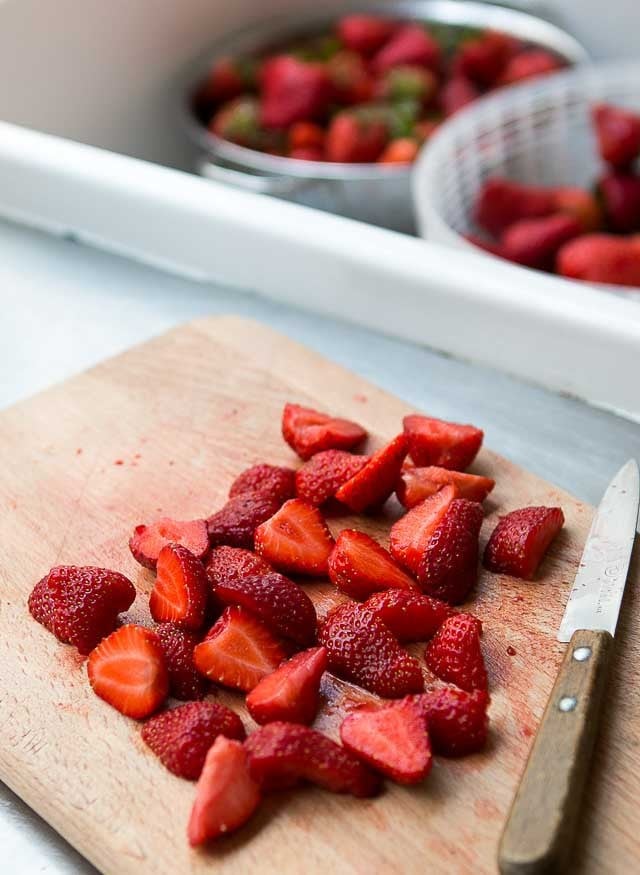 For those who like things on the less-sweet side, like me, when I read about these Pickled Preserved Strawberries, I knew I had to make them. The idea of a shot of vinegar, along with sugar and spices, sounded like something that would be right up my sweet/sour alley.
Another thing that the recipe had going for it was that it was from Seven Spoons: My Favorite Recipes for Any and Every Day, a beautiful new book by Tara O'Brady, of the blog with the same name. There are a lot of beautiful food blogs out there, but Tara's always stand out for her straightforward, yet striking images of the ingredients and the finished dishes. She's developed a distinctive style of writing and taking pictures, and it carries through her book just as perfectly as it does on her blog. I read the book cover-to-cover and when I was making this recipe, as I usually do when sharing a recipe from someone else on the blog, I rewrite it in my own words. However, I found myself writing it out, then cross-checking with the book, finding that she had already chosen the exact same words. So she is a woman after my own heart, and as well as my stomach.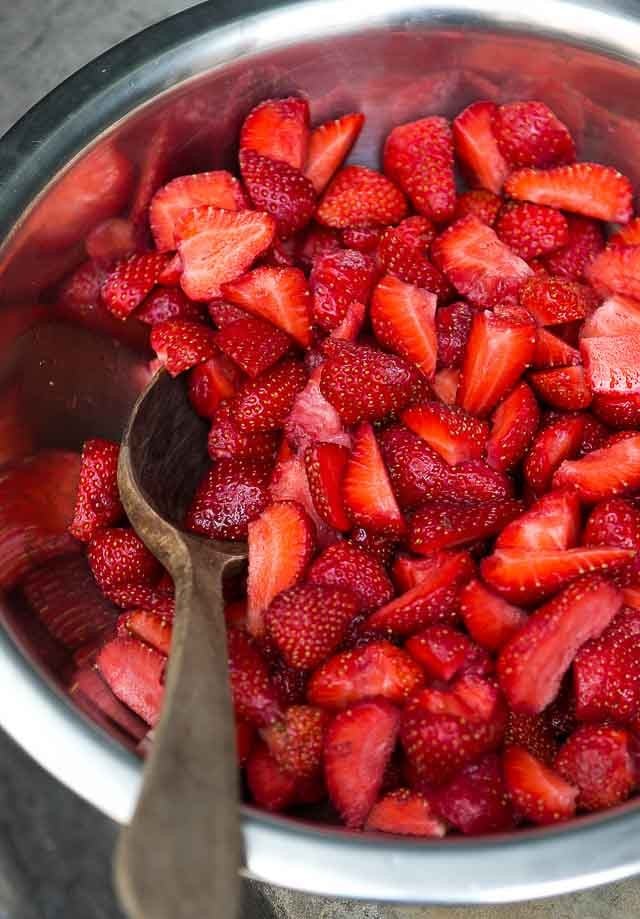 Seven Spoons is one of those rare books where every recipe is something that I want to make. Tara takes cues from lots of cultures, which is evident in her clever use and mix of spices, flours, flavors, and textures that punctuate her recipes. And she's got a "clumpy" (!) granola that I've got my eye on, as well as a rye crumble topping enclosing a summer fruit crisp that looks exactly like something I want to make, and top with a scoop of vanilla ice cream.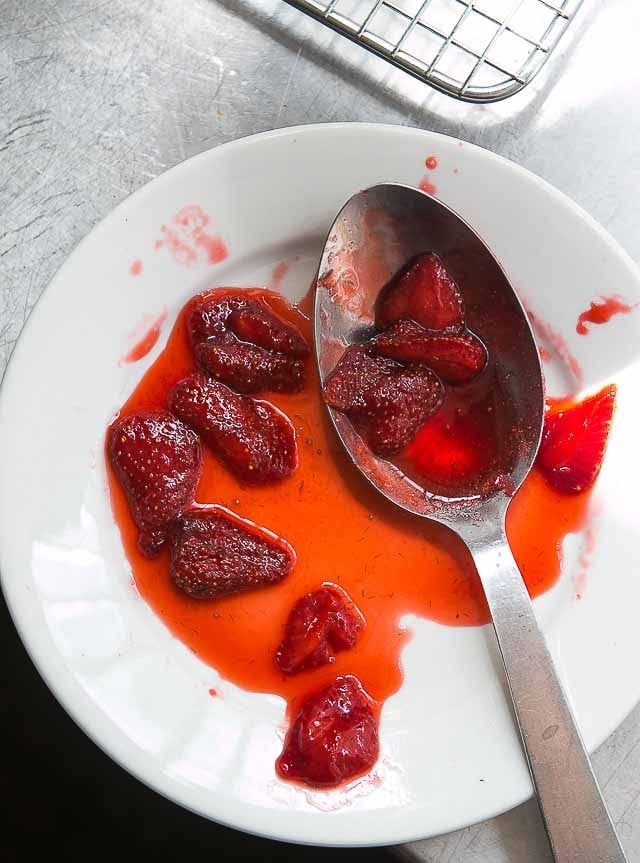 But I was most intrigued by these strawberries that are slightly pickled and couldn't get them out of my head, so they moved to the head of my list. The initial macerating preserves their intense red color and the beguiling mix of spices and sweet-sour contrast of the preserves make them a natural to serve with cheese, although I could certainly imagine them with pâté, or slices of roast or grilled pork as well. If you're expecting this to taste like jam, you'd be half-right. It helps to think of these pickled berries as a condiment rather than jam or a sweet dessert sauce. My initial tendency was just to eat them right off the spoon, and leave it at that.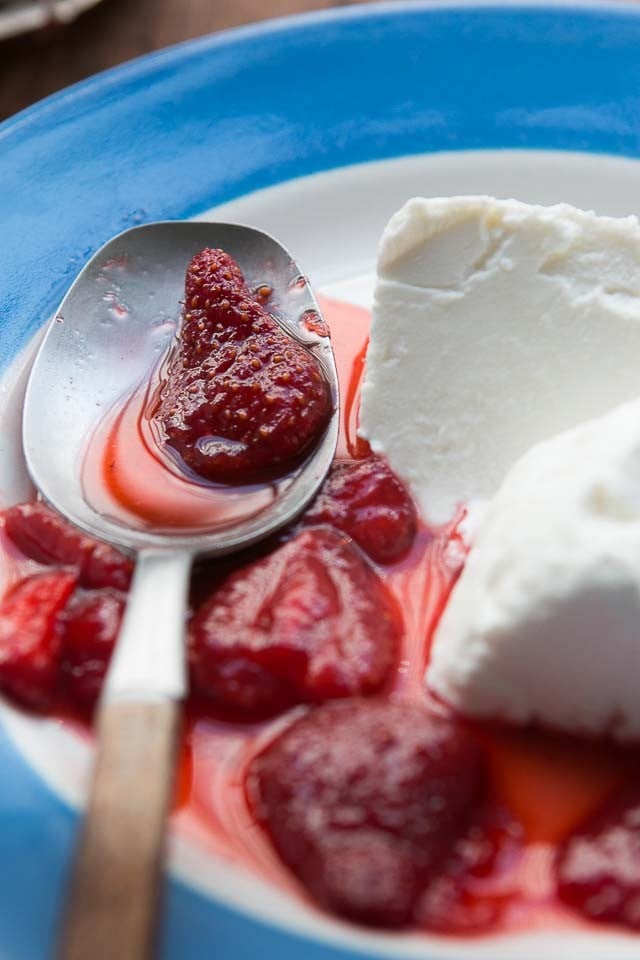 Nonetheless, I served them with fresh goat cheese, which made a fine dessert. And another time, I spooned them over apricot kernel ice cream (from My Paris Kitchen), which was also a winning combination. I imagine they'd be nice with some yogurt, my white chocolate-fresh ginger ice cream that I linked to above, or even spooned atop some goat cheese custard. The sweet/savory possibilities are endless.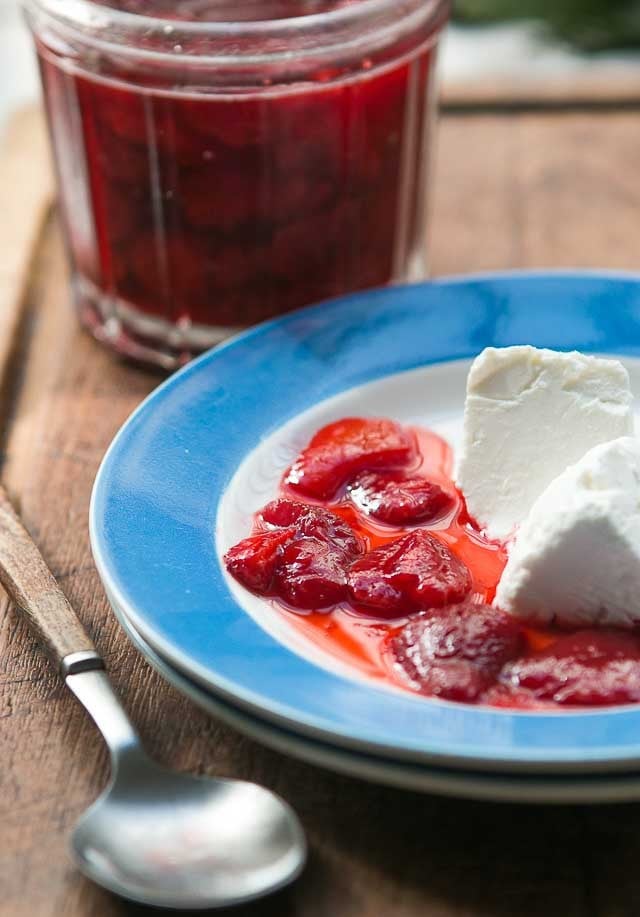 Pickled Strawberry Preserves
Adapted from
Seven Spoons
by
Tara O'Brady
Tara originally called for coriander seeds in her recipe, and I swapped out allspice since I like the sharp kick of allspice berries. You could use anything from star anise to cinnamon either along with the allspice, or swap out whatever spices you think that you might like. I would avoid going with too many though, as you want to flavor of the vinegared strawberries to be front and center. She also uses Champagne vinegar, which is not so easy to find in France (they don't like the name "Champagne" to be associated with vinegar!) So you could use that in place of the apple cider vinegar that I used here. Although I'm not a fan of it on salads, a couple of discrete drops of balsamic vinegar will enrich the flavor, if you have any on hand.
1

lemon

,

preferably organic or unsprayed

1

teaspoon

black peppercorns

,

plus additional for finishing the preserves

14

allspice berries

2

bay leaves

2

pounds (900g)

strawberries

,

rinsed and hulled

1 1/3

cups (265g)

sugar

1/4

cup (60ml)

cider vinegar

optional:

A few drops balsamic vinegar

1/8

teaspoon

kosher or sea salt

1/2

teaspoon

butter

,

salted or unsalted
Juice the lemon and pour the juice into a small nonreactive bowl (save the lemon halves.) Put the seeds in a piece of cheesecloth along with the peppercorns, allspice berries, and bay leaves, and give it a few whacks with a hammer or rolling pin. Add the bag to the lemon juice.

Cut the strawberries into quarters, or if they are small, you can cut them in half. If you have a mix, cut them all so they are approximately the same size. You just don't want them too small.

Toss the strawberries in a separate bowl with the sugar, vinegar, and salt. Cover and let sit at room temperature for a few hours (2-3), stirring occasionally.

Set a colander or large strainer over a wide, nonreactive cooking pot. Scrape the berries and their juices into the colander or strainer so the juices go into the cooking pot. Remove the colander with the macerated berries in it and set it aside. (I put it back in the bowl so it doesn't drip on the counter.)

Add the lemon juice, the spice bag, the reserved lemon halves, and the butter to the strawberry juices in the pot and cook over medium-high heat until the juices begin to thicken, about 6 or 7 minutes. Add the strawberries and continue to cook, stirring gently every so often, until the berries are plump and softened, but not bursting apart. It will take about 8 to 10 minutes. You want the berries to remain in fairly distinct pieces.

Remove from heat, then discard the spice bag as well as the lemon rinds. Grind a bit more black pepper into the strawberries and ladle them into jars and cover.
Notes
Storage: The pickled strawberries can be kept in the refrigerator for up to 1 month. If you wish to can them, check the guidelines and directions at the USDA website.