It always curious to me when I see French breakfast radishes in the states. I know that's the name for them, according to seed packets and so forth. But I've never seen anyone in France eat radishes for breakfast.
Yes, the French do eat a lot of radishes. (In fact, they were one of the first things I wrote about on the site after I arrived in Paris.) And with good reason: their radishes are excellent. Radishes in France (the ones referred to as 'breakfast radishes' elsewhere) are  two-toned numbers, glowing red at the stem end, and ruddy white by their thread-like roots.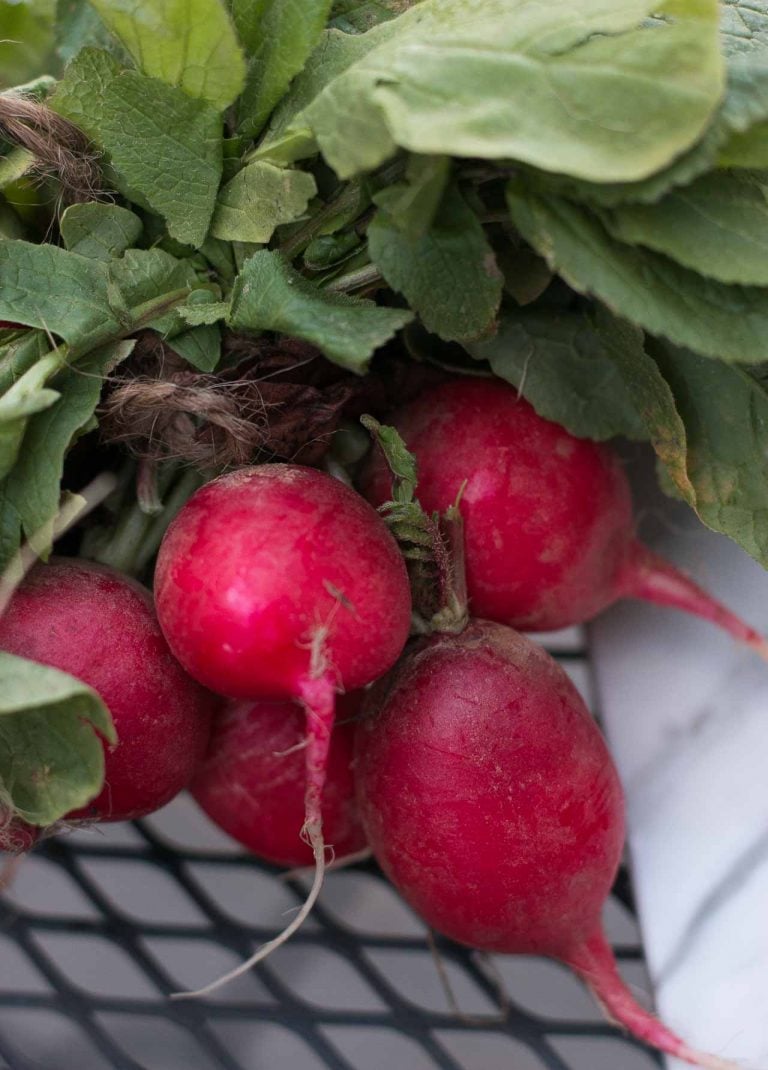 Americans, and people in other countries, like radishes too, including daikons and black radishes. All are good candidates for pickling.
You don't need to do too much to radishes to pickle them. Just slice them however thick you want; I like them about as thick as two coins pressed together. Then pour a quick brine over them. You can eat them as soon as they cool down, although I like to wait until the next day, as they get crunchier and the flavor of the vinegar mellows a bit. Sometimes I add a chile pepper to give them a bit of zip.
Picked Radishes
Be sure to wash your radishes well, since they can be sandy. I didn't add herbs to this batch, but you can pack in a bay leaf, some tarragon, or a few sprigs of fresh dill in the jar before closing it up. The chile pepper is optional, if you'd like to give them an extra kick.
1

bunch or 4 long

radishes

,

(about 1 pound, 400g of radishes)

1

cup

water

1

cup

white vinegar

2

teaspoons

sea salt

2

teaspoons

sugar or honey

1/2

teaspoon

crushed peppercorns

1 to 2

cloves

garlic

,

peeled

optional: 1

chile pepper

,

split lengthwise
Slice the radishes into rounds.

In a non-reactive saucepan, bring the water, vinegar, salt, and sugar or honey to a boil, until the sugar and salt are dissolved. Remove from heat and add the peppercorns, garlic and chile pepper, if using.

Pack the radishes in a clean pint-sized jar, and pour the hot liquid over them, adding the garlic and chile into the jar as well.

Cover and let cool to room temperature, then refrigerate.
Notes
Storage: The radishes will be ready to eat after 24 hours. During storage, the liquid will turn a nice rosy color and any added flavors – such as garlic and hot peppers – will get stronger. The radishes can be kept in the refrigerator for up to one month.
Related Recipes
Roasted Radishes (White On Rice Couple)
Pesto with Radish Greens (Delicious Days)
Radish Leaf Pesto (Chocolate & Zucchini)
Radish Leaf Soup (Vegan Visitor)
Butter-Braised Radishes with Snow Peas (Rhulman)
Radish Salad with Anchovy Sauce (Food 52)