Green Pea and Radish Tartines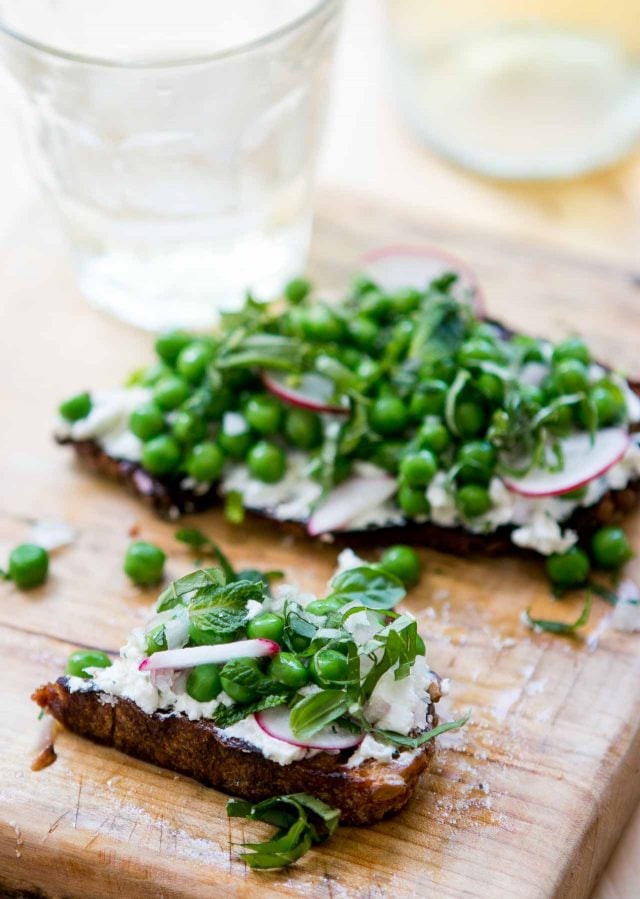 Once upon a time, there was something called I Hate Peas – French fries with ridges that you baked in the oven, aimed at kids who wouldn't eat their vegetables. They supposedly had all the nutrients of peas without whatever it is about peas that apparently some kids don't like. They didn't last long, and I (or my mom) was fortunate because I always loved vegetables, including peas.
More recently, a few well-meaning cookbooks gave parents advice on how to sneak vegetables into other foods, like butternut squash in macaroni and cheese, which, to quote Raymond Sokolov, means that "many kids would never know the joy of crusty, traditional mac and cheese."
In addition to being very familiar with the joy of crusty macaroni and cheese, the pleasure of fresh peas us something that I never want to miss either. They're sweet, crunchy, and bright-tasting, and during their fleeting season, it's nice to find a way to highlight them, like in these green pea and radish tartines.
I love peas – always have, always will. And I'm not alone: When I was scooping up shelling peas at the market, I chatted with another guy doing the same, and we talked about how much work they were to prepare. But fresh peas are definitely worth it, we agreed, before we each of us walked away with a big bag of them.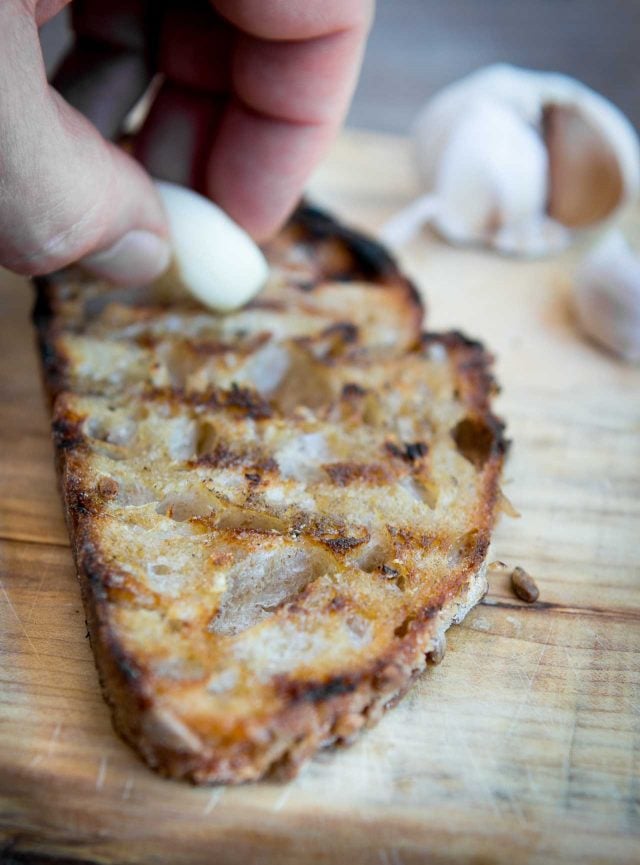 These tartines put fresh peas front and center. There's expression, or theory, that says, "The easiest solution is the best." Which goes along with something I've learned from French cuisine: You don't need to do, or add, a whole bunch of stuff to food – just let good ingredients shine. Both seem to apply here; shuck some peas, don't do too much to them, and let them speak for themselves.
And because I'm so open-minded, other things I've learned are that the word tartine, comes from the French word, tartiner, to spread. I've also learned the joys and versatility of fresh goat cheese, that I should never be without French breakfast radishes in my kitchen, fresh herbs are better when used abundantly, and that I should always have a loaf of good bread on hand, for toast and impromptu tartines.
This is one of the messiest blog posts I've ever done. A while back someone asked me to "Stop using tweezers to place things on plates." I was a professional cook for a few decades, and now a home cook, but I've never used tweezers to place things anywhere. (My tweezers stay in the bathroom, and I'll spare you a description of what I use them for in there.)
The upside to my tweezerless post is that you have permission to make a mess yourself when you make, and eat, these. Peas will roll, herbs will tumble, oil will drip, toast will char. So just a heads-up that theses aren't your mother's tartines, if you mom tried to disguise vegetables, that is. They're for pea-lovers, like us.
Green Pea and Radish Tartines
You can swap out
labneh
for the goat cheese. I'd imagine fresh ricotta would work. Because ricotta can be a bit grainy, sometimes it's helpful to beat in a spoonful of cream. If peas aren't in season, fava or
edamame
beans would fill the bill, or top the tartines, nicely. (To go in a completely other direction, you could top the tartines with sliced tomatoes in place of the peas and radishes, and swap out mayonnaise or
aioli
for the goat cheese.) Feel free to use any fresh herbs that you like; chives, mint, basil, oregano, tarragon, chervil or thyme, and I think a mix is best. I went heavy on the basil and mint. Be sure to reserve extra herbs and shallots for sprinkling on top.
6

ounces (170g)

fresh goat cheese

1 1/2

tablespoons

finely chopped fresh herbs

,

see headnote

1

tablespoon

minced shallot

2

teaspoons

extra-virgin olive oil

,

plus additional for the peas and toast

kosher or sea salt

freshly ground black pepper

2/3

cup (90g)

fresh peas

2

slices

country-style or levain bread

1

clove

garlic, peeled

3 to 4

radishes

,

thinly sliced

additional chopped herbs, shallots and olive oil

,

for finishing the tartines
In a small bowl, mash together the goat cheese, herbs, shallots, and olive oil. Season with salt and pepper.

Prepare a small bowl of ice water and set aside. Bring a small pot of salted water to a low boil. Drop the peas in the water and cook them for about 45 seconds. (Depending on how big they are, or how fresh, they may take more of less time. I like mine al dente.) Drain the peas and immediately put them in the water to cool. Once cool, drain them again, and toss them in a small bowl with a bit of olive oil and a sprinkle of salt.

Toast the slices of bread by brushing one side of them lightly with olive oil. Grill the bread, oil side down, on an outdoor grill or grill pan until golden brown. Turn the bread and grill until the other side is slightly crisp. Remove the breads from the grill and while they're still warm, but cool enough to handle, rub the oil-brushed sides of the breads vigorously with the raw garlic. (If you don't have a grill or grill pan, you can brown the slices of bread on a baking sheet in the oven, using the broiler or high-heat, about 400ºF/200ºC, watching them carefully if you use the broiler.)

Smear the garlic-rubbed side of each piece of bread with the goat cheese mixture. Divide the peas over the two slices of bread and press them in lightly. Garnish with sliced radishes and top with additional fresh herbs, shallots, salt and pepper, and a few drips of olive oil here and there.
Notes
Storage: The herbed goat cheese mixture can be made up to three days in advance and refrigerated. Let come to room temperature before using.