Ara Chocolat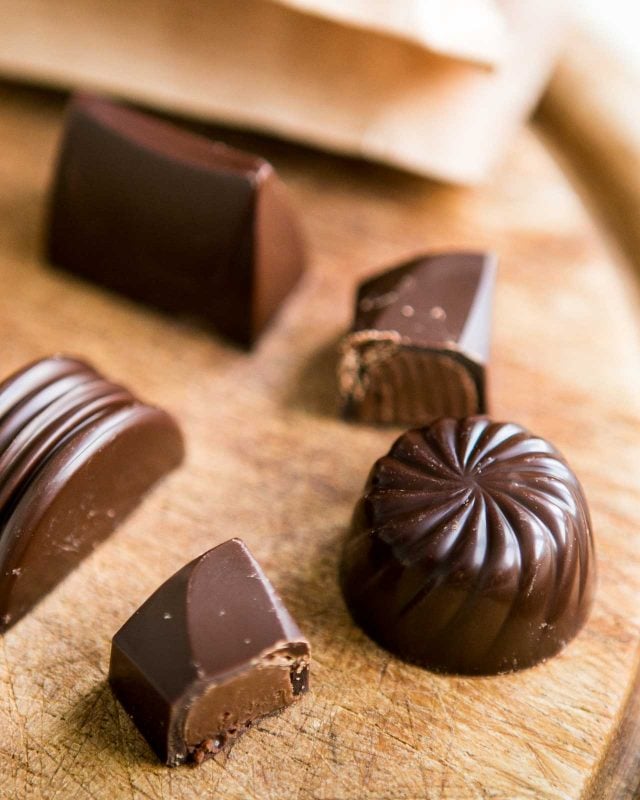 There's no shortage of chocolate shops in Paris. Many of them are concentrated in areas like the Marais or Left Bank, which are swankier places set up shop, but offer easy access. So in what are called the "double-digit" arrondissements, you'll find more quirky places, and you'll never know what you might come across if you wander around them.
Having dinner one night at Churrasqueira Galo, I spotted a sign across the street for a torréfacteur of chocolate, meaning, they torréfier (roast) and grind their own beans. Making chocolate is a special skill and most chocolatiers are fondeurs (melters) of chocolate, and it's rare to find one that grinds their own beans, especially where you're not expecting it.
So a few days later, I went back to Ara Chocolat during business hours, timidly buying a few chocolates in a bag and bringing them home to try. I liked them so much, I went back to meet Andres Zakhour, the owner and chocolatier (and fondeur), to find out more.
Andres was a pastry chef and chocolatier in London, but wanted to make his own bean-to-bar chocolate, so went back to his home country, Venezuela, to learn how to do it.
When I asked Andres why he opened his shop in such a quirky place, he said that he walked around the city, looking at neighborhoods and places where he could do what he wanted to. This was the only place that was within his budget. In popular cities, such as Paris and Rome, newer talent often sets up shop, including bakeries and gelaterias, in the more affordable residential neighborhoods, rather than in high-rent districts.
Almost everything in Andres' chocolates is organic and vegan, except the chocolate from Venezuela, because Andres told me, "they don't have an organic certification there." Fillings for the chocolates are made with ground nuts, rather than cream.
There isn't the extensive selection of chocolates you'll find at the lavish boutiques, but a more edited selection, featuring ingredients like coconut, sesame, cashews, peanuts Brazil nuts, green mango, pink peppercorns, and muscovado sugar. But they stand their ground with the big boys (and girls) in other parts of Paris.
I was especially tickled with the yellow-tipped chocolates filled with cocoa butter and turmeric, which had an especially lively kick. (And I think I'm falling for the whole turmeric thing, after a delicious, fermented turmeric tonic at Sqirl in Los Angeles.) But there are also bars of single-origin chocolate, including one made with elusive Porcelana beans, as well as bars made from cocoa beans sourced in Belize, Nicaragua, Peru, and Costa Rica, but the majority are from Venezuela, one of the great cacao-producing regions of the world.
Andres makes hot chocolate in the cooler months and when I was in there, I met Sarah Poli of Paris Végane, who said, "It's the best hot chocolate in Paris…and I know, because I'm Brazilian!" I had to take her word for it because it wasn't hot chocolate season. And although I didn't get into the kitchen, she did – and made a video.
The weather was transitioning from spring to summer when I went, and Andres was finishing a batch of mousse au chocolat, but it wasn't quite ready. Traditional chocolate mousse is made with eggs, or in some cases, cream, and I asked what he used to make his hot chocolate and chocolate mousse, since they are both vegan, he said "Water." Water allows the flavors of the chocolate to shine and hot chocolate in Latin America (and elsewhere) is often made with water or milk, not cream, which highlights the purity of the chocolate.
In summer, there are chocolate-enrobed popsicles to cool down with, featuring fruits and nuts, that will take you right to the tropics…without leaving Paris.
Ara Chocolat
54, rue de Dunkerque (9th)
Tél: 06 70 09 87 75
Métro: Anvers or Gare du Nord
Note New Hours: (Different than shown in photo, above) Open Monday, Wednesday, Thursday, Friday and Saturday, Noon to 7pm.
---
Related Posts and Links
Hervé This' Water-Based Chocolate Mousse (Food 52)
Mexican Dinner with Susana Trilling in Paris
La Manufacture de Chocolat Alain Ducasse