Maple Pecan Sticky Buns
I've never been a huge fan of sticky buns because I find many of them teeth-screamingly sweet. That said, these dial down the sweetness in favor of flavor, courtesy of two of my favorite things: pecans and maple syrup. And having the two swaddled in a butterscotch-like caramel seems to make each one taste even better than they do on their own.
I was intrigued by a new baking book, The New Sugar & Spice by Samantha Seneviratne, whose subtitle promises recipes for "bolder baking," which immediately caught my interest. I don't need to wow me with innovation – tweaking classics is often good enough. The wheel can only be reinvented so many times and no need to repair something that doesn't need fixing.
It's unfortunate that I am hooked on both, and like other expats, maple syrup and pecans are two things that we tend to hoard. Sirop d'érable (maple syrup) is available in Paris, the best bottles are sold at natural food stores, and pecans are around, although I often find them not quite at their freshest by the time they've hit the store shelves. So I lug those back with me. Fortunately, on occasion, I'm treated to bags by visiting friends and guests. Thank goodness I now have an American-sized freezer.
Well…to be honest, I used to hide them in the freezer, but since I'm a compulsive nibbler, I was getting tired of teething on frozen pecans. So I gave up and started keeping them in a drawer, which means easier access to these precious beauties.
Sticky buns are very easy to make. You start with a simple yeasted dough, softened with milk. Once it rises, you strew the rolled out dough with a mixture of brown sugar and cinnamon. Then comes the fun part: Rolling them up!
The doughy roll then gets sliced into spiraled wheels. Watching them rise in the pan – then rise even further in the oven, is one of the great joys in life. Eating them, of course, is the best part. But if you've got kids (or even a middle-aged man, like me), this is a really fun project for a weekend or during a holiday break.
While I was making these, I posted a live video on Snapchat, which is a fun way to share short videos that I've been playing around with. The downside is that I got so involved with shooting and sharing that I neglected to chop the pecans before using them, as you can see in the pictures. On Snapchat, posts and videos disappear after twenty-four hours – so when it's gone, it's gone! But you can follow me on Snapchat for other tips, future videos and a soupçon of occasional goofiness at davidlebovitz.
As much as I'm freaked out by new technologies, the old ones tend to vex people, too. Folks get freaked out by candy thermometers, but if you use one, you can get your caramel precisely to where it should be. I "went rogue" and didn't use one, and my sticky buns got a touch too dark, which I liked for the "on the edge" flavor, but resulted in a sticky bun glaze that was less-runny that what some might be used to. So if you have one, you should put that candy thermometer to use when making these sticky buns.
The result of my morning of baking was a tray full of sticky buns that were great for a mid-morning snack but not bad for bringing to a meeting later that evening, which I did. The next day, people raved about them. I've got a few other "bold" recipes bookmarked from Samantha's gorgeous book. And I'm going to make sure my stock of pecans doesn't run too low, because I'll be making these again in the near future.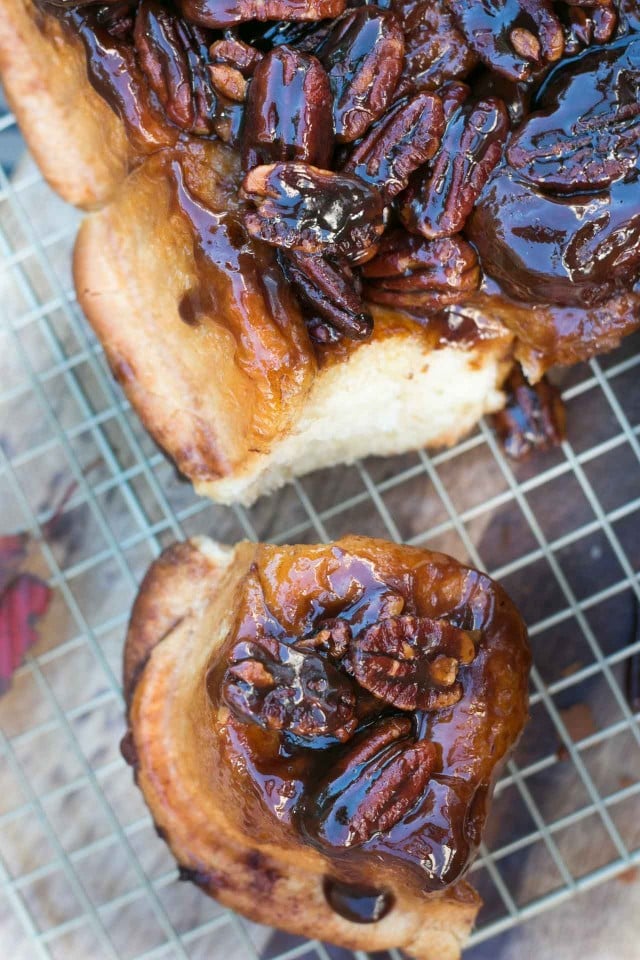 | | |
| --- | --- |
| Maple Pecan Sticky Buns | Print Recipe |
Adapted from The New Sugar & Spice by Samantha Seneviratne The original recipe calls for baking eight spirals in a 9-inch (23cm) round pan, but I wanted to get nine smaller ones, so used an 8-inch (20cm) square pan and cut the rolled up dough into nine disks. You can do either. Note: Do not use a springform pan for this recipe. Because of the maple caramel, the pan may leak. Even if you wrap it well with foil, caramel may seep out and you don't want the lovely maple-accented glaze on foil. You want it on your sticky buns. The original recipe also called for a mix of walnuts and pecans, and I opted for all pecans since they're one of life's great luxuries to me. But you can swap out any nuts as you wish. There was also 1/2 cup (80g) of raisins added to the caramel along with the pecans, which I omitted as well, although you're welcome to add them, or another dried fruit, like cranberries or sour cherries. You'll also note the recipe calls for bread flour. Its higher protein content means that you'll have better gluten formation and sturdier bread, or buns, as in this case. Most well-stocked supermarkets carry it or you can buy it online. You can replicate it by replacing 1 1/2 teaspoons of all-purpose flour with 1 1/2 teaspoons of vital wheat gluten, per cup, or 140g, of all-purpose flour. (In France, I use T65 organic flour and add vital wheat gluten, which is available in natural food stores.)
For the dough
6
tablespoons
unsalted butter
cubed
2/3
cups (160ml)
whole or lowfat milk
3
tablespoons
granulated sugar
1 3/4
teaspoon
active dry yeast
2 1/2
cups (320g)
bread flour
1/2
teaspoon
kosher or sea salt
For the topping
6
tablespoons (3 ounces, 85g)
unsalted butter
1/4
cup (45g)
dark brown sugar
1/4
cup (60ml)
maple syrup
(dark amber)
1/2
teaspoon
kosher or sea salt
1
cup (140g)
pecans,
lightly toasted and coarsely chopped
For the filling
1/4
cup (45g)
dark brown sugar
2
tablespoons
ground cinnamon
1/2
teaspoon
kosher or sea salt
3
tablespoons (1 1/2 ounces, 42g)
butter,
salted or unsalted, at room temperature
1. To make the dough, warm the butter, milk and sugar in a small saucepan. Pour into the bowl of a stand mixer and let stand until slightly tepid. (You can make this without a stand mixer. If so, pour the milk mixture into a medium bowl.) Sprinkle the yeast over the milk, stir gently, and let sit in a warm place until it starts to bubble, about 10 to 15 minutes.
2. Mix in the egg, flour, and salt, and knead with the paddle or dough hook at low-to-medium speed until smooth and elastic, about 5 minutes. (If kneading by hand, it may take a bit longer.) Knead the dough a few times with your hand until it's a smooth ball, place it back in the bowl and cover the bowl with a kitchen towel. Let rise in a warm place until doubled, about 1 to 1 ½ hours. Time can vary, and it may take longer, or less time.
3. While the dough is rising, make the topping. Lightly butter a 9-inch (23cm) round or 8-inch (20cm) square cake pan. Heat the butter, brown sugar, maple syrup and salt in a small saucepan fitted with a candy thermometer and cook over medium heat until the mixture comes to a boil. When it gets foamy, after a minute or so, when a few of the bubbles start to get larger, remove from heat. (Samantha notes in her book that if using a thermometer, the temperature should read 212ºF (100ºC).
4. Pour the maple caramel into the prepared cake pan and strew the pecans over the caramel. Set aside.
5. To make the filling, mix the brown sugar, cinnamon and salt in a small bowl. Set aside.
6. When the dough has risen, knead the dough a couple of times on a lightly floured countertop and roll it into a 10-inch (25cm) square. Spread the softened butter over the dough and sprinkle evenly with the filling mixture. Roll up the dough as tightly as possible and using a serrated knife, cut the dough into 8 or 9 slices. If using a square pan, cut into 9. If using a round pan, cut into 8. Place them in the pan with the cut side up. Cover loosely with plastic wrap or a clean, lint-free kitchen towel, and let rise until almost doubled, about 1 hour.
7. Ten minutes before you're ready to bake the sticky buns, preheat the oven to 375ºF (190ºC). Place the pan of sticky buns on a baking sheet lined with foil (to catch any overflow drips or spill) and bake until the center roll is lightly browned on top and it doesn't feel soft when you press it with your finger, 25 to 30 minutes.
8. Remove the rolls from the oven. Let cool for 5 minutes then run a knife around the outside (if possible, as the buns may have overtaken the rims), then tip the sticky buns out onto a cooling rack or serving platter.
Serving and storage: Sticky buns are always best served warm, and the day they are made but are fine the next day. If you wish, you can keep them well-wrapped for a few days, rewarming them in a low oven, wrapped in foil until heated through. They can be frozen for up to two months.
Related Posts
Ingredients for American Baking in Paris
Ingredient Ingredients and Substitutions
Vegan Sticky Buns (Minimalist Baker)
Gluten-Free Sticky Buns (Faithfully Gluten-Free)