I wasn't planning on beginning this post for a pie recipe with anything other than a story about how much I liked it, encouraging you to make it. (Which I'll get to later.) But after I had started writing it, several neighborhoods in Paris came under attack, including mine, and I put everything on hold.
Cafés and restaurants that I knew, and areas that I frequent, were targets, as was the area around the theatre where my outdoor market is, which suffered the worst of it. Everyone I know is okay, but others were not so fortunate. It's a crazy world we are living in and often we just see it on television and switch the channels to something more entertaining, so we don't have to think about it. But when it happens right outside your door, or in a city that you love so much (whether you live there or are just an occasional visitor), you can't avoid the shock and the grief. In addition to some introspection, my hope is that this will bring a conversation and dialogue that will somehow address why – and how – this happened, and where to go from here.
I couldn't think of a very good transition from the heartbreaking tragedy, to pie, and I'm not used to being short on words, so I'll just say that I was happy to have this pie sitting on the counter after all that happened this weekend. It made us feel a little better.
Some say baking heals and while I'm not much for catch-phrases and slogans, it did feel nice to be rolling out some dough to have a pie around. And a new one to me, at that. A few years ago I gave pecan pie a makeover using dark chocolate chunks, which came out so well that it became my go-to pecan pie.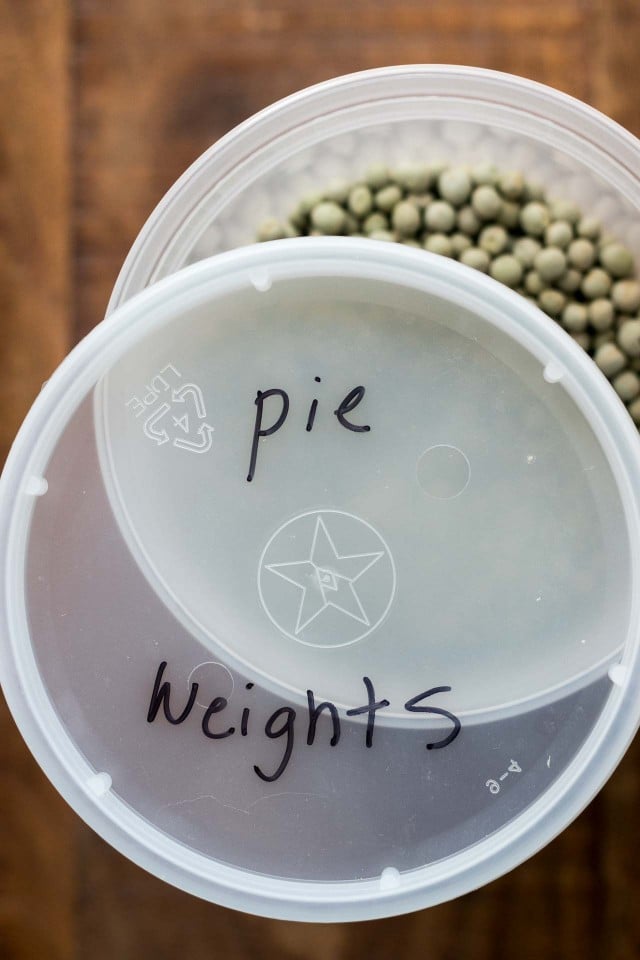 But with the upcoming holidays arriving, I was perusing First Prize Pies from Allison Kave of Butter & Scotch, looking for another pie to make for the fêtes, and landed on her Bourbon ginger-pecan pie.
As luck would have it, in addition to a bag of beautiful pecans, I also had a bottle of Knob Creek smoked maple bourbon that was so good that it was freaking me out. It was a gift from my bourbon-loving friend Elizabeth Karmel and I was looking for an opportunity to crack it open. Recent events make me realize that you don't necessarily need to squirrel everything away until another time or save it until later. Maybe now it that time.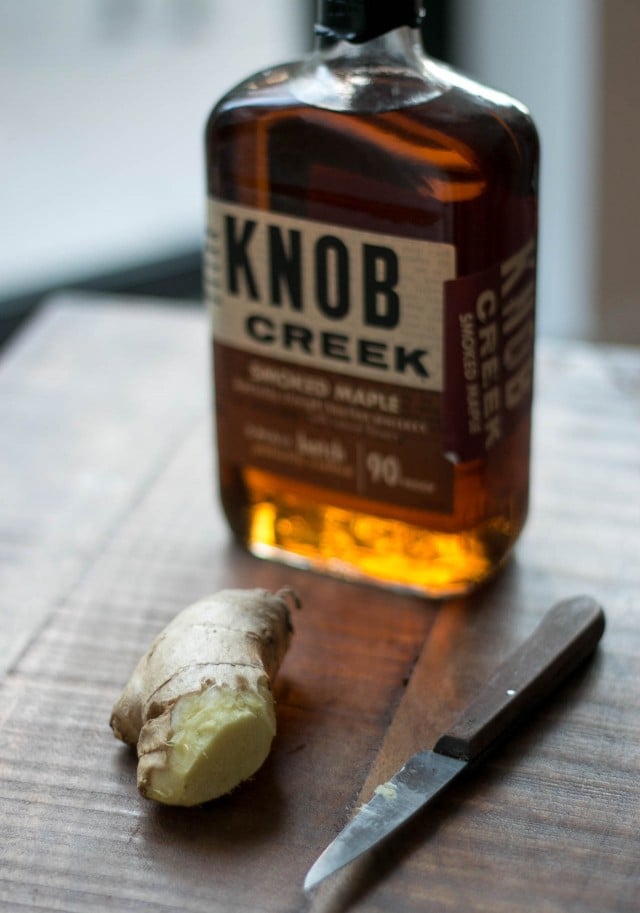 This dialed-up pecan pie won first prize at the Brooklyn Pie Bake-Off, and if you've visited Brooklyn in the last few years, you'll know that there's some heavy competition out there in the cooking and baking categories. So that's saying something. Allison noted that a heavy hand with the bourbon is always appreciated. (And I agree.) But it's also special because of the triple-whammy of ginger, courtesy of a handful of candied ginger, a spoonful of dried ginger, and a dose of freshly grated ginger in the nutty filling.
It was hard to interrupt him while he was eating the pie so ravenously. But when he came up for air, Romain said it was the best thing he'd ever eaten. And that's coming from someone who's often looked at me quizzically when served some of the foods associated with Thanksgiving that perplex the French: Gravy? Pepperidge Farm stuffing mix? A one-week obsession with cranberries? Marshmallows? Sweet potatoes? Marshmallows and sweet potatoes together?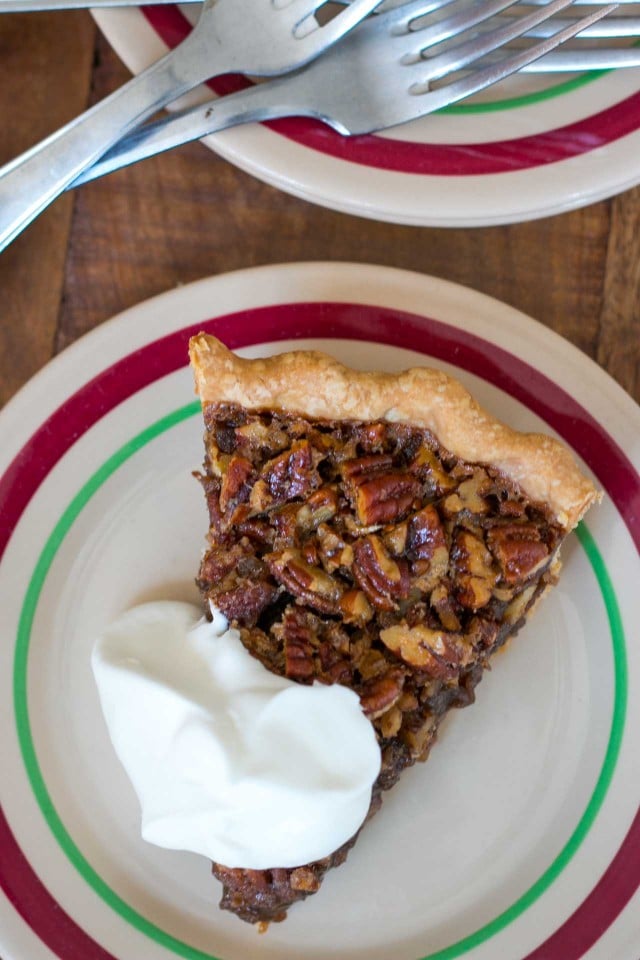 It helps that he, like any sane person, loves maple syrup, as well as fresh and candied ginger, which the French call gingembre confit. I gotta say, I loved this pie as much as he did. The zing of ginger really took it up beaucoup de notches, not just one notch, and the shots of bourbon helped temper what is traditionally a rather sweet dessert, which this pie isn't. Or wasn't, I should say. Because it's now long-gone.
Whipped cream is always the classic to serve with pecan pie. If you're looking for an ice cream to pair with it, I recommend white chocolate-fresh ginger ice cream, or it might also be nice with milk chocolate ice cream instead, if you're someone – like me – that has a hard time imagining dessert without chocolate. And if that's the case, bourbon always plays a good second fiddle to chocolate. The pecans and maple syrup-rich filling are an added bonus.
Pecan Pie with Bourbon and Ginger
Adapted from
First Prize Pies
by Allison Kave I loved the idea of adding three kinds of ginger to pecan pie and using maple syrup as a sweetener. If you don't have maple syrup, you can go with
golden syrup
, which is available in well-stocked supermarkets (depending on where you live), or
online
. I've not used it, but some recommend
sorghum syrup
as another substitute. Because I'm like that, I veered from the original proportions a bit. One was that I added a few more pecans, and toasted them first, adding an additional handful to the baking sheet to make up for the ones that I nibbled on. ; ) I also added some melted butter to the filling to give it a little extra silky richness. If you don't want to use bourbon, dark rum would be a nice substitution, as would Cognac or rye whiskey. If you want to leave out the liquor, just add 2 teaspoons of vanilla extract and a few drops of lemon juice to counterbalance the brown sugar and maple syrup. Although I didn't do it, you could brush the rim with an egg wash – one egg yolks mixed with 1-2 teaspoons of milk, and brush it over the rim before baking the pie. If glazing the rim, it may need to be covered during baking if it gets too dark before the filling is done. You can fashion strips of aluminum foil to cover the rim of the pie if that happens.
For the dough
1 1/4

cups (175g)

flour

2

teaspoons

sugar

1/4

teaspoon

salt

4

ounces (115g)

chilled unsalted butter

,

cubed

3-4

tablespoons

ice water
For the pecan pie filling
1

cup (215g)

packed dark brown sugar

1/2

cup (125ml)

dark amber maple syrup

3

large eggs

,

at room temperature

4

tablespoons

melted butter

,

salted or unsalted

3

tablespoons

bourbon

2

teaspoons

grated fresh ginger

1

teaspoon

ground (dried) ginger

1/2

teaspoon

vanilla extract

1/4

teaspoon

salt

2

cups (225g)

pecans

,

lightly toasted, very coarsely chopped

1/4

cup (50g)

candied ginger

,

finely chopped
To make the dough, mix the flour, sugar, and salt in the bowl of a food processor, or in a stand mixer fitted with the paddle attachment. (The dough can also be made by hand, in a bowl with a pastry blender, or using your hands.) Add the chilled butter and mix or pulse the dough until the butter is broken up into small pieces about the size of peas.

Add 3 tablespoons of ice water and mix until the dough begins to come together. If necessary, add 1 more tablespoon of water if the dough needs it to come together. Turn the dough out on a work surface and give it a few turns with your hands. Shape the dough into a disk, wrap in plastic wrap, and refrigerate for at least 1 hour.

Roll the dough on a lightly floured surface, or between two pieces of parchment paper until it's about 13-inches (33cm) in diameter. Brush off any excess flour and transfer it to a 9-inch (23cm) pie plate or pan. Tuck the overhanging edges under, between the rim of the pie plate and the dough, and crimp the edge of the dough. Chill the dough in the refrigerator until firm.

To bake the pie dough, preheat the oven to 375ºF (190ºC). Prick the pie dough a few times with a fork. Line the pie dough with aluminum foil and fill halfway with beans, rice, or pie weights. Bake until the dough is set and starting to get lightly golden brown, about 15 to 20 minutes. Lift out the foil with the weights and bake until the dough is well-browned, about 5 to 8 minutes more. Turn the oven down to 350ºF (180ºC).

To make the filling, in a large bowl, whisk together the brown sugar, maple syrup, eggs, melted butter, bourbon, fresh ginger, ground ginger, vanilla, and salt. Stir in the pecans and candied ginger.

Pour the filling into the prebaked tart shell and bake until the center of the pie is seems just about set. It should still jiggle a little. Begin checking it at the 40 minute mark, but it may take 45 to 50 minutes to reach that point of doneness. Remove it from the oven and let cool on a wire rack.
Notes
Serving and storage: Pecan pie is best served at room temperature and it's easier to cut when it's cooled completely. Although it's no slouch if slightly warm, as long as you don't mind the pieces looking a little sloppy. Ice cream or whipped cream are fine accompaniments.
The dough can be made up to two days in advance and refrigerated, or frozen for up to two months, either unrolled, or rolled out and fitted into the pan.
The baked pie can be kept at room temperature for up to four days. I've not frozen pecan pie but it can probably be done, if well wrapped.
Related Recipes