How to Make Candied Ginger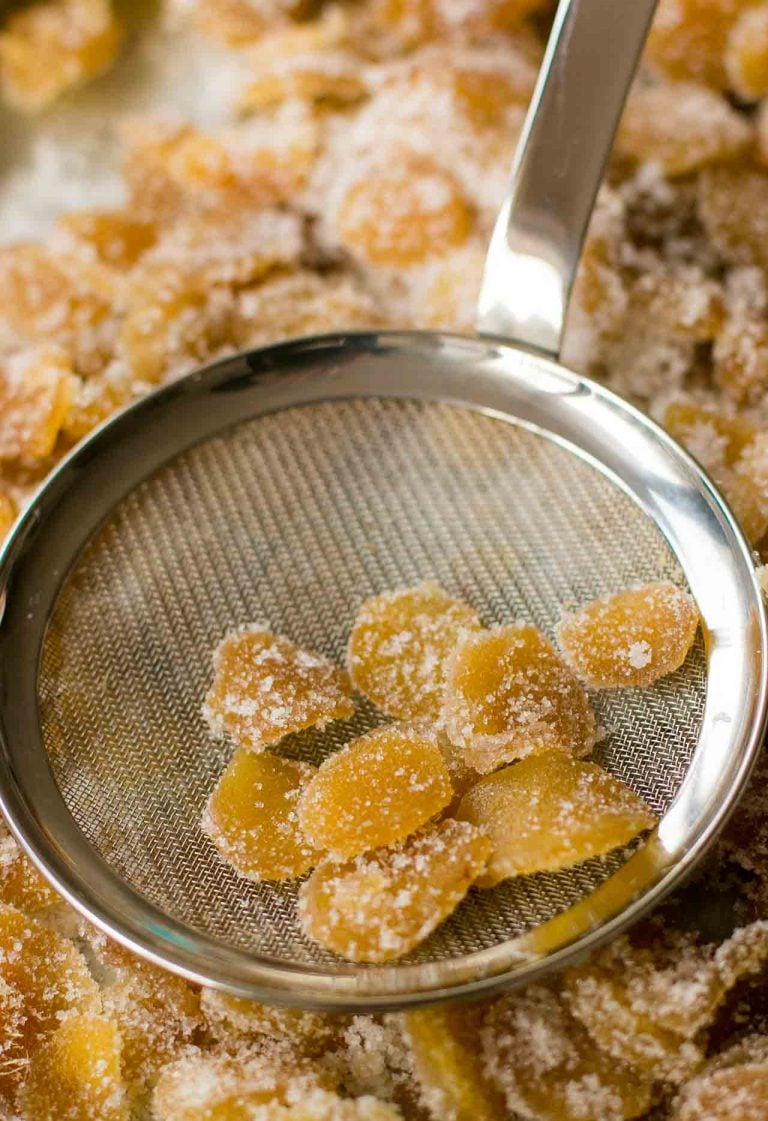 People who write cookbooks about baking often try to avoid publishing recipes that call for candy thermometers. I'm not sure why, since you just stick it in the pot, and wait for the temperature to reach the desired degree. What could be easier?
The other bonus is with your thermometer, you can make homemade candy, such as marshmallows or billowy topping for S'mores Ice Cream Pie.
The great thing about candying your own ginger is that you get plenty of spicy slices from just one pound (450g) of fresh ginger. Once candied, it can be stored in its own syrup or drained and tossed in sugar. I use it when baking, but it's also nice served after dinner, just as is, or with the pieces dipped halfway in dark chocolate.
One caveat: most fresh ginger that you buy is quite firm and may have fibers in it. If you can find young ginger, usually available in the spring, that ginger is more tender and has fewer fibers. In any case, slice the ginger as thinly as possible, which also helps ensure there won't be stringy bits in your finished candied ginger.
When peeling the ginger, a nifty trick is to use a soup spoon and holding it so the bowl of the spoon is facing the ginger, scraping away the skin with the edge of the spoon. You can even get easily around all the nooks and knobs using that method.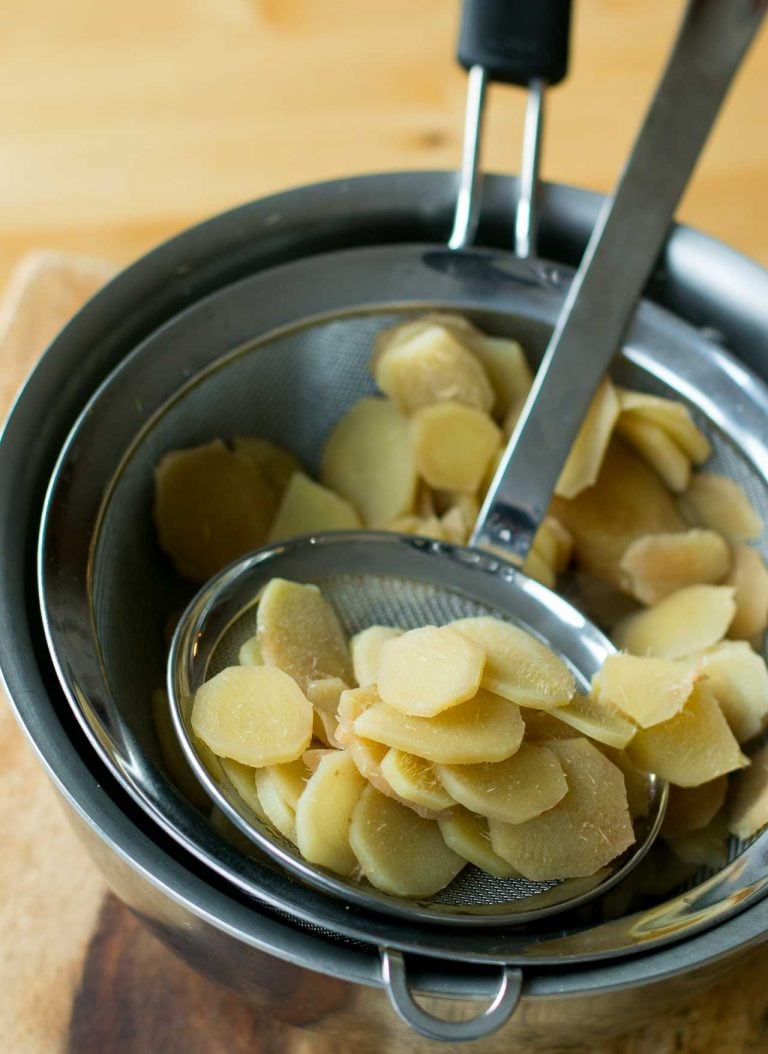 I use candied ginger, finely chopped, to enliven baked apples or a batch of lemon ice cream. It can be added to cake batters and gingersnap or oatmeal cookie dough to give your cookies an extra-zippy edge. It's also go sliced into thin matchstick-size strips and added to a batch of marmalade during the last minute of cooking.
Since I don't like to waste anything, and hopefully neither do you, one can save the syrup and use it to make a spicy elixir, mixing it to taste with sparkling water and adding a squirt of lime juice or use it to sweeten lemonade or iced tea. If you like cocktails, try adding syrup in place of the sugar in an Old Fashioned.
Candied Ginger
Adapted from
Ready For Dessert
(Ten Speed) Although I recommend using a candy thermometer, if you don't have one, simply keep an eye on the pot of ginger while it's cooking in the syrup. When the liquid is the consistency of maple syrup and the bubbles are thick, it's done. If you're unsure if your thermometer is telling the truth, boil a pot of water with the thermometer in it. Once the water is boiling, if you live at sea level, the temperature should read 212ºF, or 100ºC.
1

pound (450g)

fresh ginger

,

peeled

4

cups (800g)

sugar

,

plus additional sugar for coating the ginger slices, if desired

4

cups (1l)

water

pinch

of salt
Slice the ginger as thinly as possible. It can't be too thin, so use a sharp knife.

Put the ginger slices in a nonreactive pot, add enough water to cover the ginger, and bring to a boil. Reduce heat and let ginger simmer for ten minutes. Drain, and repeat, simmering the ginger slices one more time.

Mix the sugar and 4 cups (1l) water in the pot, along with a pinch of salt and the ginger slices, and cook until the temperature reaches 225ºF (106ºC).

Remove from heat and let stand for at least an hour, although I often let it sit overnight. To coat the slices with sugar, gently rewarm the ginger (the syrup will drain easier if warm) and strain the ginger through a colander or strainer. Let it drain thoroughly, 30 to 60 minutes.If saving the syrup for another purpose, strain the ginger over a bowl. The ginger can also be stored in the syrup, in a jar.

Toss the drained slices in additional granulated sugar. Shake off excess sugar, and spread the ginger slices on a baking sheet or cooling rack until they're somewhat dry. The sugar can be reused in a batter or ice cream base, or for another purpose.
Notes
Storage: The ginger, packed in its syrup, can be stored in the refrigerator for up to one year. If you're concerned with it crystallizing, add a tablespoon or two of corn syrup or glucose to the sugar syrup at the beginning of step #3.
If tossed in sugar, the pieces can be stored at room temperature or in the refrigerator for a few months.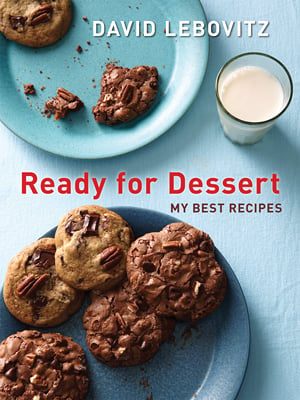 Related Links and Recipes
Asian Ingredients: A Guide to the Foodstuffs of China, Japan, Korea, Thailand and Vietnam (Bruce Cost)
Baked Apples with Dates, Fresh Ginger, Almonds & Rum
Candied Citrus Peel (Simply Recipes)
Apple Ginger Mint Iced Tea (Steamy Kitchen)
White Chocolate and Fresh Ginger Ice Cream
Ginger-Cinnamon Caramels (The Kitchn)
Ginger Jeweled Salad (101 Cookbooks)
Ginger Catfish (Perfect Pantry)
Ginger and Pumpkin Jam (Nami-Nami)