A few years ago I got a message from a nice young couple that had worked their way through each and every recipe in Room for Dessert, my first book, and wanted me to sign their copy. And let me tell you, these kids were really pioneers, as this was well before the "cook every recipe from the book" blogs got so popular—they didn't even have a blog!
When I met them, the book was filled with bookmarks and stains of all sorts. Obviously well-used, they really didn't even need to tell me that they'd made everything in the book. But they did confess that the only recipe they couldn't make was the candied citron, because they couldn't find any citron.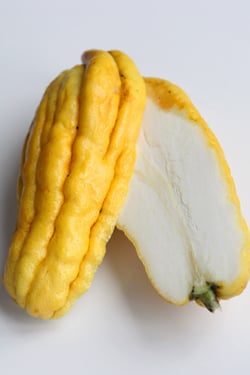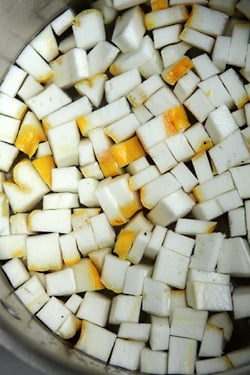 I feel their pain. I was going to make panforte (Italian fruitcake) this year and I looked all over Paris this year for one and couldn't located a single, solitary cédrat, no matter where I looked. (And I'm scared to use those greenish pieces and strips sold in containers.) My constant refrain is that you can get everything you want in Paris—except what you're looking for. I scoped out specialty produce places, outdoor markets, and the Jewish épiceries. You name it, if there was the possibility of finding a citron in there, you can be sure there was a strange American fellow in there trying to explain to them what a cédrat was. But I guess I shouldn't complain about a country where you can find foie gras in natural food stores.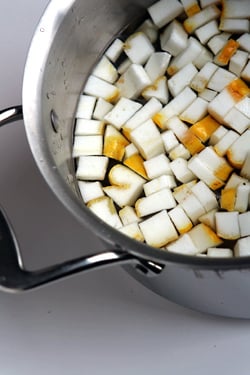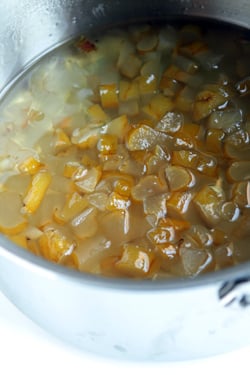 Last week I was over in the sixth for a doctor's appointment and walked past Hédonie (6, rue de Mezieres). On a whim, I peered through the window, and spotted a lone Buddha's Hand citron resting in a basket amongst a pile of grapefruits.
Of course, it had no price on it (that seems to be another truism about Paris—the one particular thing that you want to buy is the only item on the shelf that doesn't have a price on it, prompting a "price check", which here can range anywhere from five seconds to a shrug of the shoulders), but the lovely saleswoman put the lone citron on the scale and pressed a button marked agrumes Bachès, and it spit out a price of just over €5. I hemmed and hawed for a few minutes then dug the heels of my cheap skates into the ground and bought it.
(She also told me that they usually get them in October, so let's remember that for next year.)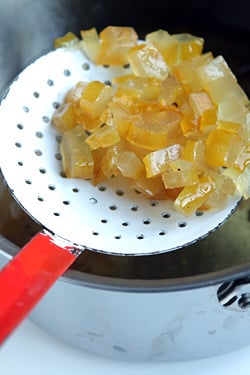 People have asked me to put in recipes the time it takes to candy fruits. But that's like asking someone how long it takes for water to boil. It's pretty difficult to gauge, and no one wants to ruin a hard-won piece of fruit, so an inexpensive candy thermometer, which are available at most supermarkets, cookware stores, and even hardware stores, is the best way to judge when fruit is candied.
The two most common citrons are the Buddha's Hand, with elongated tendrils, and the Etrog (or Esrog) citron, which resembles a big knobbly lemon. Be sure to buy one from a source that doesn't spray their fruits or raises them organically.
(Oh, and by the way. That couple also finally found a citron as well, and made the recipe. I'm not sure where or how, but they did drop me a line to let me know.)
Candied Citron
One 8 ounce (240g) fresh citron will yield about one cup (250g) of candied citron pieces. You can scale the recipe up or down accordingly, depending on how many citrons you have. I don't recommend candying more than four citrons in one batch; if you have more, preserve them in subsequent batches. Many are likely to inquire if the
corn syrup
is necessary. You can leave it out but it does prevent the citron pieces from crystallizing and keeps them moister, which most other liquid sweeteners do not.
2

citrons

3

cups (600g)

sugar

,

plus 1 cup (100g) for tossing the finished fruit

2

cups (500ml)

water

,

plus additional water for blanching the citron pieces

optional: 1 tablespoon light corn syrup
Wash and dry the citrons, then cut them into 1/2-inch (2cm) cubes. Put the pieces in a large saucepan, cover with a sufficient amount of water so it won't boil away, and blanch the citron pieces in barely simmering water for 30 to 40 minutes, until they're translucent.

Drain the citrons, then put 3 cups (600g) of sugar, the 2 cups (500ml) water, and the corn syrup (if using) in the pan with the citron pieces.

Attach a candy thermometer to the side of the pot and cook the citron until the temperature reaches 230ºF. (110ºC) (If you don't have a candy thermometer, you can cook the citron until the syrup is quite thick and almost all gone, being careful not to burn the fruit pieces.)

During the final minutes of cooking, if the citron pieces are sticking to the bottom of the pan, gently stir them from time to time with a heatproof spatula or spoon to prevent burning.

Once done, turn off the heat and let the citron pieces sit in the syrup for one hour.

You can preserve the candied citron in the syrup in the refrigerator for at least one year. Or you can let the peel sit in the strainer for a couple of hours, stirring it occasionally, to let as much of the syrup drip away as possible. (The syrup can be reserved and used to add to sparkling water for homemade soda.)

When done, toss the pieces of citron in sugar and let sit on a wire rack overnight to dry out. Then shake off the excess sugar, reserving it for another baking project, like lemon curd, marmalade, or ice cream.
Notes
Storage: Store the citron pieces in a jar at room temperature (if planning to use within a few weeks) or in the refrigerator, until ready to use. The candied citron should last up to six months. It can also be stored in the syrup, as indicated in step #5. Troubleshooting Tip: If too much sugar clings to the finished peel, you either didn't let it cook enough, didn't drain it long enough, or the sugar was too fine. Depending on where you live, use the coarsest granulated sugar you can find. Cooking in France Tip: Granulated sugar in France is finer than sugar in the United States and will dissolve more readily when tossed with the just-candied citron. Be sure to use the coarse sucre cristallise rather than sucre semoule.
Related Links and Recipes
Tuscan Panforte (Divina Cucina)
Panforte with Candied Quince (Wednesday Chef)
Chocolate-Hazelnut Panforte (Epicurious)