Mexican Restaurants in Paris
People are surprised that there is a craving amongst a certain crowd (namely transplanted Californians…but with a growing number of Parisian locals) seeking Mexican food in Paris. Like any city with an international population, a variety of ethnic food and places are welcome.
Parisians, notably the younger set, are becoming more adventurous about Latin American foods and the quality of Mexican places is getting better, including a few joints that are rolling out their own tortillas. Even Chipotle has opened in Paris.
Here's a list of places that I've been to, or were recommended to me, or that others have written about. I haven't visited them all and where applicable, I've linked to people who have. You can also find reviews of Paris Mexican places on Paris by Mouth and Yelp.fr.
Café Chilango
82, rue de la Folie Méricourt (11th)
Tél: 01 47 00 78 95
Market-fresh ingredients find their way into dishes at Café Chilango, which features tostadas, tacos and salads. Great cocktails, too.
---
El Nopal
3, Eugène Varlin (10th)
Tél: 07 86 39 63 46
Lunch is nearly impossible in this tiny spot with just two seats; most people take their meal out and eat by the nearby canal, in good weather. Homemade tortillas and friendly service. The hot sauce is quite good!
El Nopal (Barbra Austin)
El Nopal, Mexican taqueria in Paris (Adrian Moore)
El Nopal (Just Another American in Paris)
El Nopal (Meg Zimbeck)
---
Mexi and Co.
10, rue Dante
Tél: 01 46 34 14 12
Mexi & Co (About.com)
---
Fajitas
15, rue Dauphine (6th)
Tél: 01 46 34 44 69
---
La Perla
26, rue François Miron (4th)
Tél: 01 42 77 59 40
I wasn't wowed by this place, which is popular with a younger set because of their central Marais location, who come mostly for the Mojitos.
La Perla (Meg Zimbeck)
La Perla (The Puff List)
---
Candelaria
52, rue de Saintonge (3rd)
The tacos and tostadas are excellent; I recommend the soft tacos with spicy sausage filling. Mexican beers available and the plain white door in the back leads to a crowded, popular cocktail lounge.
---
El Sol y La Luna
31, rue Saint Jacques (5th)
Tél: 01 43 54 41 56
Considered Latin American, it's on this list because it features the flavors of Mexico and its neighbors. This friendly place is near Notre Dame and has specially priced lunch platters.
Beef Tacos and Chicken Quesadillas (Chocolate & Zucchini)
---
Susan's Place
9, rue Annonciation (16th)
Tél: 01 45 20 88 16
---
Boca Mexa
127, rue Mouffetard (5th)
Tél: 01.73.77.28.22
Check website for other addresses.
Boca Mexa (Croque-Camille)
---
Anahuacalli
30, rue des Bernadins (5th)
Tél: 01 43 26 10 20
Anahuacalli (Paris Missives)
---
Hacienda del Sol
157, boulevard du Montparnasse (6th)
Tél: 01 43 26 26 53
The sister restaurant to Anahuacalli, listed above.
Cactus
48, rue Lafitte (9th)
Tél: 01 42 81 02 30
CLOSED
This lunch-only place is located near the business center of Paris. The energetic, friendly staff serves plump, respectable burritos, as well as soft tacos and salads, all available with various add-ins. (See photo, above.) Vegetarian options, too.
A Cactus in the Middle of Paris? (Jenni Does Dessert)
---
Cafe Mexico
73, rue Crozatier (12th)
Tél: 01 43 47 26 69
Restaurant and épicerie selling Mexican products, including salsas and fresh corn tortillas.
---
O'Mexico
20, rue du Père Guérin (13th)
Tél: 01 45 88 56
O'Mexico (Life en franglais)
---
Casa Palenque
22, rue Arrivée (15th)
Tél: 01 43 38 12 27
I haven't been since their move but the last meal I had here featured standard Mexican fare. We did manage to empty their margarita machine by ten pm, so let's hope they got a bigger one in their new place.
---
Tacos & Tortas
94, rue Saint Honoré (1st)
Tél: 01 42 33 39 87
Respectable tacos with pork, chorizo, chicken, vegetables, and cactus (shown) on offer. They could dial up the spices, and give a few more chips with the guacamole, but the pleasant staff and sunny outdoor seating make this a good spot of Mexican in the center of Paris.
---
Chaak
3, boulevard Saint Denis (3rd)
---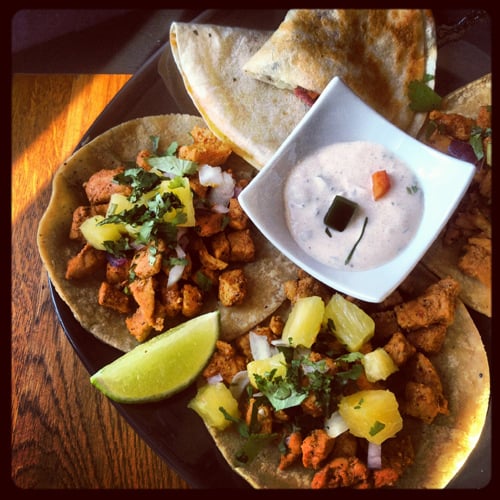 La Taqueria
20, rue du Générale Guilhem (11th)
TéL: 01 56 98 05 18
Tacos, quesadillas, and even margaritas are featured at this taco spot on a scenic park. You can't mix 'n match, so go with a friend if you want to try an assortment.
---
El Guacamolé
37, rue Yves Toudic (10th)
Tél: 01 42 41 09 09
Tacos are the specialty here and you can mix and match everything, from carne asada to puerco al pastor (pork with chiles and pineapple). Friendly service and outside seating.
---
Luz Verde
24, rue Henry Monnier (9th)
Tél: 01 74 64 29 04
The latest addition to the authentic Mexican cuisine line-up in Paris, Luz Verde is open for lunch and dinner, and includes a Mexican cocktail bar.
---
Café Chilango
82, rue de la Folie Méricourt (11th)
Tél: 01 47 00 78 95
Luis Rendon whips up Mexican dishes in this café, featuring homemade tortillas, frijoles rancheros, tacos, tostadas, and even brunch.
---
Casamex: Mail-order Mexican products in France.
---
Related Posts and Mexican Recipes
Where to Find the Best steak frites in Paris
Where is the best duck confit in Paris?
Where to Find a Great Hamburger in Paris
Ten Insanely Delicious Things You Shouldn't Miss in Paris